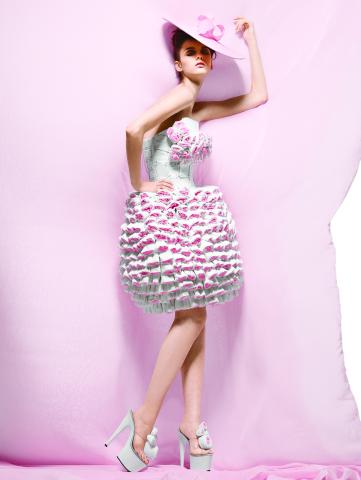 Who hasn't seen the Cashmere bathroom tissue television ad, in which a woman parades down the runway wearing a dress made out of toilet paper? Well, it's not just the magic of television. The 7th Annual White Cashmere Collection takes place September 22 at the Art Gallery of Ontario in Toronto and raises money for the Canadian Breast Cancer Foundation.
The collection, themed Fashion With Compassion, features 15 established and emerging Canadian fashion designers and their "BT Couture" crafted in 100 per cent Cashmere bathroom tissue. In October the Canadian company will also bring back the limited-edition Pink Cashmere, with 25 cents from the sale of each package going to the Canadian Breast Cancer Foundation.
The White Cashmere Collection is the world's first and only bathroom tissue couture collection and debuted in 2004 as a showcase for the brilliance of Canada's fashion designers and their creations in cashmere fabric. The international award-winning collection progressed to Cashmere bathroom tissue as its "fabric," after the first two years.  In 2008, the collection evolved into Fashion With Compassion and highlighted Pink Cashmere, Canada's first coloured bathroom tissue in a decade.
The 15 designers for the 2010 White Cashmere Collection are:
• Vancouver's Orange by Angela Chen, who has dressed actress Kirsten Dunst and supermodels Daria Werbowy and Coco Rocha
• Toronto's Zoran Dobric, praised by Fashion Television's Jeanne Beker for his artistry and edge
• Toronto master milliner, Karen Gingras of Lilliput Hats, whose diverse devotees include Celine Dion, Whoopi Goldberg and the Canadian Opera Company
• Toronto haute couture bridal designer Ines Di Santo, who dressed ET Canada host Cheryl Hickey on her wedding day in 2009
• Aime, by Toronto's Monica Mei, named one of Canada's best and promising designers by Flare magazine, for her eco-chic, contemporary collections
• Couture swimwear designer Reyhan Sofraci for Aqua Di Lara of Montreal, one of designer swimwear's most celebrated names
• Pat McDonagh, winner of the Fashion Design Council of Canada (FDCC) Lifetime Achievement Award and the New York Times Award for designer excellence
• Montreal design house Rudsak, notorious for its signature leather and luxurious approach
• Toronto fashion phenom Paris Li, star of the Toronto Fashion Incubator's New Labels 2010
• Katrina Tuttle of Halifax, who made her stunning national debut at Toronto Fashion Week 2009
• Caitlin Power, named one of Calgary's top 10 designers to watch at Alberta Fashion Week, October 2009, by Avenue magazine
• Montreal's Coccolily, whose debut at Toronto Fashion Week, April 2010, was described as a "must see show" by FDCC chair Robin Kay;
• Toronto jewellery designer Shay Lowe, named "accessories it-girl" by Adorned magazine, May 2010;
• Toronto eveningwear designer Réva Mivasagar, named "best newcomer on the runway" by Flare magazine, spring 2010
• Montreal fashion legend Renata Morales, praised by Fashion Television for her bold hues, lavish details and ultra-feminine sophistication
Sneakers