It's not every day one encounters a phrase as kooky and provocative as the "Moose Sex Project." So it's not surprising that Paula Noel, program manager for the New Brunswick office of the Nature Conservancy of Canada, is giggling like a kid at its very mention.
On the horn from her Fredericton office, Noel admits the handle came about as something of a lark as her Atlantic communications manager, Andrew Holland, struggled to handily explain the latest newsworthy development logged by Canada's leading not-for-profit, private land conservation organization, which works "to protect our most important natural areas and the species they sustain.
"Since 1962," according to its website, "NCC and its partners have helped to protect more than 2.6 million acres (1 million hectares), coast to coast," mostly through strategic purchase of environmentally significant land. And most recently, the big news has been land supporting moose living along the New Brunswick and Nova Scotia border.
According to a story reported by the Globe and Mail, the Nature Conservancy of Canada received a donation of 316 hectares of private land from a former top political diplomat, Derek Burney. The land had been used by the Burney family recreationally, and they decided to make the offer to the Conservancy as they sought to downsize their property holdings in New Brunswick.
The Government of Nova Scotia FAQ on moose reports that the mainland moose population is estimated at 1,000 animals or less and has been endangered since 2003. The NCC it hopes the newly protected parcel of land will lead to more "cross-border moose love" as the 29,000 moose in New Brunswick roam to find mates in the neighbouring province.
It's not that moose respected borders previously, Noel admits. Rather, a rigorously protected corridor free of development and human presence is likely to lead the moose to freer movement. Ergo, the Moose Sex Project.
"The name does get attention," Noel tells Samaritanmag with a chuckle. "The area we're talking about is what I would term the Chignecto Isthmus wildlife corridor, which is an isthmus bordering New Brunswick and Nova Scotia which connects the Nova Scotia peninsula with North America.
"We started working in this region because it had been identified by scientists as one of five key places where people should be concerned about keeping things connected to wildlife and recommending that conservation organizations have a look at what they could do.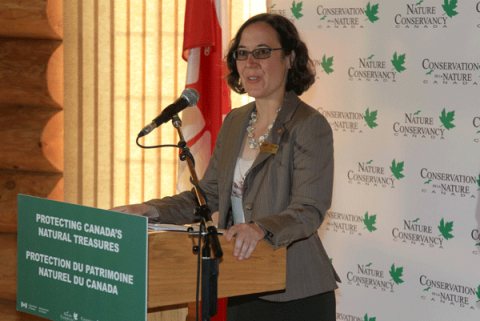 "That's the background, but trying to explain this led Andrew to come up with this name — referring to spaces where mammals like moose and bears and bobcats and Canada lynx need to move through. These animals need lots of space and need to be away from people.
"So this protected corridor should help foster movement, and since the moose are endangered in Nova Scotia — but are present in healthy numbers in New Brunswick — moose became the example of moving populations. So Andrew said, 'So you want to moose to go over the border to have sex?' It grew from there. And it seems to have captured people's imaginations."
Noel continues: "The Burney family donated two separate pieces of land that are close together, one of which is adjacent to some other existing protected lands, so these properties were very well situated within that isthmus. It's a big area and we don't need to set all of it aside as protected area, but some strategic pieces help create this corridor."
Derek Burney, former Canadian ambassador to the United States and chief of staff to Brian Mulroney when he was prime minister, was quoted by the Globe as saying when he heard of the project he was amused and inspired.
"When you conjure it up, you can only smile at the imagery. But I think… if they can preserve the corridor with things like this there's a good chance the Nova Scotia [moose] population will be replenished."
As Noel explains, the Nature Conservancy of Canada — which relies on government donations as well as private and corporate donations — functions to protect land from environmental degradation. It's a huge job and stats Noel cites help tell the story.
By 2020, Canada has committed at least 17 percent of terrestrial areas and inland water, and 10 percent of coastal and marine areas, be conserved through networks of protected areas and other effective area-based conservation measures.
According to Biodivcanada, the website of the joint federal/provincial working group on biodiversity, as of 2012, approximately 10 percent of Canada's terrestrial territory is conserved within federal, provincial and territorial protected areas, and about one percent of Canada's marine territory is preserved in marine protected areas.
In New Brunswick, only three percent of the land is in protected areas. All of which means the preservation work ahead to meet those targets is substantial.
And while Noel admits there isn't currently a ton of biological study on the mating of moose or other mammals in the newly protected area, she allows that "we are working on the assumption that the first step is making sure there is wildness land there for them to move through. Sort of 'if we protect it, they will come.'
"We are thinking about installing wildlife cameras to monitor the movement, and maybe also working with universities and government researchers over time to look at this question a bit more closely; maybe eventually tagging animals to see what that movement is.
"Our main focus is private land conservation. We are always trying to improve our conservation science and planning so finding a good piece of land with perhaps rare or endangered species on it is significant. Conservation science is trying to look at the bigger picture and how everything connects together. So this [Moose Sex Project] is a bit of a departure for us in New Brunswick.
"But we are very strategic, making sure that we're working in the most important areas on the things that are the most important to protect. Because of that, we have a good idea of the land we want, and we approach people about it, to find out how we can work together.
"And we get some very substantial donations, partly through word of mouth and also through the media. Sometimes people will call us; that's what happened with the Burney family. They knew we were working in the area where they had land and wanted to know if it fit in with our work.
"It certainly makes our job a lot easier," Noel says, "and it makes our conservation dollars go a lot further because the largest expense we have is land cost. Private land conservation is an expensive business."
adidas superstar damen glitzer silber