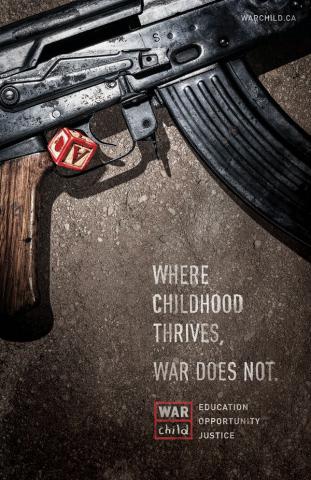 Children should not be carrying weapons and recruited as soldiers, this we know. Sadly, it is happening in various war-torn countries.
As part of a larger campaign War Child Canada has launched, pro-bono partner John St. advertising agency in Toronto created a thought-provoking public service announcement (PSA) that shows what many families must endure and fear — or in the case of the child soldiers, have been trained to do.
These kids are entitled to a fun creative childhood, free of harm.
Directed by Henry Lu, the online PSA, entitled Jam, — made possible with the donation of one million Aeroplan Miles from Aeroplan's Beyond Miles Program — is designed to draw attention to the importance of protecting the childhood of millions of these children living in war-affected communities.
"Where childhood thrives, war does not," is the PSA's final message.
"If childhood is taken away and replaced with the brutality of war, the chances of a society becoming trapped in a cycle of violence and poverty are greatly increased," War Child Canada's chief operating officer Dr. Lorna Reid said in a press statement. "War Child's intention is to restore the opportunities for emotional, intellectual and social development that a stable childhood brings and thereby breaks that cycle.
"Through this campaign, we are aiming to focus public attention on a way forward for children and communities affected by war and start a conversation around the importance of childhood in fostering peace.  We believe that childhood is one of the most precious of resources, and we have a responsibility to protect it, rescue it, and restore it."
The video is complemented by updates to War Child's website, as well as posters, print, and an upcoming social media plan that will ask people to share how their childhood shaped the person they are today. 
War Child is an internationally recognized charity that works with war-affected communities to help children reclaim their childhood through access to education, opportunity and justice. War Child takes an active role in raising public awareness around the impact of war on communities and the shared responsibility to act.
FASHION NEWS