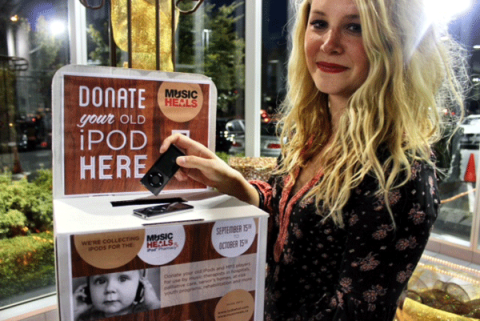 Emerging West Coast singer-songwriter Lydia Hol wants your iPod and MP3 players for music therapy. She is asking concert-goers and fans to donate the gently used items to Music Heals' cool iPod Pharmacy program, which issues the listening devices to those in care so they can hear their favorite music as they convalesce and undergo treatments.
Music Heals brings various music therapy services to patients in children's hospitals, senior's centres, palliative care, AIDS/HIV programs, at-risk youth programs and bereavement support groups mainly in British Columbia, but also across Canada. The iPod Pharmacy has dispensed roughly 100 players since Music Heals' inception a year ago, according to executive director Chris Brandt.
"Giving someone an iPod isn't technically music therapy, but it is one more tool for the toolbox and it's a tremendous noisemaker for us," Brandt tells Samaritanmag. "Plus, the impact of the music on patients is enormous. We've seen stroke patients and those suffering from dementia really come alive hearing music from their youth. Someone on dialysis or in the burn unit really benefits from having music to listen to."
Hol's drive could significantly increase that number, especially since her corresponding benefit gig Oct. 15 at Vancouver's 300-capacity Biltmore Cabaret is part of the Peak Performance Project, an extravagantly funded B.C.-based artist development mission/contest from rock radio station 102.7 The Peak along with multiple corporate sponsors. She also hopes to raise $3,000 for Music Heals through ticket sales.
The 25-year-old is one of 20 finalists completing various challenges in pursuit of the $102,700 winning purse and all the attendant media attention. Even second and third place – with cash prizes of $75,000 and $50,000, respectively – are pretty sweet. But while a win would be fantastic, her charity pick for the contest is genuinely important to her.
"The charity fundraiser is probably my favourite challenge of the five in the Peak Performance Project competition," Hol tells Samaritanmag of the songwriter's circle event that includes Ryan Guldemond of Mother Mother, Dominique Fricot, Hilary Grist, Head of the Herd and a full set by Hol.
"It's something I wanted to do anyways, but right now I have lots of industry support and media attention around me, so the timing is very good," she explains. "When I was in university, I had my sights set on a career in music therapy, but ended up going the artist route. But it has always been in the back of my mind. The reason I am pursuing music is because I think it's really healing and important in creating community.
"So I wanted to associate myself with a charity that is trying to push music into our health care system in a prominent way. As for the iPod drive, lots of people in my age group – in their 20s – might want to be able to give back but money might not be an option. The iPods and MP3 players collecting dust in our drawers is an easy way to give."
An alternative to traditional cash giving is also something Music Heals' Brandt views as essential. "As a new charity, you don't want to always be walking around with your hands out asking for money. We wanted to create something with a very low barrier of entry where people – especially young people – could get involved and become engaged. The iPod drive is it."
Asked whether the technological aspect of operating an iPod or MP3 player is a hurdle for older patients in care, Brandt insists "handing a patient an iPod and walking away is not music therapy. A music therapist will assist in the mechanics."
Air Jordan 1 Mid "What The Multi-Color" For Sale