Delta Hotels and Resorts has been supporting charities for years, but it has just launched its Good Neighbour Challenge to help worthy causes on a more localized level. The 2010 goal is to raise one million dollars to support charitable partners across Canada and donate 10,000 volunteer hours to help build stronger communities.
"What we got from surveying our employee base across the country was that they wanted to do things locally," says Ken Lambert, Delta's sales and marketing VP. "It was great for the corporate office to have a major national charity, but at the end of the day there was strong support within our hotels from people who wanted to work with local groups — whether it was a food bank, a hospital or other things in the community."
The Good Neighbours Challenge focuses on four main areas: improving access to affordable housing; protecting the environment; supporting neighbourhood causes; and volunteering.
The program (www.deltahotels.com/goodneighbours) kicked off on April 20 with a breakfast, food drive and neighbourhood clean-up in Toronto's Upper Beach area that involved Delta CEO Hank Stackhouse, local hotel employees, television host Ben Mulroney and members of the community.
Two weeks in, the Good Neighbours Challenge's respective totals are $171,800 and 926 hours.
Community barbeques, karaoke contests, bake sales, car washes, golf tournaments, gala dinners and other fundraising events will be held throughout the year, as will community and park clean-ups, food drives and builds for Habitat For Humanity Canada, which became Delta's primary charitable partner in late 2008. The organization builds houses using donated materials and volunteer labour, and makes sure that they're affordable for low-income families to live in.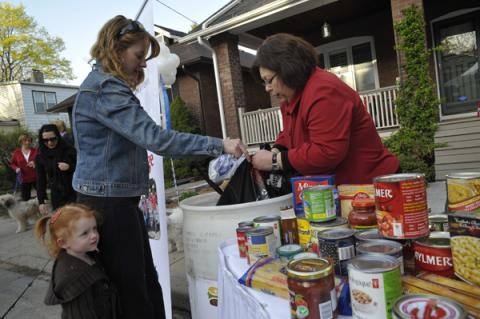 "We have 45 hotels across the country, and Habitat for Humanity had a chance to work with us in all of those markets because they go right across Canada," explains Lambert.
"It is a charity that requires not just a cheque, but a build, and getting out there with a hammer and learning — under the guidance of the professionals at Habitat — to do something. A build takes a couple of days and we have teams that go out, as other companies do as well, because Habitat has other corporate supporters as well."
Lambert says that Delta's annual contribution to Habitat for Humanity is in the "hundreds of thousands of dollars," which puts it in the "top echelon" of supporters, but three dozen other charities across the country will also benefit from the Good Neighbours Challenge. These include New Brunswick's Adopt a Highway Clean Up, Care & Share Saskatoon, Hema-Quebec, Junior Achievement of PEI, Richmond Fruit Tree Sharing Project and the Youth Emergency Shelter Society.
"The allocations to other smaller charities are what we consider our second-and third-tier funding," explains Lambert. "It's allocated on an as-needed basis and isn't broken down percentage-wise."
Delta's 7,500 employees aren't obligated to take part in the Good Neighbours Challenge, but Lambert thinks that many of them will be happy to pitch in. The company is also looking to involve hotel customers, suppliers and partners.
"It's short enough, useful enough and interesting enough that people want to join in," says Lambert. "And it gives our employees a chance to reach out.
"We know that community support is a mainstay. Even though we are in the hotel business and, by and large, people who spend the money are coming from afar, our hotel brand wants to be recognized for what it does in each community."
Delta Helps, the company's corporate social responsibility program, also continues to give to food banks and donate free room nights and other prizes to charities, which raffle them off to raise funds. All of the hotels in the chain also drop their room prices in December for people who are visiting loved ones in hospitals during the Christmas period.
"What we're doing is expanding the charity base from a national standpoint to local" is how Lambert sums things up.
Air Jordan 1