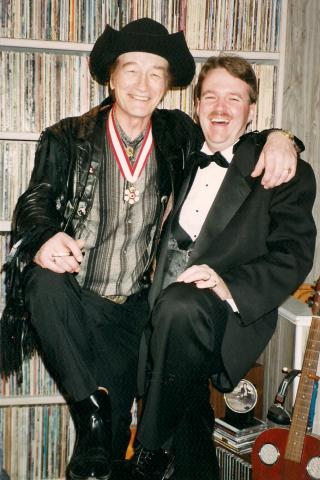 In lieu of flowers, the family of Stompin' Tom Connors has asked that donations be made to your local food bank or homeless shelter in his name. Connors knew what it was like to go without bare necessities. Although he later went on to sell millions of albums in Canada, the famed troubadour — who died this week of natural causes at age 77 — was born into poverty and hardship.
"There wasn't many food banks in those days when he was 13 or 14 years old which would have been around in the 1950s and there wasn't a lot of shelters like that there is today, but he certainly counted on them a lot," Rocklands Talent & Management's Brian Edwards, who worked with Connors for 24 years, tells Samaritanmag. "The family's feeling — as well as Tom's would've been — if you were going to put money toward flowers that were going to go to waste anyway, it would be better to have somebody benefitting from food or shelter."
The son of an unwed teenage mother, Connors' early life was often spent in the streets begging for change or food. He lived for a time in orphanages until he was adopted by a PEI family. At 15, though, he hit the road, and began his nomadic hand-to-mouth lifestyle. He eventually wound up in Timmons, Ont., where he was offered a job singing at the Maple Leaf Hotel. A legend was born.
He went on to record more than 300 songs — including such Canadian classics as "The Hockey Song," "Sudbury Saturday Night," "Bud The Spud," "Tillsonburg" and "Big Joe Mufferaw" — and release 61 albums, 10 of which have yet to be released.
Since singing his way out of poverty, Edwards says Connors gave to numerous charities, "anything that's got to do with underprivileged people that need help, that's where Tom's heart is."
Connors would often auction off the "stompin' board"—  the piece of plywood on which he would stomp his foot throughout his performances. He originally had earned the nickname "Stompin' Tom" from stomping his left foot to keep tempo while he played. When the constant banging damaged some stage floors, promoting complaints from bar owners, he began bringing his own board to lay down and stomp on.
"I did the auction myself for those things," says Edwards. "In the early days, he was going through one every three or four days, but as he got older, we went through a board a tour."
The boards raised money for Alberta's Project Warmth, the Toronto Food Bank, Habitat in Humanity in Winnipeg, and many more charities along those lines.  The live auctions were usually held during the intermission of his concert.
"The last one we did was at Casinorama  [in Rama, Ont.]," recalls Edwards. "Tom was there Canada Day [July 1, 2011] and a gentleman flew in from California with his two sisters and he was adamant he got the board." And he did.
Rob Burgess, a Toronto native, paid $11,000 for it. "After the show, he told Tom he would've paid a $100,000; that's how bad he wanted it," says Edwards. "It was quite nice. His family owned a cottage up that way and they wanted it for the wall because his [late] dad was a real big Stompin' Tom fan."
Edwards' company, together with EMI Music Canada, added another $4000, bringing the total to $15,000 raised for Orillia, Ont.'s Key Program, an initiatve to improve the quality of life for adults living with serious mental health problems, who are homeless or at high risk of homelessness.
Edwards says Connors never aligned himself with one specific charity, either as a spokesperson or ambassador. He gave to many.
"We had to be very careful because when you identify yourself with one, that means you alienate everybody else. Tom was never somebody to do that because he wanted to help anybody that needed money for a worthy cause.
"We don't like to get involved with anything that has 17 layers of administration before anybody gets anythin,g so we feel the food bank and the shelter is the least apt to have that. If you need a place to sleep and a place to eat, that's the most important thing. The rest of the stuff we can get along with; those two things you really can't. The two that were close to his heart."
Here is one example of a food bank you can give to in Connors' name. Google for more.
nike fashion