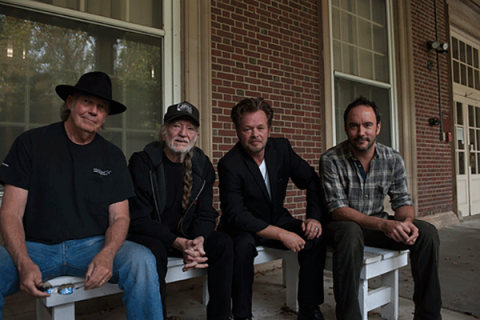 CHICAGO — To say that Farm Aid, the annual music festival fundraiser for family farms and farmers, "celebrated" its 30th anniversary this month at Northerly Island would be a bit of a misnomer.
Certainly, there were some festivities, as an impressive lineup of top musicians including Farm Aid founders Willie Nelson, Neil Young and John Mellencamp, Farm Aid board member Dave Matthews, rock band Imagine Dragons, R&B legend Mavis Staples and singer-songwriter Jack Johnson, provided nearly 12 hours of music, entertaining an estimated 27,000 in attendance at the FirstMerit Bank Pavilion on Sept. 19. But the truth of the matter is that 30 years after Nelson organized the first Farm Aid in Champaign, Illinois — raising more than $48 million towards the cause over the last three decades, excluding the most recent event — the plight of the U.S. farmer remains in crisis.
The U.S. Department of Agriculture (USDA) lists the current number of U.S. farms at 2.2 million; it also admits that less than 1 percent of the country's 313 million citizens "claim farming as a profession;" that farm production expenses average $109,359 per year per farm and that "fewer than 1 in 4 of the farms in this country produce gross revenues in excess of $50,000." Foreclosures, deep debt, industrial agriculture muscling in and manipulating prices to the point where non-corporate agriculturalists are lowballed for less-than-market crop prices, and high-level stress that often leads to depression and suicide.
The situation is still dire, warned the non-profit charity's co-founder Neil Young at the Farm Aid 30 press conference.  "The American farm is disappearing. This is a reality," Young stated. "We keep saying, 'We're fighting…we're fighting,' but it is disappearing."
Young says a dearth of younger generation farmers isn't helping the cause, especially when aging farmers hand over their livelihoods to their kin, only to watch it be sold to corporate interests. "We've only got a few young people involved. The farms are going to change hands.  We know when the farms change hands; that's when the corporations come in and grab another slice."
Still, war wages on, fighting commercial behemoths like agrochemical and agricultural biotechnology giant, and genetic seed modifier Monsanto and Tyson Foods Inc., the world's leading processors of poultry, pork and beef, two companies whose multi-billion-dollar deep pockets and alleged government collusion have transformed them into formidable foes, said Young, whose latest album The Monsanto Years particularly takes one company to task.
"We're up against a gigantic force that keeps coming at us from everywhere," Young stated. "It's centered in our government, and it's backed up by multinational corporations who have taken over the farmland of the United States, who produce 90 percent of the corn."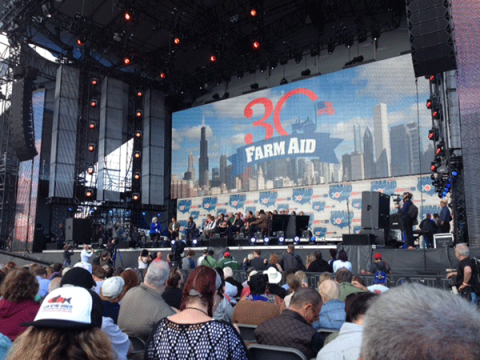 Young says the latest crisis farmers are facing is "seed control."
"Seeds are owned by these companies, so farmers can't trade the seeds," he explained. "Currently, there's a bill in the Senate that, if it passes, will make it illegal to trade seeds farther than 3 to 5 miles.  
"Because of our government and the money that they're taking from the multinational corporations, we are being forced to give up the right for our farmers to trade seeds," he added.  "We need seed justice in this land."
This public advocacy is one of the crucial differences Farm Aid has made in the lives of farmers: standing up for the little guy.
"The fact that Farm Aid even exists has given every farmer out there a stand against companies like Monsanto where they didn't have one before," country artist Jamey Johnson, who was performing at his eighth Farm Aid Festival, told Samaritanmag in an exclusive interview.
"If you don't have a voice or a vote, there's no way you can make anybody change. Farm Aid gives every farmer out there a platform to stand on while they make their case. Farm Aid helps farmers that get pushed out by ever growing corporate business and helps them make a new start on their own, helps them stand up against the Goliath."
Besides offering hope, Farm Aid also supports farmers through third party administration with programs like The Family Farm Disaster Fund — which helps families survive weather-related disasters by providing emergency funds to buy food and cover living expenses, an emergency hotline and provides legal and financial counseling when foreclosure is threatened — and The Farmer Resource Network, a grid of 700 organizations recommended by Farm Aid that provides "resources, tools and opportunities to help (farmers) thrive."
Every annual Farm Aid concert funds a year of activity, as artists and crews donate their time and talent, with all proceeds going to the cause save for a small amount of production expenses.
Here's how it breaks down according to Farm Aid website: 41 percent of proceeds go toward promoting "fair farm policies and grassroots organizing campaigns to develop and bolster family farm-centered agriculture;" 39 percent goes toward "helping farmers thrive; providing farmers with the services and resources they need to access new markets and transition to more sustainable and profitable farming practices;" 14 percent to natural disaster and emergency response and 6 percent towards "growing the Good Food movement," a crusade that espouses finding and shopping for organic, naturally grown farm food rather than the genetically altered stuff.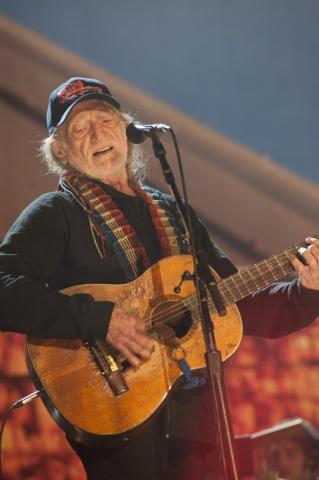 "When we started Farm Aid, crisis was gripping farm country," said Willie Nelson, who launched the idea following a remark he heard from Bob Dylan at Live Aid regarding a similar charity for farmers, at the press conference. "Farm Aid called on America to stand up for family farmers. They showed up then and they're still showing up. All different types of people are coming together for family farmers, and we're making a difference."
Farm Aid has also influenced other musicians to lead by example and make a difference.
Jack Johnson, and his wife Kim, for example, have implemented a healthy snack program via their Oahu-based Kõkua Hawai'i Foundation called AINA in 16 local schools, a farm-to-school initiative that promotes childhood health by pushing healthy eating habits, contributes to a healthier local food system by supporting Hawaii's farming community and their produce, and connects children to the land and water that sustains them.
For this school year, AINA is in 16 schools across the state, where students will experience garden-based learning, compost and nutrition lessons.
"Basically, during the school hours you can come into the classroom with locally grown food," Johnson explained. "We have parents come down in the morning, they cut it all up, it comes from the farmers, it gets put into the classrooms and kids get to taste it.
"Any kids who don't want to finish it we get them to put it in a little bin, and we take that off to worm composting. They're learning about how it goes back into the soil, and what healthy soil is, and we're happy to be part of it."
Jack Johnson told Samaritanmag that because his foundation is self-financed, there is a lot more flexibility and direct action in what they're able to do.
"We're pretty lucky with our Foundation, it's all self-funded," he admitted. "We've gotten some grants, but we've done music festivals that kind of support it and a lot of the touring I do, I pour money into it from there. So it's been different than a lot of non-profits that have to rely off the grants, year after year. In that sense, the finances haven't been a huge challenge but I know it's been a challenge for other non-profit groups."
For the Imagine Dragons, Farm Aid is an inspiration to change their eating habits. Guitarist Wayne Sermon, whose grandfather and father were farmers, said the band is doing its part to promote better eating by setting an example and actively searching out farm-to-table restaurants whenever they're on tour.
"When I first started this band and we actually got successful, was when I first realized that I can't eat the way I used to eat," Sermon told Samaritanmag exclusively. "I have to eat fresh meat and vegetables, making sure knowing where my meat comes from, the non-GMO stuff. It became apparent and actually made a difference in my life. We also definitely encourage people to go out to grocery stores that support local farms as well."
Even Micah Nelson, son of Willie and brother of Lukas, who fronted his own Insects Vs. Robots and joined Lukas' Promise of the Real to perform with Neil Young at Farm Aid, said he's going to Kauai this winter to help his cousin start a food forest. "I'm going to go help him out and learn as much as I can and apply it to my own life, instead of just going out there and preaching about it," he said.
The fact that a trio of second generation artists, Micah and Lukas Nelson, and Ian Mellencamp, all performed at an event that initially took place either before they were born or just after, suggests that the Farm Aid will take the fight for the farmer well into the future.
Air Jordan 1 Retro High OG 'Rust Pink' 861428-101 For Sale