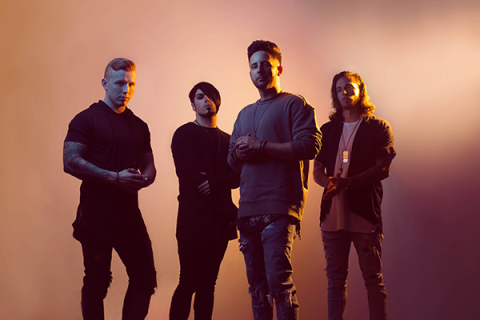 Lancaster. PA-based rap-rock band From Ashes to New is teaming up with Love Is Louder, the charity co-founded by actress Brittany Snow, to bring attention that October is National Anti-Bullying Awareness Month.
The band has launched a campaign on PledgeMusic with a specially designed t-shirt marked with the slogan "I Won't Be Broken," in connection with the band's current single "Broken," and is offering bundles of t-shirts, records and meet-and-greets for sale, with all net proceeds going to the charity.
Band co-founder and rapper Matt Brandyberry told Samaritanmag in an interview that although the song "Broken" doesn't directly address bullying, he felt there was enough of a connection to the issue to associate it with the campaign.
"I went through a lot, finding the people around me were trying to break me down and I got to a point where I felt like I was broken down," Brandyberry explained. "A lot of times, in my life, I have a very quick sense of trying to overcome adversity and the last time that I went through that, it was very difficult and very hurtful.
"So, it's a song of how it took place, how I was put in that place and how it took a little bit to realize how to overcome it. I will always fight to overcome adversity."
Brandyberry said the band had been searching for a cause to throw its muscle behind for a while.
"We wanted to be part of Anti-Bullying Month for sure. We're big advocates of anti-bullying and I talk a lot about mental illnesses on stage and dealing with anxiety, depression and being an outcast," he says. "So, we were looking over the past several months for someone to help with this, to be able to link with our cause and create an avenue of effort. Love Is Louder really spoke to us, so we decided to go that route."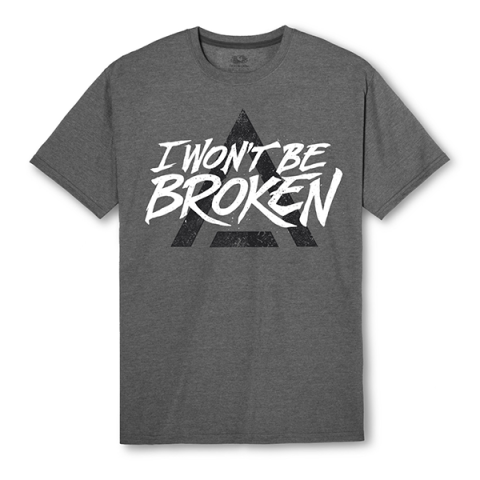 As a result, From Ashes To New is offering several packages via PledgeMusic: You can buy the "I Won't Be Broken" t-shirt for $25 USD ($32 CAD), a signed vinyl copy of their latest album Future, a t-shirt for $75 USD ($97 CAD) and a VIP Meet and Greet Bundle that includes the t-shirt, the vinyl album, a pre-show meet-and-greet and photo opportunity with the band and early arena entry for $400 US ($518 CAD) during the group's current tour with Five Finger Death Punch and Breaking Benjamin.
All net profits go to Love Is Louder, and Brandyberry says bullying is more prevalent than most realize, so it's important to ensure that help is available to those who need it.
"Bullying is definitely more widespread," he states. "I have a son who is 10 and he's different in a good way:  He's thinks on his own, doesn't follow a c crowd and does what he feels is best for him.
"In his setting, that doesn't always work out for him. There are a lot of kids who group up together and when you have that one guy who is on the outside, those kids tend to target that type of person.
"I never fit in to any crowd when I was growing up and because of that, there were a lot of kids that didn't treat me very well.  I had a good support system growing up with my family, so that helped me overcome the bullying.  This bullying goes on in all ages. There's a lot of people who don't feel like they have that support system and because they don't, we're here as a band along with Love is Louder as an organization to be that support system that someone either needs now or maybe somewhere down the road. "
If one is being bullied or is a victim of bullying, Brandyberry says keeping quiet about it is the last thing one should do.
"It makes sense to reach out," he advises. "Don't hide the fact that there's something going on. I say that because, again with my personal life and with my child, for the longest time he felt like he wasn't being heard. And it wasn't that he wasn't being heard by us – it was by the people at his school.
"He would say something about it and because he's got an eccentric personality, they kind of brushed it off by saying, 'Your son is not a saint.' And I replied, 'If he's being eccentric or he has a special personality that some kids can't handle, and that's causing other kids to do other things, then maybe both ends need to be handled. '
"If kids are not being heard, then they keep things buried deep down inside until it just boils over, and it becomes the next step of, 'we need to have an awareness month for something.' We want to take it fully head on where it doesn't get to the point of having a depression awareness month or an anxiety awareness month, or God forbid, suicide awareness month. We want to take it on before it gets to that point."
Brandyberry says he often brings up such topics in his concert patter to ensure that people know they're not alone.
"Some of my speeches talk about being yourself and changing for nobody in a world that's fabricated and that everyone wants to change. I feel we're going to be better off as a species if we decide to blaze our own trails and stop following all the trends that we think we need to be cool.
"By no means am I a therapist, but I have no problem speaking to fans or talking about things on while I'm stage that may help people or may make them dig a little deeper to pull out something within themselves that they may not have known was there," Brandyberry continues.
"At the end of the day, there are qualified people to help with this and the Love is Louder website is the best way to find them. "
In 2010, actress Brittany Snow co-founded Love Is Louder along with MTV and the JED Foundation, a non-profit that promotes emotional health and suicide prevention, to amplify the message that "love is louder than any voice to bring us down."
Love is Louder has since evolved into a unifying community bent on tuning out the negativity largely prompted by social media and turning such platforms as Facebook and Twitter into positive forms of expression.
(Please support Samaritanmag's original journalism by making a PayPal contribution using the email info@samaritanmag.com so we can increase the amount of content and writers we hire. Samaritanmag is the anti-tabloid, covering good people trying to change bad things. Let's make this thing bigger than TMZ.)
cheap lebron xi 11 size 13