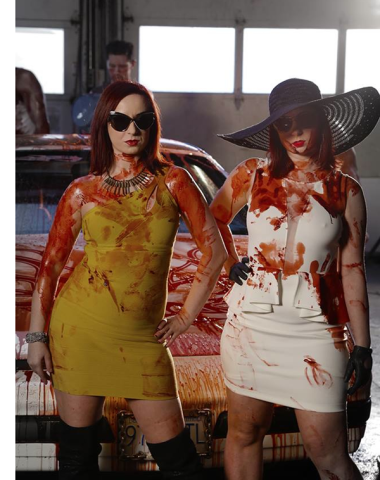 Horror films and blood go hand-in-hand so mounting a blood drive for the American Red Cross and Canadian Blood Services, or any blood bank worldwide, for that matter, is a no brainer. Jen Soska remembers the first time she gave blood during Women in Horror Month and it is likely the attendant does too.
"One of them asked me if I was going to try to drink my own blood,'" the Vancouver-based filmmaker tells Samaritanmag, incredulous. "I was like, 'No! I'm a normal girl.'"
"In that lady's defense, Jen does look like a vampire," adds Sylvia Soska, Jen's identical twin sister, fellow horror geek and filmmaking partner. "She has teeth that look very sharp. So she was just asking a question."
The Soskas, who got their first taste of mainstream attention with their body horror film American Mary back in 2013, are big supporters of Women in Horror Month and its attendant Massive Blood Drive. Started in 2010 and occurring every February, WiHM recognizes the achievements of female horror writers and directors, whose work is often overlooked in a male-dominated industry.
It also serves as the online locus for a variety of female-centric, horror-inspired charity events taking place worldwide, including Seattle's upcoming Vagina Monologues spoof Vaginomicon whose proceeds benefit Noel Housing, a support system for homeless women.
Asked why charity was a key part of Women in Horror Month from its inception, founder Hannah Forman tells Samaritanmag "Because I feel giving back is very important, and being part of your own community. When you create an event in your community, it's just another way you can give back, and it's important to me."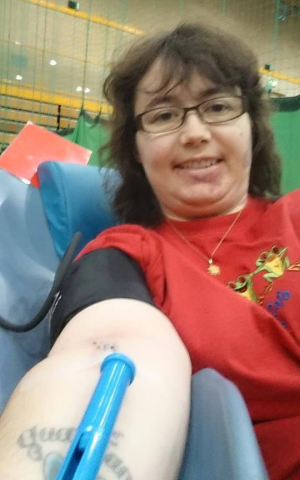 Better known as Hannah Neurotica, the Vermont-based Forman is also the creator of Ax Wound, a feminist zine that explores, according to its own subtitle, "gender and the horror genre." She was an early supporter of the Soskas, having been turned onto them by director Eli Roth (Hostel, Cabin Fever) during an interview.
So Forman contacted Jen and Sylvia via MySpace. They bonded "really fast," Forman says in a separate interview, to the extent that the Soskas sent her an early cut of their debut film Dead Hooker in a Trunk, then without distribution. Forman's interview with the Soskas (their first in print) helped the budding directors book the very first festival screenings of Dead Hooker.
So when Forman approached the Soskas in 2009 with the Women in Horror Month idea, her new friends were enthusiastic. They also had an idea of their own: they would create an online public service announcement (PSA) encouraging horror fans to donate blood. Forman came up with the event's Twitter hashtag #InYouToGive.
"You can't think of horror without thinking of blood," Sylvia says. "When you watch a horror film, you overcome your fears and phobias. And it's amazing how terrified people are of a tiny little prick in their arm."
Forman, whose father was dying at the time and needed frequent transfusions, thought the blood drive idea was "absolutely brilliant," given its conjunction of charity and horror.
"I kept thinking, wow, if there was a shortage, I can't imagine it not being there because everyone has it inside them to give it. So when they told me the idea, the timing was really intense. So I loved it for personal and political reasons."
The Soskas had similar stakes.
"My grandmother was terminally ill for the last six years before she passed away so there was a lot of blood needed constantly," Sylvia says. "And then my mother and father both needed major surgeries. My father actually had a pretty bad cancer scare, and I remember being in the hospital and needing that blood. I was so grateful. It never occurred to me that there would be a shortage of blood."
The first PSA, posted February 2010, features Sylvia slicing Jen's throat and Jen, in turn, stabbing her sister in the stomach, while a bucket between them, labelled Blood Donation, fills up. Subsequent PSAs have found the directing duo come up with increasingly creative ways to spill Mehron Dark Veinous (i.e. fake) blood onscreen while encouraging viewers to donate the real stuff.
Forman and the Soskas have also encouraged supporters to film their own PSAs which are then posted on the WiHM website.
"One of the things I love that has come out of it is people picking up cameras, sometimes for the first time, to make their own PSAs," Forman says. "So it just has this great effect."
Perhaps not surprisingly, neither the American Red Cross nor Canadian Blood Services have ever officially sanctioned the WiMH blood drives, despite negotiations to that effect. Because of that unofficial status, neither Forman nor the Soskas know exactly how much blood has been banked directly because of their efforts.
"It's funny because the first few years we tried making something that they could possibly support," Sylvia says. "But at one point the representative that we were speaking to said, 'We will never, ever be able to do it. It's not that we don't like it and it's not that we don't respect it, but any mixing of horror with blood donation, there's just too much of a negative connotation. So we were like, 'Oh gosh, that means we can go balls to the walls now and just make the loudest screaming messages.'"
"That was really liberating," adds Jen.
Similarly, Forman, who is launching a WiHM film festival later this year and hopes to have a blood services van outside the theatre to service potential donors, has sent the Red Cross direct Twitter messages that have gone unanswered. An email sent by this writer to Canadian Blood Services asking for their positon on the WiHM campaign to raise awareness of the need for donating blood went unanswered.
"I'm not going to knock the Red Cross, but it would be nice to get a little acknowledgement about the initiative," Forman says. "Because in the end, whether you're talking about horror or not, this is about saving lives, and any initiative that has positive messaging and goals behind it shouldn't be ignored because it's controversial."
This year's blood drive PSAs are no less boundary-pushing. Curated by the Soskas, the 10 directors chosen were given the theme "Blood from Unusual Places." That leads to a strange piñata being smashed in Vancouver director Gigi Saul Guerrero's "Felix Cumpleaños," a frightened child being stalked by a bloody teddy bear in Forman's own "Letting," and the gender reversal of the Soskas segment, "Give It Up," which sees the male stars of several of their productions topless and scrubbing a muscle car, with the twins inside à la Lady Gaga and Beyoncé in the former's "Telephone" video. Perhaps it is unnecessary to point out that the gents, who include their See No Evil 2 star Greyston Holt, are cleaning the car with blood, not water.
STORY CONTINUES AFTER THE PSA ANTHOLOGY:
"Good artists borrow, great artists steal, and I love that video," Jen says of their blood-drenched homage to "Telephone." "And I love how there are two really strong female icons coming together. We still haven't decided who gets to be Beyoncé and who gets to be Gaga. I think Sylv wants to be Beyoncé, though, so I'll take Gaga happily."
Non-horror fans may not appreciate the grisly means by which Forman and the Soskas are delivering their message, but there is no faulting its necessity: someone is in need of a blood product every minute of every day in Canada, and "the percentage of eligible Canadians who donate blood annually is less than 4 percent," according to Canadian Blood Services communications specialist Deb Steele-Kretschmer.
Says Sylvia: "There used to be a lot of veterans that you would see coming out doing blood donation because they felt it was part of their patriotic duty, and now it seems like people think, 'Oh well, somebody else is going to do it. Somebody else will take the plunge and donate blood. I don't have to be involved.' And that attitude is almost like an epidemic.
"So what we're trying to do is make blood donation cool and getting it at the forefront of everybody's mind. It's kind of like that great quote by Jon Waters about reading where he says if you go home with somebody, if they don't have books, don't fuck them because we need to make reading cool again. We feel the exact same way about blood donation."
adidas