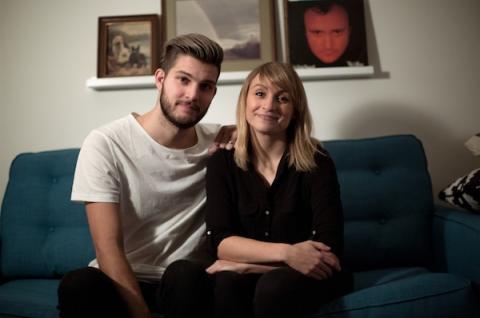 Some of the best from Vancouver's music scene and beyond will be gathering for two nights in January for the #SingItFWD charity concert event to support the Saint James Music Academy.
#SingItFWD, a concert event that's in its fifth and final installment, has been put together annually by David Vertesi, a member of the band Hey Ocean, and his wife Ambrosia, an executive with Hootsuite. The pair's goal in the #SingItFWD series was to unify the music community to support Saint James, a music education school that provides extensive support and programming for underprivileged youth in east Vancouver.
Taking place Jan. 14-15 at Vancouver's Vogue Theatre and featuring an entirely different cast of performers each night, the #SingItFWD folks have been keeping the actual roster that'll be playing each evening a secret. That said, they've suggested that a number of performers from past years — which have included the likes of k-os, Hannah Georgas, The Sheepdogs, July Talk, Shad, Dan Mangan and Mother Mother — may return this year.
Samaritanmag spoke to David Vertesi to find out more about the event.
What is #SingItFWD?
#SingItFWD is a charity concert that my wife Ambrosia and I started about five years ago here in Vancouver at the Vogue Theatre. It raises money for the Saint James Music Academy, which is a not-for-profit music organization that teaches classic music lessons and provides a quite substantial after school care program for kids on the downtown east side of Vancouver who would not otherwise be able to afford to access them.
This is the final year for #SingItFWD. Why is this the last one?
It was never really supposed to go on this long to be honest. Initially it was going to be one or two years and and it went for five, which is completely amazing. Everything's volunteer. The venue is donated to us and the staff and the bands, that's all volunteer. So it was never meant to go on for so long so we're super-happy it survived to five years and so far we've raised over $125,000 for the school and after this year our hope is to raise over $200,000 in total for the school.
You're keeping the lineup for the two shows a secret. Why?
It's kind of been a dream to do that from the beginning. We've sold it out every year, but not only are the lineups good, but the format of the night, there's a lot of artist collaboration you'll never see anywhere else and a lot of versions you'll never see anywhere else, performing with the kids choir and the kids orchestra and stuff. It's a pretty unique night and a pretty iconic night for Vancouver music. So on that reputation we and the Vogue felt that we could do it without announcing names.
The other plus side is it's much easier to secure artists. Because when you ask someone to play for free there's a concern from the artist sometimes about messing up their draw. They might have a show coming up, there might be all those complications.
So if I were to wildly speculate that some of the performers who've appeared at past events will be there this time, would that be a fair or unfair statement?
Well, thanks for trying to play it safe. Basically the message we're sticking to is there are a ton of bands coming back from the past — almost sort of our all-star lineup of bands from before — as well as a handful of new artists who are really spectacular. Eighteen bands total, nine each night, and in that group of bands there's countless Polaris, Juno, MuchMusic Video Award nominees and even Grammy nominees, so it's a real eclectic group of bands, but also I think it's going to be our best lineup that we've ever put together.
How does it work with the Saint James students? They participate in a number of the artist sets, right?
It's actually one of the unexpected pluses of this event. We do a video series every year so the bands get to meet the kids and the kids develop their own relationships with these bands. So we usually bring the senior choir because the school has like more than 200 kids and they have all these different programs — orchestra, choir, and all different levels of those — we try and bring like a cross-section of some of that. Usually the senior choir sings with a lot of the bands and if we can work it out we usually have a string section or something play as well.
The first year we really tried to limit what bands did with the kids because "Oh it's a lot for the kids to do" but really one of my favourite moments ever was in the first year when the kids just climbed up on stage anyway from the crowd to sing with artists they wanted to sing with. There was no respect for the idea that we were trying to protect them from having to learn too much. They were like "No way." They were watching Michael Bernard Fitzgerald and they just climbed up on to the stage, people from the crowd were lifting them up to get them on stage, to sing a song with him. So yeah, that's a pretty amazing part of the event, getting to do that.
Was that your highlight from all the years of doing this?
My top three in no particular order definitely involved that one. I proposed to Ambrosia on stage in 2014. Also, one of my favourite moments was CR Avery. I had him play a few years back and I'm always trying to bring a couple artists that this demographic isn't familiar with. So he came on and everyone gave him a polite round of applause, the minimum amount of applause of any of the artists because people didn't know who he was, and he broke into a song — he's this beat-boxing, spoken word, plays-every-instrument guy — so for him to be by himself is totally normal. Every other band is doing acoustic versions, but he's like "This is what I do every day." So he just slays it. The reaction from that first moment, he paused for a second, and the crowd just exploded, freaking out going "Who is this guy?" because he was so amazing.
Why do this?
It's something that's important to me, bringing people together for a good cause. Being a musician can be a pretty self-centred profession and that's all well and good but I had a craving to do more and give back. My wife works in tech; she works for Hootsuite and she's a VP there and you also give a lot of yourself in a profession, in a startup like that. Both of us really wanted to find another outlet to connect with the community and have an impact on issues around the arts, arts appreciation funding and those values we hold really dear. We figured the best way to do that is to just reach out to our own community.
Sometimes these issues seem so big and the real answer is just look around you. This is really us, me and Ambrosia, reaching out to our community, to people we know, saying "Hey, we should just do something..." And the truth is everyone just really wants to do it and that's such a positive lesson to take away from this. How excited everyone is when you give them an opportunity to give back. A lot of people just aren't sure where to start, I think. We literally just looked around us and we had friends who were volunteering at Saint James Music Academy and we were introduced to that through those friends and went down and checked it out and we were like. "I can't believe this is happening in our community and we didn't know about it." We will both be forever connected to this organization now.
Watch Hey Rosetta! perform with Saint James Music Academy to promote #SingItFWD 2016:
Jordan