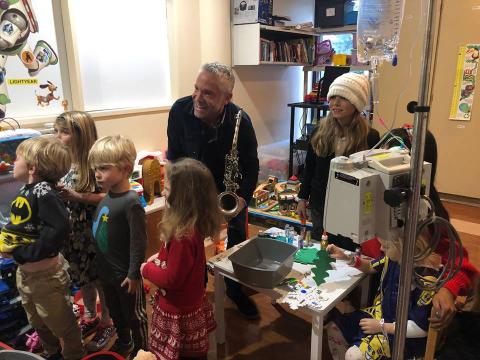 Dave Koz has been a global ambassador for Starlight Children's Foundation for over 25 years. As he heads out on his annual Dave Koz & Friends holiday tour on Nov. 29 — featuring Melissa Manchester, Jonathan Butler, Michael Lington and Chris Walker —along the 22-date tour route, the Grammy nominated sax man will be delivering $200,000 U.S. worth of virtual reality headsets to Starlight-affiliated children's hospitals.
"I won't be delivering them all of them in person, due to the tour schedule," Koz, a popular smooth jazz artist and SIRIUS-FM radio host, tells Samaritanmag over the phone recently while driving in Los Angeles. "We have enough to provide 100 of these VR headsets with state of the art technology into 100 children's hospitals across the United States. That's something I'm extremely proud of and honoured to be able to be a part of."
The donation comes courtesy of the silent auction held annually at the Dave Koz & Friends at Sea cruises, where fans pay between $1950 and $5900 U.S (minus airfare) to hang out with Koz and his musical guests for a week of concerts on the ocean. Destinations have included such locales as Greece, the Caribbean, Alaska, Spain, Greece and their 2019 destination, Australia.
The event, which Koz launched in 2005 and has featured such Grammy-winning performers as Michael McDonald, Michael Bolton, Sheila E., Chris Botti, Jeffrey Osborne, Patti Austin and Larry Graham in the past, has collectively raised more than $1 million for the Starlight Children's Foundation, a non-profit organization founded in 1982 and whose mandate is "delivering happiness to seriously ill kids today."
Koz says the idea to incorporate the Starlight Silent Auction into his "floating jazz festival" began in 2011.
"We thought, 'Let's corral all this energy that we're creating with all these guests to see if we can raise some money," he explains. "We got all the artists to donate special one-of-a-kind experiences or signed memorabilia. We had saxophones and guitars all signed by the artists. It was a big, huge hit and I think we raised $90,000 the first year."
Koz's cruises became so popular that in 2017, "We started doing these back-to-back trips because the cruises would sell out so much that we'd able to do one for 2000 passengers, and then they'd get off and the next group of 2000 would board. So, last year, in the silent auction, we raised $200,000."
Koz is quick to point out the generosity of cruise passengers who dig into their pockets even after they've shelled out thousands of dollars for the experience itself.
"In this year's case, they flew to Sydney, Australia to take the trip, and then they paid for the actual cruise and their cabin, and then on top of all that, they go ahead and donate all this money," Koz notes. "It's so awe-inspiring and I'm humbled by this incredible generosity. Not just the guests, but the artists who donate things that are incredibly meaningful to them."
Each year he raises funds for Starlight, Koz personally earmarks them for use. He witnessed the debut of the VR technology at a Foundation event and was instantly impressed.
"They have incredible partners like Lucasfilm, Disney and Pixar," Koz enthuses. "I tried on one of these headsets; it was my first time ever doing that and I was completely blown away. I saw very quickly firsthand that this would be a gamechanger in the world of children's healthcare.
"If you think about being a child in the hospital every day, someone's coming in to poke you and prod you – it's so violating and scary.  VR technology has been around for the last few years,but I think this is a relatively new usage to apply it to health care, specifically for children in the hospital. While they're engaged in VR, doctors can run tests or draw blood while the kid is off in some other land. So, when we raised this amount of money this year, I asked Starlight to earmark it towards the headsets specifically."
Koz, who has a global ambassador with Starlight since 1993, first became involved with the charity after co-writing and recording the theme for the ABC TV soap opera General Hospital. Invited to the show's 30th anniversary bash, he met GH actress Emma Samms, who co-founded the non-profit in 1982, as a tribute to her brother, who died at age 8 from aplastic anemia.
"I met Emma and she was telling me about this organization," Koz recalls. "And I said, 'Wow, the work you do sounds amazing. If I can be of help, here's my number.' "Since it was a Hollywood party, I honestly didn't expect to hear from her, but the next day she called me and asked if I could be at the Children's Hospital in Los Angeles on that Friday.
"There was an event and she said, 'We'd like you to play for the kids.' I told her I'd be there and that was the day that everything sort of crystallized for me. I saw those brave kids and their families and I saw the heroism that they projected amidst the crazy fear of the unknown of what's going to happen to them, and I was immediately hooked."
Koz's sea cruise — the 2020 edition sailing in June from  Amsterdam and the U.K. and featuring singers Brian McKnight, Regina Belle and comedian Sinbad as headliners is already sold out —isn't his only fundraising venture to benefit Starlight: there's also Koz Wines that donates all its proceeds to the Foundation, although its availability is limited to the Whole Foods Markets in Southern California, Arizona, Hawaii and Nevada.
"I don't know anything about wine other than I'd like to drink it," he jokes. "But 100 percent of the proceeds go to Starlight. The only issue is that it's only in four states and Whole Foods has been our partner pretty much since its inception. It doesn't make a ton of money — maybe $10K-$20K a year — in wine donations that go to Starlight. It pales in comparison to our cruise, but it's a really nice story to tell."
Starlight has provided Koz with plenty of inspiration and even started a few friendships.
"I'm in the car with a 23-year-old named Austin Gatus – and we met through Starlight – he's a young saxophone player," Koz says. "He was a leukemia patient; we met when he was 12 years old.  Now he's 23, cancer-free, graduated from UCLA, and he's a shining example of what Starlight can do in the situation where kids just want to be kids and for whatever reason they can't be.
"Starlight comes into these hospitals for children and their families and provides some sense of normalcy, always thinking of unique ways to improve the lives of kids. I'm a fan of this organization, I've been with them a very long time and they do amazing work."
(Please support Samaritanmag's original journalism by making a PayPal contribution or EMT transfer using  info@samaritanmag.com so we can increase the amount of content and writers we hire. Samaritanmag is the anti-tabloid, covering good people trying to change bad things. Let's make this thing bigger than TMZ.)
Air Jordan