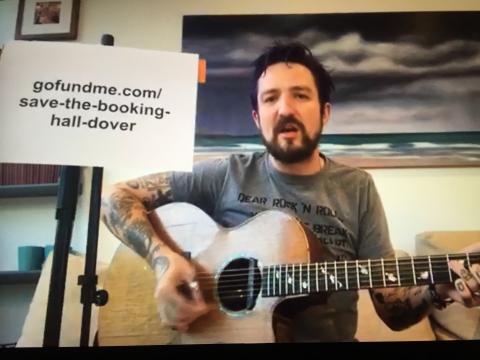 When British singer, songwriter and musician Frank Turner isn't touring tirelessly around the globe, he's likely recording, writing more songs or another book, or preparing to do one of those things. So it was a major shock to the system when he was in the midst of a United Kingdom tour and had to cancel the remaining dates as the country was locked down on March 23 to try and prevent the spread of COVID-19. He wasn't idle for long, however.
"Pretty much straight away it was 'Let's do one of the fuckin' shows that we can't do from the front room,'" Turner tells Samaritanmag over the phone from a park near the north London home he shares with wife Jess Guise, an actress, singer, songwriter and musician he married last August.
"We did that one as a fundraiser for my touring crew because there are 11 people who make a full-time living from me touring. This whole thing affects my income, but I have merch and I have publishing. There are people in the crew who don't have that. So the initial thing was just trying to make sure that I could pay my crew some money, which we did."
Independent Venue Love
With the success of that live stream performance, Turner decided to do more of them to raise funds for music venues that were hit hard when they were forced to close due to the lockdown. He slapped the name "Independent Venue Love" on the online shows.
"When there's not a global pandemic on, independent venues need help anyway," says Turner. "A business that's based on gathering people together is fucked right now, so it seemed like a pretty obvious cause to pick up on.
"I had a few venues that had been in touch anyway, so I did the first one for a place called Nambucca, where I used to live and played loads of my early shows. I mention it in a song and so on and so forth. It went really well and we raised over 10 grand [all figures are in pound sterling] and people got excited about it. I did a shout-out during that one and said if any other venues need help, get in touch. Then all hell broke loose in my email account.
"So now I have them booked through to mid- to late August. How many of those I'm actually going to do remains to be seen because, among other things, I've been trying to differentiate the playlist every week and there are only so many albums and songs that I have.
"And what type of appetite for live-streaming there's going to be by that point is hard to say because I suspect we won't be as locked down by then. But at the same time, I seriously doubt that there will be any live music this year, and I'm skeptical about next year if I'm being honest with you as well. So I'm going to keep doing them as long as I can."
Turner — whose success from his eight studio albums since 2007 now enables him to play large concert halls, arenas and festivals around the world — did the first few live streams to support small venues run by friends. He said he's been doing them largely on a first-come, first-serve basis since then.
"It's kind of interesting because some of them are venues I'd never been to. I've never visited The Parish in Huddersfield in my life. It started out after the point in my career where I would have played there on a normal tour.
"I suspect that once the dust settles on this I may well do some kind of tour of all the venues I did venue shows for. I'm going to see if I can throw that together," he says, adding, "I've almost completely kept it to the U.K., although the Molotow Club in Hamburg is a place that's incredibly dear to my heart and I couldn't turn them down when they got in touch."
Turner has performed 2,490 shows on his own or with his backing band The Sleeping Souls since his first one on Sept. 18, 2004, a year before his post-hardcore band Million Dead broke up.
Turner did his ninth Independent Venue Love live stream on May 28. He's exceeded his £10,000 (CAD $17,000) fundraising goal in each of them by setting up a stand with a sign on it that directs people to where donations should be sent.
"I do know from speaking to people that it's a significant amount of money for a small venue," says Turner. "It's a good three or four months of keeping the wolves away from the door, and that feels pretty good."
"Frank Turner has always championed the grassroots sector, having grown up and learnt his craft in these venues," Tunbridge Wells Forum co-founder Jason Dormon, a recipient of Turner's largesse, said in a media statement. "His generosity and commitment is truly admirable; he inspires live music fans to come together and unite in raising awareness and funds for the UK's Grassroots Music Venues. We were totally overwhelmed and heartened by Frank's help and the support and generosity of the local community."
While some online streaming platforms such as StageIt and Side Door sell tickets to watch shows by artists who use them, Turner elected to make his free and let fans give as much as they want.
"You don't have to pay to watch it, which I'm really keen on because some people gave last week or work at independent venues or have had their job disappear or whatever it might be, and I don't want to exclude those people from the show. It is also a moment of gathering every week for the people who are interested in my music. It serves a function on that level as well.
"I actually feel like we're probably raising more this way around than we would be if they just paid 10 bucks to get in. Then that's all they'd pay. If it's 'you're here for free, give what you can,' a lot of people tend to give a little bit more than that. I think that's a better way of doing it."
Turner has been pleasantly surprised that the number of viewers and the amount of money raised from each online show hasn't dropped off.
"I work in the entertainment business and so does pretty much everybody I know, and we're all fucked," says Turner. "But I sort of forget that there are a lot of people who either still have jobs or have been furloughed by the government so they still have income. So there's still money in our economy, and people are being very generous in a way that's really encouraging."
Turner's next Independent Venue Love live stream will see him performing his 2019 album, No Man's Land, on June 4 at 3:30 p.m. ET on his YouTube channel.
Music Venue Trust
Music Venue Trust (MVT) is a British charitable organization that was founded in January 2014 to help improve, maintain and organize music venues in the U.K. It also operates the Music Venues Alliance, a network of venues and other groups that aid the MVT, as well as the Trade Association of the Music Venues Alliance, which offers services to alliance members.
Turner is friends with MVT chief executive officer Mark Davyd and has done things on behalf of the organization for years as a patron, along with the likes of Paul McCartney, KT Tunstall, Elbow, Madness, Savages and Billy Bragg. He told Davyd about his Independent Venue Love initiative, and Turner and MVT tried to get other artists to do similar online fundraising shows.
"I've been trying to morally blackmail my friends," said Turner. "We've had some success with that, and that feels pretty good, but I think some artists have picked other causes to get behind. Some people, without mentioning names, don't seem to be in a charitable frame of mind. That's for everybody to make their own decision."
Bragg and Ed Harcourt are among those who've stepped up so far, according to Turner.
MVT started the Grassroots Music Venues Crisis Fund on March 30 and set a goal of raising £1 million from the music industry, cultural sector and high net worth individuals to prevent permanent venue closures.
The crisis fund has received six-figure donations from Beggars Group, Amazon Music/The BPI Limited and London Mayor Sadiq Khan, as well as "very substantial donations" from several other companies, including Sony Music, SJM Concerts, Kilimanjaro Live and DHP Family. As of May 28, it had raised £1.63 million (CAD $1, 696, 384) for 179 projects from 23,225 supporters.
MVT launched the #saveourvenues campaign in April in response to the continued economic threat to 556 grassroots music venues throughout the U.K. As of May 28, it had raised £1.09 million (CAD $1.85M) from 3,411 supporters and used the money to remove 140 venues from its "critical list" of those that were at imminent risk of permanent closure.
"Frank Turner's amazing initiative proved that together artists and music fans can go a long way to helping at-risk Grassroots Music Venues get through this period of lockdown," Davyd said in a media statement. "We are building on his good work with the #saveourvenues campaign and are confident that we can help create real momentum that will see artists and venues working together to raise much needed funds."
Frank Turner's other charitable initiatives
While Turner is focusing most of his time and effort on Independent Venue Love at the moment, he's also helped raise funds for a few other organizations during lockdown.
Tarrant Anderson is the bassist for The Sleeping Souls and a director of the tour bus hire company Vans For Bands Ltd. Since there haven't been any music tours happening over the past two-plus months, the company has been parking its buses outside of hospitals to provide frontline National Health Service (NHS) workers with accommodation and rest facilities during the COVID-19 crisis.
"That's not a free thing for him to do, and the government isn't offering money to support it, so he's been doing a fundraiser for that, which has been going really well," says Turner. "I've done a show for them and I've donated one of my tour guitars to raffle off, which went really well."
The 10-hour Bus-tival on the Vans For Bands Facebook page on April 25 featured fundraising performances by Turner, Guise, Skinny Lister's Dan Heptinsall and Lorna Thomas, The Orb's Alex Patterson, former Sex Pistols bassist Glen Matlock, and guitarist Earl Slick (David Bowie, John Lennon, Ian Hunter, New York Dolls), among others.
A Vans For Bands JustGiving page had raised £23,757 (CAD $40,301) from 1,038 supporters to cover driver wages and insurance costs as of May 28.
Nick Alexander was a friend of Turner's who spent 15 years in the music merchandise industry. He was one of 89 people killed in the terrorist attack at the Bataclan theatre in Paris, France on Nov. 13, 2015 when he was acting as merch manager for Eagles of Death Metal.
Alexander's sister set up The Nick Alexander Memorial Trust in his honour. It awards grants for musical equipment to community groups and small charities across the U.K., particularly those representing the most disadvantaged and marginalized sectors of society, be that through poverty, physical or mental illness, disability, ethnicity or age.
"I'm a patron and we do shows here and there, and they're always part of the Lost Evenings Festival," says Turner, referring to the now-cancelled four-night music festival he'd organized for this year in Berlin, Germany after previously holding them in London and Boston from 2017 to 2019.
"Beyond that, if people ask, I tend to say yes," Turner says of his charitable efforts. "I'm always doing little bits and bobs here and there."
The Joe Strummer Foundation
One of those bits (or perhaps it's a bob) is Turner's work with The Joe Strummer Foundation, a non-profit organization with a mission to provide opportunities to musicians and support to projects around the world that create empowerment through music. It was established in the memory of The 101ers, The Clash and the Mescaleros singer, songwriter and guitarist Joe Strummer shortly after his death in December 2002.
"The Joe Strummer Foundation is run by a bunch of people I've known for years and years from the scene in London," says Turner. "They're good friends and I've done fundraising shows for them over the years because they are essentially a fundraising organization that gives money to other charities."
The foundation asked Turner to go to Sierra Leone in 2017 in support of an organization called WAYout. He admitted that he had to look up the small and impoverished West African country in an atlas to know where it was.
WAYout's goal is to change the lives of street, vulnerable and conflict-affected young people through the arts. It offers training and shelter, makes films that can effect change, and records music that enables the excluded to re-engage. It promotes artistic freedom, education and empowerment.
"They use music as a method of getting in touch with some of the most marginalized people in the world and giving them a skill set and a sense of self-worth," says Turner. "It helps them with their lives and it's a really hands-on thing for the people they work with."
Turner describes that first Sierra Leone trip as "mind-blowing and life-changing to see such a completely different way of living and to see how much of an impact the charity was making."
The WAYout experience had such an impact on Turner that he wanted to stay involved with the organization. His last visit to Sierra Leone was this past January.
"I've been there three times now and always had a great time," says Turner. "I would love to go back soon. How realistic that is is an interesting question because I think the pandemic is going to hit countries in Western and sub-Saharan Africa much harder and in different ways. So who knows? But I've continued chucking in some money when I can and have been doing little bits of fundraising for them as all of this has gone on."
(Please support Samaritanmag's original journalism by making a PayPal contribution or EMT transfer using  info@samaritanmag.com so we can increase the amount of content and writers we hire. Samaritanmag is the anti-tabloid, covering good people trying to change bad things. Let's make this thing bigger than TMZ.)
adidas Yeezy Boost 350 V2 News, Colorways, Releases