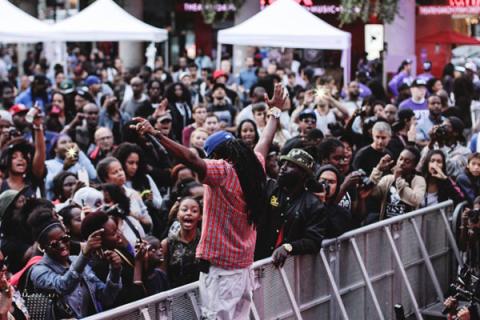 When thousands of people descend on Toronto's Yonge-Dundas Square on Sunday, Sept. 18 as part of the Manifesto Festival, not only will they see the innovative First Nations electronic act A Tribe Called Red perform for free, but they'll also experience a number of other emerging dance and DJ crews as well. It's all part of the plan for Manifesto, a non-profit, youth-powered, multi-disciplinary hip-hop art and cultural event designed to unite, inspire and empower diverse communities of young people.
Manifesto, now in its tenth year, has made its name by hosting marquee events headlined by the likes of Talib Kweli, K-OS, DJ Premier, K'Naan and Afrika Bambaataa over the years. But it's lower down on the bill, where promising young performers get their first shot on a big stage, where Manifesto often does its most valuable mission work.
And that work isn't just on the stage. The organization also takes great pride in giving young people creative job opportunities, experiences and mentorships that may have otherwise been inaccessible to them. In its 10 years, Manifesto says it has showcased more than 1,500 artists, paid more than $1 million to young artists and organizers, and fostered more than 75 internships and more than 1,200 employment opportunities while producing more than 100 events.
The whole purpose, says Che Kothari, the chair of Manifesto's board of directors, is to give young people all the tools to build and grow, so that the whole community builds and grows.
With this year's Manifesto week events in full swing — the aforementioned Tribe show, an Anderson .Paak and Kaytranada double bill at Echo Beach on Sept. 17, as well as a summit talk sessions with the likes of model Stacey MacKenzie and Director X — Samaritanmag spoke to Kothari about how Manifesto got to this point and where he hopes it will go in the future.

What is Manifesto?
Manifesto is an energy, a spirit, a soul that was reincarnated in 2007 when a group of young people in Toronto started to have conversations about wanting to change the conversation in relation to arts and culture in our community, in particular in hip-hop in Toronto at the time. It has grown into a registered non-profit in Toronto that has lived for 10 years and our mission is to enlighten, inspire, empower diverse communities of young people with art and culture.
We do that in a number of ways. Our platform is to incubate, elevate and generate. "Incubate" is all about a young person going within themselves and through our support and mentors and community and really realizing what they want to share as an artist, then connecting them to the tools and the experts that can help them become an artist. That moves them to the next phase that is "elevate," where we aim to showcase that skill, the talent, whether it's on stages or exhibition walls or during an online platform, we aim to elevate and showcase their voice. The last piece is "generate." We really believe arts and culture has the power to create social inclusion and also build economic opportunities for individuals, families, communities. So that last piece generate is really important, where there's social enterprises and businesses surrounding the core work of the organization and incubation and elevation and allowing people to generate funds off of their talent.
What were some of the causal things that motivated creation of Manifesto?
Hip hop was a very strong force in Toronto over the years and in our communities and if you looked at it 10 years ago, the festivals that were existing there wasn't really that space for artists that we knew and loved, the community that we were part of, to showcase. So there was a lack of opportunity and there was a lack of industry. For other types of music and arts there's a whole system set up for artists to tour internationally and tour across Canada, there's publications set up, there are all these various ways for an artist to build themselves. And again, for our community we knew that there wasn't that space or voice. We knew that those voices needed to be developed, whether they were labels or publishing companies or publications or event promoters, all of these things needed to be developed so that there's an infrastructure for the industry. There's also still an underlining layer of racism that exists in Toronto even though it is so diverse. There's a lot of understanding that it needed to be developed. A lot of people looked at hip-hop or young people as people that want to waste time or didn't have vision or talent or were involved in misogyny or violence, when the root of hip-hop is actually much different.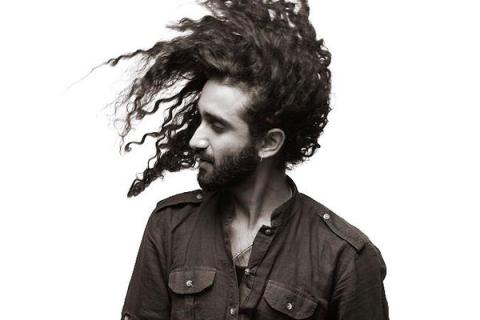 The other thing we recognized is that there wasn't a lot of collaboration just because of no awareness. A lot of young people just didn't know that this artist existed or that artist existed — everyone was working in their own silo — and because of lack of funding it was a very crabs-in-the-bucket mentality where everyone was grabbing for their own rather than recognizing that if we united we could make a bigger voice and collectively advocate for bigger things.
So those are some of the root causes. This has diminished over the last 10 years. I think that's really changed. People are really taking pride in recognizing the possibility of being from Toronto now.
A Tribe Called Red are essentially launching their new album, We Are the Halluci Nation, as part of the festival. How much of a coup is that?
So, so, so blessed I can't even tell you. They release their album Sept. 16 and there's a free block party at Yonge-Dundas Square Sept. 18. And for me, recognizing the land that we're on, that we're part of Turtle Island, to have a group right now in our time and space that is putting out this energy in their music and the frequency in their music, to have them headlining and occupying that space, is really profound to me. That's something that I'm super-proud of.
One of the things Manifesto seemed to try to do is bring in a big name act for an event, then surround them with unknowns or local emerging talent. How much of that is on purpose?
That's always been the strategy. There's so many young people's names that go on these flyers beside Anderson .Paak or a Kaytranada. That's the biggest resume material that they have. Sometimes this is the first performance material that they have and they can now take that to an agent and say, "Look, I performed at the same festival as Anderson .Paak" and they'll take them a little more seriously. Everything we do is to strategically scaffold opportunities for our young homegrown talent.
You've now reached the tenth edition of Manifesto. How do you intend to make a difference going forward?
Achieving 10 years as a young person-led organization is a milestone itself, which we're very proud of, but to me as an energy that's driving things and the chair whose mandate is to set the strategic vision of the organization I feel like we've just reached the starting line. I have visions and dreams of this becoming an institution like the Toronto International Film Festival where people all over the world want to be part of it and we're launching things and industry leaders are coming here to see what's next and Toronto is what's next right now.
We really are developing the next phase of the organization, which is really all the social enterprises that I spoke about, which is a management and booking company, an online platform that can showcase the talent like a Fader or Complex would, or a Vice or Noisey or Billboard, or all those other places, providing a platform for young entrepreneurs to sell their merchandise and wares. They're all businesses that we're going to be surrounding Manifesto with so there will be pipelines for our young people to continue to get opportunities after you hit a stage or after you've gone through our program, or done it yourself and become a talented artist, and built a name by showcasing yourself.
There'll be a home where Manifesto will be providing the next opportunities.
Watch the Manifesto 2016 trailer
nike lunar janoski black and gold swoosh blue