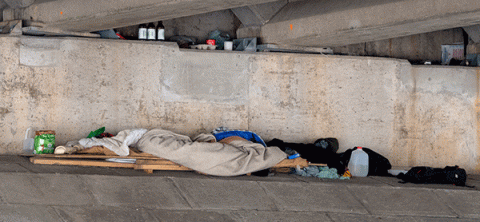 With Canadians everywhere called on to help reduce community transmission of the novel coronavirus, municipal, provincial and federal levels of government are putting more resources towards emergency shelters and residences to protect Canada's vulnerable homeless population.
After all, people on the streets without proper access to food, shelter and basic hygiene, and who already have lower life expectancy due to chronic health issues, are especially at risk from the new COVID-19 virus.
Youth Without Shelter is a facility currently offering emergency housing to 53 young people aged between 16 and 24 who have come off the streets, or found themselves without a roof over their head, and need immediate support.
"We provide an independent shelter, committed to diverse client-focused services, in a safe, non-judgemental environment. Our programs enable youth to live responsibly and independently in society," YWS says on its website.
Samaritanmag spoke to Steve Doherty, executive director of YWS and a veteran of efforts to focus on children's mental health and family treatment for over 25 years. 
Besides managing residential treatment facilities and day treatment programs, including the first substance abuse treatment program for youth offering both harm reduction and family therapy, Dohert is a former instructor in the child and youth worker program at Sheridan College.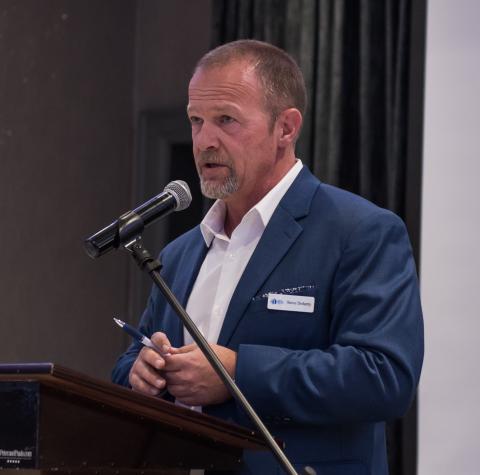 His usual goal at YWS is helping youth overcome their struggles to find a way to find their way in life. But with a suddenly acute and urgent need to help homeless people in Canada avoiding even more illness and spread the coronavirus, and to prevent any outbreak from reaching the shelter system, its clients and staff in an era of social distancing, Doherty talked about the immediate needs of young and old people on the streets and at risk of infection, and the impact on outreach workers and shelters. 
That mission was already made more challenging on March 20 when Toronto first confirmed case of COVID-19 in the city's shelter system was announced.  The city's Shelter, Support and Housing Administration, working with Toronto's Emergency Operations Centre, has just opened eight new homeless care facilities to create more space for social distancing, and hotels and motels in some cities, including Toronto and Calgary, are offering to house the homeless.
As Doherty explains, screening of the homeless people for illness and travel history continues before they enter the shelter system, with another health assessment taking place when they reach Youth Without Shelter, or any other facility.
We've all learnt in recent weeks about social distancing, self-isolating and washing hands. All that must have a special connotation for homeless people, either on the streets or in your shelter, as everyone works to stop the coronavirus spread? 
We serve the youth, aged 16 to 24, and because we have 53 people living under the same roof, plus at any given time five to ten staff on duty, we're always cautious about anything to do with infection control and with health. And we've taken this to another level. The younger people are less immuno-compromised because of underlying health issues. They still have the issues that any homeless person has. They still have poor food health. A lot of our folks have been couch-surfing. They're the hidden homeless. They might be able to stay at a friend's place for a bit, another friend's place, but as COVID-19 happens, they've found fewer open doors to stay in. People become much more insular. So our worry is more people are being pushed to the shelter system, and this sector is at 100 percent capacity and has been for years.
We're seeing stepped up funding from various levels of government for the homeless and other vulnerable groups. Is that reaching you?
"We work very closely with the city and the province. They've done a remarkable job in moving towards giving us direction and the tools we need. And the city has pulled together in a very short space of time an entire transportation system for what are regarded as 'persons under investigation,' or PUIs. So if they fail a questionnaire, they're giving a mask and gloves and we contact the city and it has transportation for them to go to a proper isolation centre that they're opened up. Because shelters don't have that ability. We're seeing a real step-up by the city and the province around leadership and funding. 
Are you able to secure the right amount of basic tools like masks, gloves, hand sanitizers and soap? 
They're making sure we're adequately equipped with those tools because they know how rapidly it (coronavirus) could spread within the shelter system.
On social distancing, aren't the homeless, or at least some of them, already doing that in terms of choosing to isolate themselves from society, literally?
The idea is you're living with space around you, and do you want to close them suddenly into large crowds. And yes, there's a certain segment of the population that don't want to live in the shelter system, for whatever reason. They prefer to live on their own. They prefer to make do. That will always exist. Those people right now have even less inclination to go into as shelter. They already feel unsafe. It might be the fear of robbery or assault, or mental health issues. Those people are in fact already social distancing.  There's some apprehension already and it's been reinforced because of the current situation.
Another issue is homeless people living in close quarters, whether in tent cities or warming centres. How do you protect and reach them with the help that ought to come their way, without doing anything to scatter them and put even more people in the wider and nearby community at risk?
That's been the big challenge for Toronto. Their street outreach services are in full steam, working with people to make sure they have small hand sanitizers, handi wipes. They're checking for symptoms of the virus now. Compared to other North American cities, Toronto is doing a wonderful job, as best they can, within budgetary constraints.
Homeless people by day may find shelter in a library or shopping malls. If those facilities are suddenly closed to them amid a local shutdown, where do they go?
You're talking about the out-of-the cold-centers. Those are city operated.  They're doing what we're doing. Before anyone comes in, there's a screen process. Do you have a fever, a worsening cough? And if people need immediate intervention, they can access that. All of the shelters in Toronto are screening. And all of the out-of-the-colds are screening. They can catch cases before people get into larger groups. And of course we'll look after you, but we'll look after you in a full isolation setting. Meanwhile, they're ensuring there's space between cots, between people. But it all starts with the screening process.
Your shelter is dealing with today's homeless. But can you see, if this coronavirus crisis drags on, whole new waves of people who fall on hard times becoming homeless and headed to the shelter system?
I'm most concerned about seniors on fixed incomes, when they're relying on their investment income. That's where we need to focus our attention. What's happening with these people? They will be in dire straits at some point. The worry is, now we're going to have an economic downturn, and you're going to have these economic pressures on our funders, and on our donors and the ability of corporations to donate to shelters. And to the larger social network. It will have ripple effects down the road. I'm happy to see the province bringing in legislation to protect jobs. I'm happy to see the provinces and the federal government giving businesses the tools they need to keep on their feet.
What's the biggest thing we can do individually?
I have a list of 15 things. Where do you want to start. We are starting to put the supports in place to make sure we don't add to the homeless population, to make sure we don't add to the welfare rolls, and to make sure we keep people healthy and we keep them productive. Because all of us, we don't respond well to stress. We're more vulnerable to disease when we're stressed. So what's the biggest stress people talk about? Paying their bills and their job. So if we can help calm that down overall, that will have a larger ripple effect throughout the health care system as well.
What are you doing specifically at the youth shelter to protect young people under your roof and your staff?
Any new people coming in, we're screening. If you left the shelter and you're coming back in, we're screening you again. We're asking the questions. We're reminding them, one chair between you at the dinner table. We're allowing people to be up in their rooms if they wish to isolate themselves, which is not the norm. We have about four or five new hand sanitizing stations on each floor. It's the little things: we're making sure our hot water supply is solid. You have to wash your hands with hot water. We're making sure the soap dispensers are filled. We're reminding people to wash their hands. We're identifying if someone looks like they're not feeling well, and going over to see how they feel. We're also modelling as staff members to ensure we're social distancing.We posed for a picture yesterday, and said what the heck are we doing? We're supposed to be apart from each other. We laughed because that was a good reminder.
A lot of it is education, which we all need, about hand washing and social distancing not least?
A lot of our folks aren't great at self-care. I was raised by a nurse. I knew how to wash my hands at six years old. A lot of them have never had that. A lot come from cultures where they eat primarily with their hands. We want to be that extra resource. We're not giving them heck for doing something. We're saying, hey, let us show you a better way.
Many people having to self-isolate are going stir crazy. How do you handle young people with you who want to get out?
We encourage people if you want to get out, that's great. Where are you going? What are you doing? I just need to go out for a walk. Good for you! We have people itching to leave. We say go out, burn off some steam. Go out into the community. But you're not going to the mall, you're not going to those other places. Those things aren't available to you now. We want people to be active and not sit around and worry all day. We even have people joining online gaming communities. They're all sitting ten feet from one another playing the same game online. It's the first time I've encouraged them to do more watching of their screens.
Given the need for social distancing, do you consider reuniting young people in your shelter with their family, and is that safe to do at this time?
As part of normal programming we work with a reunification program.  We have always attempted to reconnect with families.  Very few of our youth are able to go back to their families unfortunately.  Many have reached out to extended family members. 
What are the more immediate needs of your shelter?
People need to understand we still need food donations. That's what keeps us going. We're feeding 53 people three meals a day. Gift cards to No Frills, that sort of thing, we really need people to help with that. And the biggest thing is, gosh, we just need to look out for one another.
And the next time anyone passes a person who is homeless and sitting on a sidewalk with the hand out, what should we do amid the coronavirus crisis?
The biggest thing you can do for someone is not necessarily giving them money. First of all, just acknowledge them, that they're there and are not invisible. Hey, how are you, are you feeling okay? You holding up? Just the simple little things mean so much. If you have an extra Tim Hortons card. Those sorts of things. We can't give money to everyone. But we can support the shelter system with donations and just acknowledge that homeless people exist. 
(Please support Samaritanmag's original journalism by making a PayPal contribution or EMT transfer using  info@samaritanmag.com so we can increase the amount of content and writers we hire. Samaritanmag is the anti-tabloid, covering good people trying to change bad things. Let's make this thing bigger than TMZ.)
Jordan Ανδρικά • Summer SALE έως -50%