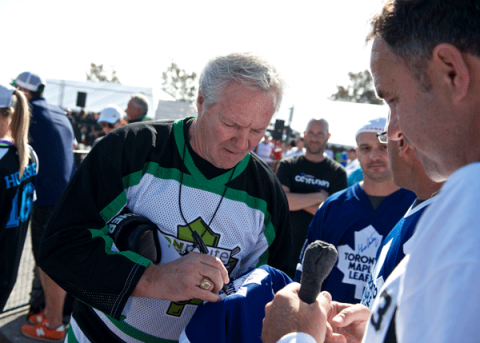 Former Toronto Maple Leafs captain and Hockey Hall of Famer Darryl Sittler has always felt it was important to use his celebrity status to support worthwhile causes. And fighting cancer tops his list, after losing his first wife and mother to the disease.
On the ice, he played in the National Hockey League for 15 seasons, 11 of those with Toronto, scoring 484 goals and 637 assists for 1121 career points. He added a further 74 points in 76 playoff games. He still holds the NHL record for most points in a single game by a player with 10, which he did against Don Cherry's Boston Bruins on Feb. 7, 1976. He also scored the winning goal for Canada in the inaugural Canada Cup against Czechoslovakia later that year.
SIttler lost his first wife Wendy to colon cancer in 2001 and his mother just a couple of years ago, also to cancer. Before she died, Wendy and Darryl worked tirelessly to encourage people to be screened for colon and other related cancers through their involvement in Screen Colons Canada and Colon Cancer Canada.
For many years, he has also been involved with Special Olympics Canada and often uses his status as one of the most popular Toronto Maple Leafs players of all to use at charity golf tournaments and other public speaking events.
This is an expanded and edited version of an interview that took place as part of an earlier article on Samaritanmag.com about the Road Hockey to Cure Cancer event.
Over the summer you participated in the Road Hockey to Conquer Cancer event for the Princess Margaret Hospital Foundation. What was it about that event that brought you out to support it so strongly?
"It's a great charity. The Princes Margaret Hospital obviously makes a different in so many people's lives as far as treating them, but then there's all the research that goes into finding a cure for cancer that they do there. And the even is here in Toronto and its hockey related. I played ball hockey as a kid, so it made sense."
And you also spoke to the participants at the luncheon. What did you talk about?
"I just tried to pass along the experiences that I had gone through with my late wife Wendy with colon cancer and the importance of getting tested and screened, but also the importance of the support from family and friends that you need to get through it."
You mentioned losing Wendy to cancer and that was in 2001, and you also recently lost your mother, also to cancer. Those losses really motivate you to do what you can to help the fight against cancer don't they?
"Everybody has been touched by cancer somewhere along the line and that's why it kind of hits home on a personal and an emotional level when you get involved in fundraising efforts. I miss both of them. And with those losses and my experiences over the years of visiting Sick Kids Hospital and just talking to people and being with them in their difficult and trying times I guess has given me the experience and opportunity to have the compassion and feeling for what others are going through. I just do what I can to show strength and give them my support and encouragement."
You were always a pretty community and people-oriented played with the Leafs, but when you met Terry Fox when he came to Toronto as part of his Marathon of Hope in the summer of 1980, that really made a powerful impact on you, didn't it?
"As a kid growing up in B.C., I guess he liked what I did on the ice and I was one of his favourite players. Someone set up a meeting and there's Terry, at age 20 or 21, he loses his leg but he's running across Canada. He has been my inspiration ever since and continues to be.
"You look at this guy and instead of feeling sorry for himself and staying at home, he got out there and tried to make a difference and he has made a huge difference. When you see that type of courage and dedication and inspiration it's amazing. He didn't do it for any recognition for himself, he did it to make a difference. I think we can all learn from Terry Fox and we are still learning from his example.
"To me he is one of the greatest Canadians ever. He did so much in such a short span of his life."
You have been involved in charitable endeavours for your entire hockey career and all these years after you retired? And lots of other hockey players from all eras also seem to be very generous with their time for various causes. Why do you think that is?
"A lot of guys, especially back in my day, came from humble beginnings, from small towns. I grew up in the little village of St. Jacobs, which had about 800 people. My brothers and sisters and I got involved in the community as soon as we were old enough, whether it was Boy Scouts or paper drives, selling apples, going to the homes of seniors and shovelling their driveways – those sorts of things were just the way we lived in those days.
"Most of the guys I played with and a lot of the guys today are still down to earth. I have been around the team since 1991. Professional hockey players are doing something they love doing. They understand what hockey means to Canadians and they never lose sight of that. Some guys get a little carried away with their egos, but for the most part they're just humble good guys who are appreciative that they're able to make a really good living doing something they love.
"And they know that they are in a position to lead their life in a positive way that is a good reflection on people looking up to them and their careers. I think the guys today understand that. We in the Leafs organization try to instill in our players the attitude that, yeah, you're a good player and you're on the ice playing in front of thousands of people, but there's also the importance of giving back and doing it with a good spirit, with the right type of attitude. I know from my own experiences from day one back in the 1970s to now, things back to you in different ways that you can't explain, it's like Karma or something like that. You need to be thankful to have the opportunity to do it."
Air Jordan 1 Retro High OG 'Rust Pink' 861428-101 For Sale