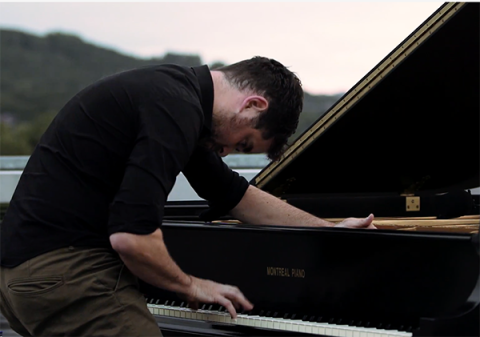 Quebec composer Jean-Michel Blais is doing something extremely unlikely in 2018 — making classical piano cool again. Buoyed by hip record label Arts & Crafts (home to the likes of Broken Social Scene and Feist), Blais' latest album, Dans ma main, has earned him comparisons to high-profile modern composers like Gonzales and Yann Tiersen. 

Blais also happens to have Tourette Syndrome, the neurodevelopmental condition that can cause "sudden, intermittent, repetitive, unpredictable, purposeless, nonrhythmic, involuntary movements or sounds," most commonly referred to as "tics," according to Tourette.ca.
Music — playing it, composing it, listening to it — has had a deep impact on his symptoms. Quite simply, when he's playing music all of Blais' tics disappear.
As someone who feels a need to help people, Blais has spent time with disadvantaged kids at summer camps when he was young, worked at orphanages in South America and spent time as a special needs educator back home in Montreal.  Having transitioned to a full-time musical career, it's only now that Blais has begun discussing the ways in which Tourette Syndrome affects him.
Speaking to Samaritanmag while on tour in Los Angeles, Blais discussed the misconceptions around Tourette Syndrome, learning to control the tics, when he first noticed that playing music stopped them, the need to help others, and what it feels like when you start involuntarily winking at a television host.

Many people often associate Tourette Syndrome with people swearing uncontrollably. What is it exactly?

It's really hard to define because we still don't know how it works. But roughly it's the name for someone having tics — complex tics and vocal tics. It's a spectrum. It goes from really subtle to very obvious and the extreme end of that, that 10 percent people can't even control what they're saying. And that's the tip of the iceberg, those are the people you'd notice in a public space because they're saying bad words or something. That's often what we associate with it, but it's much more diverse and complex. Like, in my case it started when I was three years old and I'd roll my eyes to the back and do weird movements with my arms and noises with my throat and breathing. 

There's an origin of this that comes from a place of anxiety in my case. Also, I've learned to use tics that are more socially acceptable because there's a part of it you can control. Some can't. I've been able, with a lot of work, to tame it so people don't notice or people are just "whatever." But back to the syndrome, it's often connected to anxiety, OCD, ADHD and all those. 

You were formally diagnosed with Tourette Syndrome at age 21. Could you explain how that process of discovery happened?

We've been through all of them — physiotherapists, acupuncture — I say "we" with my parents, we'd been through so many specialists. I tried doing sports, tried all of them, and then when I met with this psychiatrist and I think it took five minutes. 


"Do you have complex tics?" 
"Do you have sound tics?" 
"Do you have a sense of it before it's coming?" 
"OK, there's no doubt this is what you have."

Ironically, getting diagnosed reduced my level of anxiety and I started having less tics, which is super-ironic because it's by accepting it that at the end of the day you don't notice it. I think there's something really beautiful in that.

Afterwards the guy was like, "There's medication you can take." I'm super-hippie and was like, "I don't want to do that. What should I do?" and he just basically said, "Healthy life" — which was sports, which I wasn't doing, which was music, which I brought back in, and just eating at a regular time and eating enough and sleeping. 

This was really the shifting point and I still haven't taken pills because it's going quite well. People notice it. It's so awkward. For a while I had this tic where I was winking from one eye, which is socially acceptable. But when you're on a TV show and you do that 10 times to the host, at first it's cute but then it's like, "What the fuck? Is he trying to seduce me on live TV?" I think it creates a lot of funny moments. Sometimes I shake from my arms and people are like, "Are you cold?" Or I'll sneeze and people go, "Are you sick?" I don't explain every time.
What are some of the misconceptions of Tourette Syndrome you're hoping to clarify?

Well, the first one is that everyone thinks that Tourettes is when you say bad words. This is like 10 percent of it. You can have it without having this extra characteristic. The other one is that it's not a bad thing. We have all characteristics. It's a part of you. And you should learn to understand it and it talks to you. It's this thing and a lot of people who have mental health problems and who end up being able to deal with them sort of embrace them and accept them. So think the main point is not to aim to eradicate it and make it gone forever — it will always be there — so it's about how you deal with it, how you make it part of you, how you accept it.

Let's talk more specifically about the impact playing music has had on you. You started formally training at age 11. Did you instantly notice the impact on your symptoms?

I started doing music on this organ we had at home around nine, and I started on piano at 11 and then I think I went from the passive to the active side of music therapy, because you can have the passive where you just listen and it calms you down, and then you have when you play it and it was obvious. The first moment I have in mind is first-year piano lessons, the concert at the end, and I'm super-stressed. It's filmed so you can see me coming on stage and I've got a bunch of tics. Then, from the first to the last note there are no tics, and then they come back right after. That's the one I remember because that's the one I have video of, but it was there from the beginning.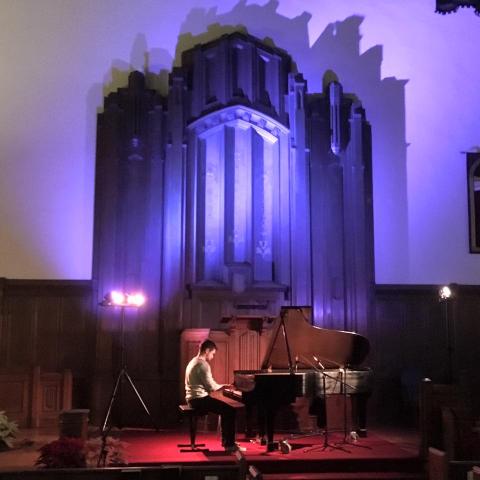 There's been extensive documentation of the therapeutic power of music, how it affects minds, elevates moods, improves memory. Do you ever use it as a device, as self-care?

Yeah, it just happened right now. Because I'm on tour, I was in New York and then I had a flight cancelled, so I had to stay in New York in this super-crappy hotel where I didn't sleep. People tried to come into the room in the night. Then I got to Chicago and it was still all fucked up and I couldn't sleep and then I arrived here in L.A. and it's beautiful, but my head is literally by the boulevard and I couldn't sleep and there were people fighting outside and it was really intense.

So this morning I was like, "I just need a coffee" and there was a piano in the room and there's like Beethoven sonata in b minor, which is one of my favourites, and I just happened to know to play. What's the chance that this was the sheet music on this piano? So I just sat and just played and I feel much better just having had the chance to play.

Could you explain the effect that playing music has on your symptoms?

I can say it's working on two levels. There's the immediate if I'm playing I have no tics at all. Nowadays I have moments where I don't have tics even if you don't see it. But right now I have them because we're talking about it, I didn't sleep a lot and I'm sort of stressed, all this. But if you had a camera when I was playing this Beethoven, you'd see I had no tics at all. Then there's more of a general short- and mid-term effect of by doing so it acts on my level of anxiety and I calm down. You will notice if I haven't played in awhile. Someone could tell me, "Maybe you should go play piano. It could do some good for you." But I never do it as a treatment. I never go, "Fuck, I feel bad. I should play piano today." It's more like I want to play piano. It's a feeling very similar to thirst or hunger. 

I'd add a third one, composing. When I compose, it's even more engaging. Because you don't have the pressure. When you're playing the classic stuff you have the pressure of what your prof will hear and when there are people in the room. 

You don't have those pressures when you're alone improvising and composing. I get the most treatment then. It's even deeper. The next level when you bring that out.

You've worked in orphanages in South America, you've been a camp counsellor for troubled children and you've worked as a special needs educator. Could you explain a bit about those experiences?

It started probably when I was summer camp monitor and I was 16 and full-time studying classical music in a conservatory and spending all the summer in the woods. We had this special two weeks where we had disadvantaged kids that were coming. These were the most difficult but the most enriching and my favourite weeks of the summer. That's where I found out I really like and want to help someone. 

Then I left for Guatemala. I lived in an orphanage for four months. It was the same thing. I just wanted to help so bad. They were really deeply suffering, from really difficult backgrounds, but they were smiling and playing soccer and I felt like maybe I should help the people that are suffering from my community. Maybe I'm more equipped to help them because I understand them and the language better. So that's when I came back. I studied for two years in special education. I worked for three years, then for two years I did some research and I went back to university.

One of the very important moments in my life was a kid I met. A Russian immigrant. It's a beautiful story. He was the worst and everyone hated him so much. And it happened that I had time to play piano between shifts when I was working. And he always happened to be kicked out of class. So once he saw me playing piano I said, "If you want I can teach you piano."

And this really rough kid who everyone was afraid of would attend piano classes. I think it took two years before he'd answer my question, "How are you?" because he'd go, "Why would I answer that? Why would you care about how I feel?" and it was really affecting.

We worked that out for 10 years and he's one of my best friends today. He's my community manager now. He's living in Russia and if you write on my Facebook, it's him answering. 

Within one month the prof would come to me, "What did you do to him? How did he change?" And honestly in this case I'm not sure it was the music so much as it was creating a relationship via something. And that something being music.
[This interview has been shortened for length and clarity.]
Air Jordan 1