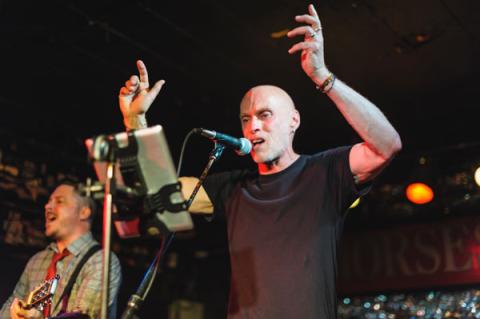 When the performers at this year's Spirit Of John benefit concert hit the stage at Toronto's Mod Club Theatre on Sept. 13 they won't just be performing songs written by event's titular figurehead, Spirit of the West's John Mann, they'll be helping him remember.
Mann, the lead singer for the '80s alternative-folk act, revealed he had been diagnosed with early onset Alzheimer's disease in 2014. With research showing that music therapy provides tremendous benefits for Alzheimer's patients, the Alzheimer's Society of Toronto built the "Spirit Of John" event around Mann. Proceeds from Spirit Of John are used to purchase music listening devices for Alzheimer's patients.
The upcoming third edition of the event will feature an all-star cast of Canadian musicians performing Spirit Of The West songs as well as songs from "John's playlist," his personal favourite music. At the concert the members of Spirit Of The West will be joined by guest singers Steven Page, Danny Michel, Andy Maize and Josh Finlayson (Skydiggers), Tom Wilson, Martin Tielli (Rheostatics), Kevin Kane (Grapes of Wrath), Danny Greaves (Watchmen), Justin Rutledge and Damhnait Doyle. The event will be hosted by Rheostatics' Dave Bidini and Boom 97.3's Maie Pauts.
Samaritanmag spoke to Chris Tait, the musical director for Spirit Of John and a member of ace '80s band Chalk Circle, about what to expect at the concert.
First off, what is the Spirit Of John event?
This is the third year we've done it. I was asked two years ago by an advertising agency JWT, who do all the work for the Alzheimer's Society in Toronto, they wanted to do a musical event inspired by a documentary and a music therapy program where they were using iPod shuffles to reach these patients who had advanced Alzheimer's. It's called the Music Project, and this event raises money for the devices.
How does John Mann from Spirit Of The West factor into all of this?
Shortly before I had been contacted, John Mann had gone public with his diagnosis of early onset Alzheimer's, so I immediately thought of John. We decided to to build the event around John. The first year John performed, played guitar and was the musical director. He was someone everyone knows in Canada and could put a face to the disease he's going through, and the "Spirit Of John" was a very obvious name with him fronting the Spirit Of The West for so many years.
The first two years we had guest performers performing John Mann songs. This year the difference is John is unable to perform so we decided this year we're going to start "John's playlist," to incorporate that.
We're fortunate that all the guys from Spirit Of The West decided they wanted to do the show (this year). We invited them, they're getting back together. The last time they played was their final shows together in Vancouver at the Orpheum about a year and a half ago. But they're coming back as a band to perform. They're going to do a set of music and then the second set is music all of John's favourite songs. So in a sense this year we're John's iPod Shuffle. It's just a live version. So we're in fact performing for him. And it looks like John is going to come, which is great. He's sort of 50-50 in terms of travel, but it's looking like he's going to be there.
Are the songs that are going to be played at the event the actual songs John might be using in a therapeutic way right now?
Absolutely. The songs were picked were just sort of our opportunity to give back to John, if you will. We could almost imagine his music on some patients' iPod Shuffles and now he needs our help, so the songs in John's playlist were chosen by his family, his wife Jill, his friends. They put a list together of his favourite music so that's what is comprising the second list of music.
What is the Alzheimer's Society's Music Project?
They raise money and provide therapy to patients through music. Very simply, there's an amazing documentary that inspired this called Alive Inside. I know [neurologist, Musicophilia author] Oliver Sacks was involved. He had research with music therapy and patients and found that with otherwise catatonic patients, patients that were completely non-communicative, you could put some music from their past on an iPod Shuffle and put headphones on and very quickly they would wake up. So the Music Project has taken the beginnings of that and are providing families and therapists with the technology and the knowhow to make that available to patients.
It's a fascinating phenomenon, knowing that the simple act of listening to music can unlock the mind.
As a musician myself I was just fascinated by the power of music, melody and rhythm and it's why one of the very first songs when I learned to play when I was 12 years old I can still play no problem. These memories that are associated with music either literally or in terms of association with times and places, what you were feeling, what you were thinking, the power of that. It's very real the effect it has. It's absolutely fantastic what can be achieved with a pop song from 30 years ago.
What are the specific goals of the Spirit Of John event?
Raising money and awareness. I think last year they were able to purchase 400 iPod Shuffles. So we've upped the ante this year, it's a bigger venue, we're trying to sort of see if we can go further this year and set a bigger goal.
A lot of Canadians will know Spirit Of The West from the song "Home For A Rest," but the peer group performing this night is among the highest profile people from the '80s and '90s. Can you talk a little bit about Spirit Of The West's status and impact in the music community?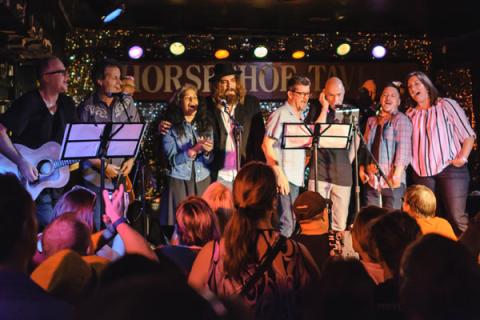 Across the board everyone knows of them and certainly in the '80s and '90s when they were in their heyday they were such a force in terms of their live performance and the commentary of their songs. They were really powerful, very honest, nothing held back lyrically. I know that resonated with me. I'm a huge fan of John as a wordsmith. Very socially conscious and very honest and never seemed to compromise lyrically. The other thing is they really appealed across genres.
How is John's health right now?
John can't perform any more. In speaking with his wife Jill I don't think she'd mind me saying that it's been a really tough year. Unfortunately, with early onset Alzheimer's my understanding is that it progresses really quickly. The first year (doing this) it was obvious he was afflicted by it, but he could sing and he could perform guitar. The second year he could no longer play guitar and this year he can no longer perform. So it's been a very steady and constant decline. He has great difficulty communicating at this point.
Why do you personally continue to do this?
I have to say selfishly it's the most rewarding thing I've ever done. This year has been a crazy amount of work, but it's easy to do it. Getting to speak to a lot of musicians, John and Jill his wife are very inspiring people. It's been easy to do it, to be honest.
What can people expect from show?
The show in past years has been incredibly moving and very powerful. Really special moments that have happened just with all these incredible musicians and artists getting together. It's this really magical thing has happened every year and I expect the same this year. I think it's going to be amazing to have Spirit Of The West there. It's going to be incredible to have some of the performers we have singing some of the songs that John can't and I can't wait to see John's face. It's a pretty special evening. It's been an incredible evening the last two years and I'm really looking forward to this year.
Watch Alzheimer's Society of Toronto's video on the healing power of music:
Footpatrol x The North Face will keep you warm... In style! - Fashion Inspiration and Discovery