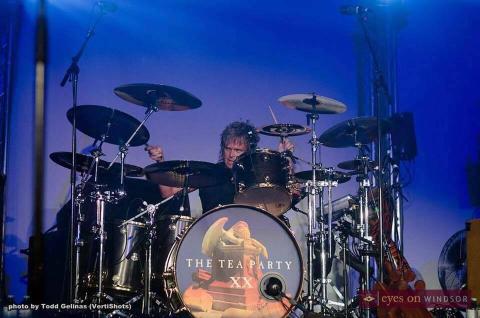 Right about now Jeff Burrows, drummer for veteran rock trio The Tea Party, should be deep in training — cutting out the drinking, eating healthy, and doing a daily run and a daily long walk. Burrows is about to embark on his 11th annual 24-hour drum marathon taking place May 26-28 at Good Time Charly in Windsor, Ontario and he needs to be in shape.
Burrows uses the annual event to raise money for the Transition To Betterness (T2B) organization, which provides comfort for those impacted by life-altering illnesses like cancer and other diseases in the Windsor-Essex County community. He also supports the St. Clair College's Scholarship Fund with this event.
This remarkable feat of endurance isn't the only way Burrows gives back. During recent Canadian tour dates with The Tea Party Burrows created the "Drum Tech For A Day" VIP fan package. Exactly like the title suggests, this opportunity allowed Tea Party fans help the drummer set up for each show as well as sit right up on stage with Burrows, lead singer/guitarist Jeff Martin and keyboardist/bassist Stuart Chatwood.
While Burrows won't likely enlist extra drum tech helpers during the band's upcoming festival shows throughout the summer, he says when the band does their own shows in the fall the opportunity's back on.
Samaritanmag spoke to Burrows about the drum tech gig and this year's marathon.
You found an interesting way to get drum tech help on your recent tour with The Tea Party. What was that?

I'm always trying to come up with different ways to raise money for various projects. Can we put people side stage? Can we do this or that? And those are all great and so on, but I figured the perspective that people never get is from right where I am, and it's known that drummers have the best seats in the house. We get to see everything. Everything happens and unfolds in front of us and what an opportunity it might be for someone who was interested in being able to do that.
What do your drum techs for a day have to do?
They show up; they get to help with the setting up, which goes bit-by-bit from the drums to the stands to the cymbals to the electronics to the cleaning, the polishing, the tuning. We have them remove the snare drum head from the night before and that becomes theirs, so the band signs off on that and that becomes a nice little piece there. The sticks that I use for the soundcheck become theirs, so I have my personal sticks with my name on them, the band signs those. If we have catering they get to be part of that. They get to sit behind Stuart Chatwood's bass rig and see the angle from there. My tech Dave [Torbett] will always see that they'll have mallets ready for a certain part of song or they'll have sticks ready for when Dave knows that I normally break my stick in part of a song and they're there waiting and I can just grab it from them. So it's pretty interesting to see whether you're a drummer or just a Tea Party fan.
How much money has this raised?
It's hard to tell because I do so many different things between the drum marathon — this [and] I do grocery store bagging and money donations for food banks. It gets all mixed in together. But it's at least probably $300-400,000.
How obsessed with drums are the people who become drum techs for a day?
I'd say 50 percent. The other 50 percent are there just because it's a rare opportunity. I'm the first one to say look while you're here, and if it's someone that isn't taller than I am, you can stand up behind here as well and you can check out when Jeff Martin turns to me and starts making goofy faces that no one ever sees out front and cracking jokes and so on. No gets to see all that. So I'm always encouraging them to take it all in and so on.
These days VIP opportunities are a lucrative source of revenue for bands. How do you come to the decision that you're going to put that money towards charity?
There's two separate things. We still do VIP packages, Jeff, Stuart and I. That's the nature of the band course now. You make so little, a band in our position, we've been around 25 years, we're a band that doesn't get a lot of radio play, we're a band that doesn't sell albums hardly, it's just like that for so many now right, so your revenue stream now is your live shows and your VIP thing is a revenue stream. So we have that in place, but every other show, or every third show, Jeff and Stuart don't care at all. They're very charitable in their own right and they do their own things as well, but I'm just lucky enough to be the guy in the back that I can hide someone and be able to do it. And it doesn't affect anything and they understand the big picture. At the end of the day that person is going to go tell someone how amazing the show was and so on and they'll tell someone... if you you've got a great show and a good word of mouth appeal it works for everyone in the long run.
Speaking of long-running, you're about to do your 11th annual 24-hour drum marathon. What's different this year?
Last year was the tenth, so we made it a big event. So we celebrated it, I spent way more money than I normally do. I had t-shirts made, I brought in John-Angus and Colin (MacDonald) from The Trews to close the show. This year I'm going right back to basics.  I've got my title sponsors that I've normally got, local sponsors who make a donation and then I've got local radio stations who afford me free advertisement for those sponsors, so they get a package valued at $2,200 for say $1,500 donation, which is great. I've got wristbands that we sell for $10 apiece and that allows you to come and go for the whole 24 hours as much as you want. I'm going to have my drumsticks available for purchase and they're signed — anything you're gonna kinda want that way. So I'm getting all these people that have helped in the past and and this community is always so giving, so I'm just going to make something very simple.
Why keep doing this?
I've got a guy who has been playing with me since year one and right after that first year his wife got sick and by the third year, unbeknownst to me, his wife died. After the third year I was telling my partner Gary (Demmans), who helps me organize this, he does everything. I said, "I don't know if I can do this anymore, man." Because it's more of a mental strain than a physical strain and I get anxious, the whole process is six to eight weeks. And literally two days later this guy Wade emails me thanking me profusely, he said his wife had passed away, and she was able to use the facilities that we were providing the funds for at Transition To Betterness and I'm thinking, "OK, there's no way I can't keep doing this because of him." And he's been with me ever since. He gets wristbands every year and he sells over a thousand dollars worth of wristbands himself.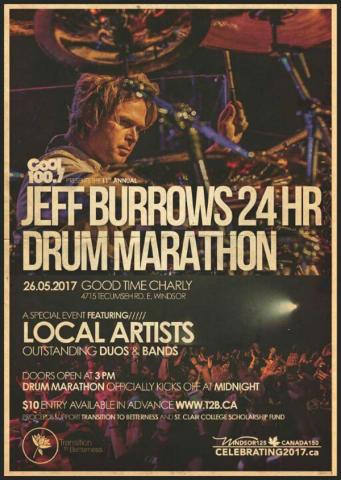 What hours are most difficult to find bands to play?
Everyone's really cool. You would think it would be midnight 'til four or two until six a.m. but I've got a sister duo who have helped me since year one as well, they go by "The Twisted Sisters" actually. They're amazing and they bring their entire family and they're actually part of my band called The S'aints that do the holiday albums every year. But I always get these great young bands who are willing to come in at five or six or seven in the morning and they realize that if we want to be part of it we're the young guys or girls on the totem pole, and they just come in so it works out really well.
How much money did you raise last year?
I think last year was about $24,000. This year I'm shooting for $30,000 just by keeping it as simple as I possibly can. The hardest thing about all of this is being that guy who constantly asks for money and I don't like being that guy, but people get it and I've had sponsors that have helped me from day one. I've got a lawyer friend that has always been there every single year, I've got a roofing company that has been there every single year, I've got my union, which is a labourers union, I've got a great friend who owns an M&M Food Market, who is my major sponsor, so it's boom, boom, boom, boom, it just keeps going right. It still doesn't make it easier to ask.
Where would you like to see this event go in the future?
You get these people out of the woodwork. There's a guy who comes there with a Mason jar, who's turned into a great friend, and he just tries to stay up with me, which he does, and he just drops $50 an hour for every hour that he's awake. That's what I really would want, ultimately, if you sew or you knit or you crochet, do it for 24 hours and bring in your own sponsorship money. I think that would be wonderful. If you could eat cupcakes for 24 hours and do it very well... that's where I think I'm heading with it next year.
Full schedule of performers at Jeff Burrow's 24 Hour Drum Marathon:
May 26
3-5 p.m. Carly Thomas (London)
5-6 p.m. Lizette and Tyler
6-7 p.m. The Soul Minors
7-8 p.m. The Hospice Wellness Band
8-9 p.m. Sarah Smith ( London)
9-10 p.m. Almost Famous
10-11 p.m. Fools in the Rain
11-12 p.m. Christine Campbell with Blake Johnson Acoustic (Halifax)
May 27
12- 1 a.m. Christine Campbell with Blake Johnson Electric
1-2 a.m. Chris McLean
2-3 a.m. Lady J'ai Mac
3-6 a.m. Twisted Sisters
6-8 a.m.  Disaster Strike
8-9 a.m. Alec Lauziere
9-10 a.m. Rio Michaels Trio
10-11 a.m. The Wilkinsons
11am-12 p.m. The Van Lares
12-1 p.m. Dave Lockbaum
1-2 p.m. Flower Face (Ruby Mckinnon)
2-3 p.m. Tara Watts
3-4 p.m. The Mixx
4-5 p.m. Last Minute
5-6 p.m. ABX
6-7 p.m. The Instinct (Chicago/ Grady Caplin)
7-8 p.m. Justin Latam Band
8-9 p.m. The Formula
9-10 p.m. Bad Habit
10-11 p.m. Smokin' Purple Monkey Gang
11 p.m.- 12am Short Notice
May 28
12- 1 a.m. Short Notice
Nike Air Zoom Pegasus