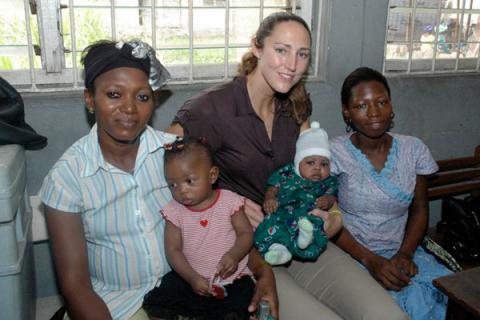 When retired WNBA star Ruth Riley came to Toronto to take part in an NBA Fit event as part of the city's NBA All-Star Game celebrations, it represented far from the only charitable endeavor the American basketball star has taken part in.
Riley, who's a a two-time Women's National Basketball Association champ and Olympic gold medal winner, currently serves as a NBA/WNBA Cares Ambassador, helping on the frontlines for a number of social issues.
At the NBA Fit event Riley's focus was on inspiring kids to be active. She joined teams of grade school children to do basketball drills, saying, "It's teaching about taking care of their bodies. Events like this inspire an entire generation to be healthier."
Here are some of the other ways Riley has helped out:
Nothing But Nets' fight is a simple one: to raise awareness and funding to fight malaria, a leading cause of death among children in Africa. The organization, which works with partners like UNICEF, the UN Refugee Agency and the World Health Organization, focuses on the very simple preventative measure of purchasing mosquito nets for children's beds in order to prevent them from getting bitten.
"It's one of the campaigns I've been fortunate to work with them myself as well as with another couple NBA and WBNA players," Riley told Samaritanmag. "It's creating awareness about malaria, the leading cause of children disability on the continent Africa. Ten dollars for a net, save a life. It's amazing how important it can be, a campaign like that."

No Kid Hungry: Share Our Strength
Share Our Strength's No Kid Hungry campaign focuses on ending child hunger in America by ensuring all children get the healthy food they need, every day. With programs like No Kid Hungry Starts With Breakfast, No Kid Hungry This Summer,  The Faces of SNAP (formerly Food Stamps) and the Hunger in Our Schools: Share Our Strength's Teachers Report, the organization works with private citizens, government officials, nonprofits and business leaders to get kids healthy food.
Born in Ransom, Kansas, Riley, who grew up of modest means, understands the disadvantages these kids face and is passionate about helping out.
"For me personally children who are hungry are the people I work with the most. Other people in the United States think childhood hunger is something that happens in the developing world, but it's happening right here," said Riley. "One in four kids don't know where their next meal is going to come from in the U.S.
"It's not a glamourous issue to talk about and it's something that you don't want to let in your consciousness really, but it's happening and we're going to have to call to action on it because it's happening in our neighbourhoods."
The Spirit Of Basketball

In 2005 Riley co-authored the children's book The Spirit Of Basketball with Paul Hickey and illustrator Chris Hiller. The book celebrated how basketball could be a unifying force no matter your race, language or place of birth. It was distributed for free at Detroit Shock home games throughout that season.
"I love engaging with our fans. The reason why I wrote the book was when I was in Detroit it was a way to engage with my fans in the community and connect to the youth. Education is something that was instilled in me by my mom, the importance of it. It's about sport and giving and it's a fun way to read about sports."
Inspire Tranformation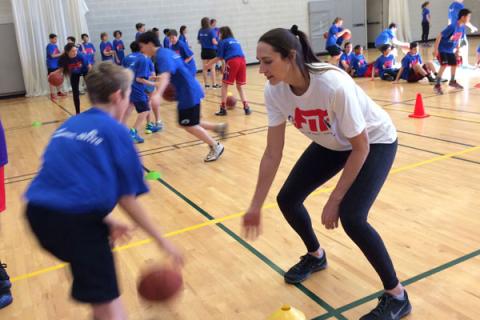 Relentlessly focusing on fostering local sustainability, Inspire Transformation operates in Southern Africa doing things like creating the Masisukumeni Women's Crisis Centre in in Nkomazi district of Mpumalanga, South Africa, working with Ark Of Hope Southern Africa to establish a daily walk-in center and a shelter to provide counseling, ongoing support and advice to women and girls in rural areas and farms, as well as launching leadership camps for teenage girls and helping organize the Nkomazi Sports Club.
"Deeply committed to creating programs that improve the quality of life for all people, with a special emphasis on education, youth and family development and health and wellness," WNBA Cares is the organization where past and present WNBA players work with the community.
Some of the programs WNBA Cares is involved in include WNBA Fit to encourage healthy living in children, Inspiring Women, which celebrates "commitment, passion and dedication to work, family and community," WNBA Breast Health Awareness, WNBA Cares Hoops for Troops and the WNBA Cares Community Assist Award, which Riley won in 2006.
Social Media
In the past Riley has used her official blog to address important issues like the challenges women in Saudi Arabia are faced with in trying to play basketball, visiting wounded veterans at the Walter Reed National Military Medical Center or discussing breast health awareness. Her Twitter feed also frequent features her appearances and updates from charitable events.
Riley's basketball skills have created these openings to give back. It's something she hasn't forgotten.
"It's given me the opportunity to travel the world, to play at the highest level in a game I love," said Riley. "But also beyond the sport itself that it's given me a platform to engage in important ways."
Air Jordan 1