Rachael Bawn released an anti-cyber-bullying song and video "Daggers" earlier this year and is currently on a 33-date youth empowerment tour of Canadian high schools in the East Coast and Ontario that ends Dec. 10.
"Daggers" is one of three songs Bawn, who signed recording and publishing deals with BMG in May, is performing at the schools during an hour-long presentation in conjunction with Live Different, a Hamilton, Ontario-based charity which over 18 years has visited 3500 schools, reached 1.5 million students, built over 500 homes/schools, and mentored more than 4500 students/interns/volunteers.
"From the very beginning, we have been passionate about making a difference people's lives through our youth empowerment presentations, our humanitarian build programs, and our leadership development opportunities," it states on the Live Different web site.
"There's a speaking component and a music component," Bawn tells Samaritanmag of the team that visits schools. "We have speakers that talk about different things in their lives, and then I come in with a few songs during the presentation. It's really special for the kids because they're hearing multiple stories and will hopefully able to find something that they can relate to, either a speaker or my songs."
The Oakville, Ontario-based singer-songwriter says the lyric stems more from third-party experience than her own but her years as a youth leader and the one-on-one time she spends with students during the post-show meet-and-greets has given her a perspective on what many young people are enduring.
"The face-to-face conversations I've had with kids is so impactful," she says on the phone from Corner Brook, Newfoundland.  "To hear the things that they're willing to open up to me about, based on the fact that I'm singing songs that make them feel safe enough to do so, is so amazing.
"It's a smaller audience and we're in really small towns, but these are kids who have never had any concerts coming through, have never been to a festival or anything like that.  For them, this is a huge deal.  To be able to meet them after and talk with them and have these conversations is amazing."
Bawn says that online bullying is a real concern, especially since social media is so prevalent in teenage lives. "The thing that surprised me the most is how common it is and how damaging social media can be. It can be a really powerful source but it can also be so damaging. "
According to a 2016 Insights On Canadian Society report issued by Statistics Canada among Canadian internet users aged 15-29, one in five Canadians aged 15-20 reported being subject to cyberbullying or cyberstalking.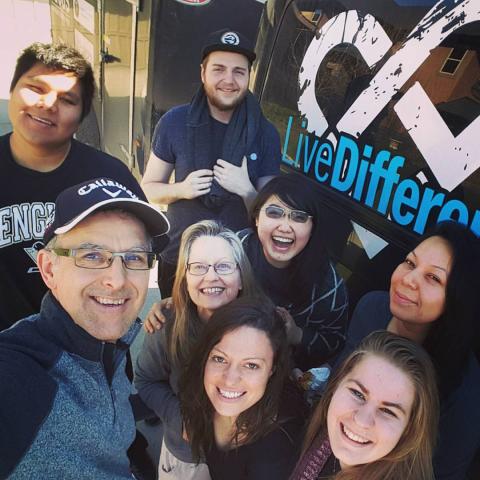 "I've had a little bit of experience with bullying," Bawn admits. "My friends in middle school were really catty and super gossipy and would say things about each other and somehow it would make its way back to you, but I personally haven't had serious issues with bullying.
"I was a youth leader for a few years with the same group of girls. Over four years, we met once a week and it was a lot of what they dealt with — especially with social media and online. So, the song came from their stories.
"There was a website that they told me about where you make a profile and people can post anonymously on your wall," she continues. "I don't know why someone would want to subject themselves to that, but they would get some of the meanest and most hurtful comments from people they never met — along with some people that they have met.
"Even though it's online, the way that it affects them and the way that it hurts them is so damaging - especially as a teenager when you're still figuring out who you are and what your identity is.  To give people the power to define you is a really sad thing."
She also says that kids today are particularly emotionally fragile, something Bawn noticed as a youth group leader.
"In the group that I was leading, there were 12 to 14 girls that were coming every week and I think about half of them were on medication or diagnosed with anxiety depression," she states. "It's so much more common than people realize. This is becoming a huge conversation piece and the kids aren't being diagnosed and are living their lives by being defined as being depressed or medicated. There is such a stigma. It's everywhere."
Bawn believes youths are particularly susceptible to social media perils because it's all they've ever known – and their parents are unable to comprehend their issues because they've come from a generation prior to the days of Twitter, Snapchat and Instagram.
"Kids that have grown up with social media, they don't know a time before that," she explains. "The way they've learned to cope and deal with things, it's essential to find things on their own because I don't think their parents know how to help or navigate social media.
"For them, this is everything: It's where they're having the majority of their conversations, where they're getting all their information, reading articles or learning things about celebrities. They're really living their lives online and they always  have their phones on them."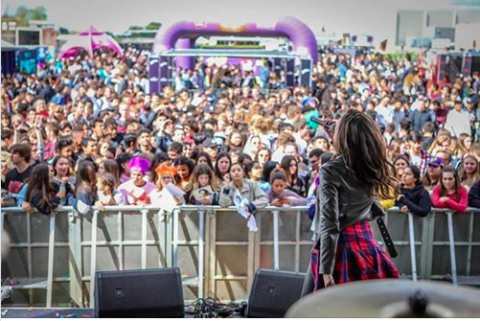 During Bawn's appearances at the high schools, she says their reactions are immediate.
"Even before we leave the school, I'll have been tagged and posted and pictures will have been uploaded," she admits. "It's so instantaneous. They're living their lives out of this place online  I feel like they're looking through a lens that is completely defined by social media because they don't know any different."
Bawn says the initial reaction to "Daggers" — one of many songs that will appear on her upcoming Chasing Light album, to be released in January — has been positive.
"I've had a few kids come up to me and tell me that this song spoke to them or that they feel like that this gives them the courage to stand up against it and to not let it affect them so much," she reports.
Bawn pictures herself as a crusader for kindness and optimism, which she infers is in short supply these days.
"In a world that's flooded with negativity, there's a common passion to reach out to kids," she notes, also speaking on behalf of Live Different. "They just want to show, through their stories and my music, that there's hope and that things will get better."
One thing she refuses to do, for the moment, is sing about partying or relationships.
"I don't think kids need another song about that stuff – there are so many already out there," she notes. "Maybe I will write that at some point, but right now I just want to write about what I think kids need:  a positive message. So, with this album, Chasing Light, I hope kids can find something in every song that they can relate to, because I think that's really important."
(Please support Samaritanmag's original journalism by making a PayPal contribution or EMT transfer using  info@samaritanmag.com so we can increase the amount of content and writers we hire. Samaritanmag is the anti-tabloid, covering good people trying to change bad things. Let's make this thing bigger than TMZ.)
/Nike_7_1