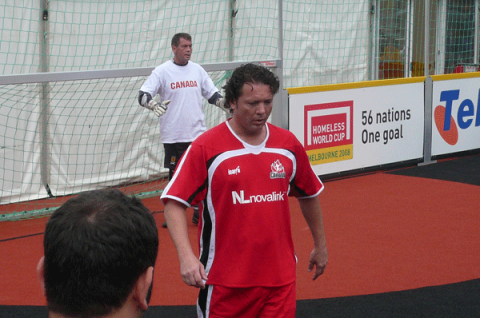 The homeless are likely not your first thought when you think of soccer players, but did you know that a Homeless World Cup of soccer takes place every year?  When the tournament kicks off in Santiago, Chile, in October 2014, it will actually be the second World Cup event hosted by South America this year.  One of the world's biggest sporting events, the 20th FIFA World Cup, launches in Rio, Brazil, four months earlier (June 12). It pales in scope compared to the official event, but the Homeless World Cup now brings in teams from 70 countries — including Canada.
Street Soccer Canada (SSC) — now in its 10th year and incorporated as a non-profit charity in 2008 — is the brainchild of Toronto's Paul Gregory. "We are not an easy charity," he admits to Samaritanmag. "People in the sports world don't necessarily take us seriously and people in the homelessness world don't necessarily think we should be doing sport. It's a funny mid line we play."
Gregory says Street Soccer Canada has investigated the benefits of its work. "By doing point of time research and anecdotally, we know guys are affected in a positive way. People become more stabilised, more connected to their social networks. They have less interaction with police, fewer hospitalisations, less incidence of mental illness, less use of drugs and alcohol, and greater self-esteem."
There are obvious health benefits too, he says. "This is about someone getting better and healthier. They're running around and getting the good drugs in their body going, testosterone and endorphins."
Initially, Gregory visited homeless shelters and recruited potential players from the Brampton and Mississauga area — outside the Toronto core — assembling a team for the second Homeless World Cup in Gothenburg, Sweden, in 2004. He jokes that "the team was funded by Mastercard, my Mastercard." Matching his personal financial commitment were contributions from a non-profit, St. Leonard's Place in Peel. "It cost about $12,000 to go and was life-changing," Gregory says.
Since then, Canada has sent a team to the Homeless World Cup every year, and over 300 players have passed through street soccer programs in Vancouver, Montreal, Toronto, Calgary, and many other cities (both sexes are welcome). They haven't all made it to the Homeless World Cup, but have participated in a yearly national soccer tournament organized by Street Soccer Canada.
"Homelessness is a socially isolating experience," says Gregory. "These guys are without support from family or friends. Bringing them together allows people to look outside themselves again, in a positive environment. It's not, 'Let's get together and talk about why you're depressed or about your job prospects.' It's about saying, 'Let's play some football, and beat those guys.' That brings people together really quickly.
"Sport spurs people on. If you can ignite that spark, then this guy will do most things for himself. Sport provides a place where people can reinvent themselves. We try to provide a positive sports environment that will allow them to do that."
Since its humble beginnings, Street Soccer Canada has been able to secure more sources of funding, Gregory says. "The biggest one allowing us to move forward has been the Ontario Trillium Foundation, who have funded us three times."
As a community support worker, Gregory had been working in the spheres of homelessness and social housing for 16 years prior to hearing about the inaugural 2003 Homeless World Cup. The concept instantly resonated, he recalls.
"I saw a clipping and thought, 'What a cool idea. Soccer for homeless guys.' I could see it was about a celebration of talents and strengths, as opposed to shelter environments, where people are always being told 'Get off drugs. Get a job. Do this.'  We are just saying, 'Come and play some soccer,' and  that's what we've done for the last 10 years."
A progressive boss at the Regional Municipality of Peel allowed Gregory to explore the idea further. He discovered the Homeless World Cup was started by the International Network of Street Papers (INSP).
According to its website, the organization, founded in 1994, "supports and develops over 120 street paper projects in 40 countries in 24 languages, with a combined readership of 6 million per edition. Street papers are independent newspapers and magazines that operate on a social enterprise and self-help model to provide an innovative solution to urban homelessness and unemployment."
Mel Young, the social entrepreneur and co-founder of INSP, helped form the Homeless World Cup in 2001 as a means of advocating for a global solution to homelessness, and the first annual tournament was held in Graz, Austria, in 2003. Its website explains that "The Homeless World Cup organization operates through a network of more than 70 national partners around the world, supporting football programs and social enterprise development."
Since 2005, much of Street Soccer Canada's work has been based out of The John Innes Community Centre in downtown Toronto, a facility that has also long hosted a homeless baseball league.
Street Soccer Canada's goals go beyond the annual Canadian tournament (this year, for the first time, it's being held in both Vancouver and Toronto) and Homeless World Cup.
"Street Soccer Canada has initiated a grassroots program with sport as social inclusion as its focus," is says on the web site. "Its aim is to engage and connect with marginalized shelter users and individuals that have been isolated and are on the fringes, using the positive power of sport to enrich and empower. The focus of these local programs and the national and international tournaments is strength based – players have said they come away with a sense of contribution and hope."
There have been skeptics who feel those facing homelessness, mental health and substance abuse issues should be pursuing work, shelter or getting clean, rather than chasing a soccer ball around.  
"We used to get that comment a lot more than we do now," Gregory says. "I think people are seeing the old systems don't work either. You always get naysayers saying, 'Why are you spending money on a flight to take a guy overseas?' I'm like, 'Well, he has worked hard. This is the carrot at end of the stick. It shows he is moving forward.'"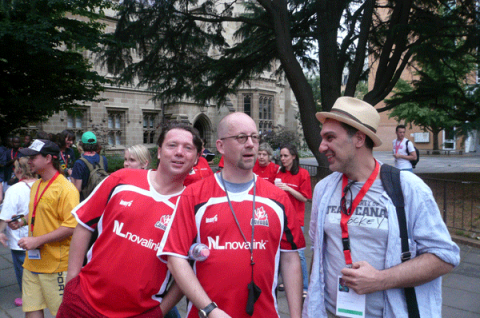 Musician/author Dave Bidini has witnessed first-hand the positive impact participation in sport can have. He has written books about baseball, hockey and soccer. In 2008 he travelled with the Canadian street soccer team to attend the Homeless World Cup tournament in Melbourne, Australia, turning that experience into an acclaimed book, Home And Away: In Search Of Dreams at the Homeless World Cup of Soccer.
"Recreational sport really helps hold people's lives together," Bidini tells Samaritanmag. "Teams are important and you can really see that impact on people who have issues that are harder to conquer. The streets are a very distrustful, paranoid and solitary environment. Teams pass no judgment in terms of the character of those who gather on them. They are safe places where you can park any insecurities. That is ten-fold in terms of importance to the homeless."
The most striking success story of the SSC program is now coach of its Homeless World Cup team. Basile (Billy) Pagonis is the only player to have competed in both that event and the official World Cup. The Toronto-raised Pagonis was a successful professional soccer player for nearly 20 years, playing in top leagues in Germany, Switzerland and North America (Toronto Blizzard). He was part of Canada's team at the World Cup in 1986, but ran into financial and substance abuse issues when his career ended.
Pagonis tells Samaritanmag about his link with the Homeless World Cup. "Back in 2007, I was going through an addiction program at CAMH (Centre for Addiction and Mental Health). CBC had a Soccer Day Canada special and I saw an interview with the goalie of the team. I visited the John Innes Community Centre for their practise and got involved."
A year later, Pagonis was part of the Canadian team at the HWC in Melbourne. "Realistically I would say that experience saved my life, in a mental sense," he reflects. "I got back with my parents and my brother. I started believing again, making new friends and changing my environment. That is what they provided me and now I'm trying to give back to other participants."
Street Soccer Canada subsequently hired Pagonis as their technical director. "I do a lot of volunteer work for them too, working six days a week, visiting the shelters and dealing with up to 500 kids all over Ontario. I'm helping kids going through the same problems I once had. I can relate to them. When you are in the shelter system, it just overwhelms you. You either land in jail or bottom out, with no hope. Street Soccer Canada gives you lots of hope."
Pagonis has served as coach of the HWC team for the past three years, and will again be at the helm in Santiago.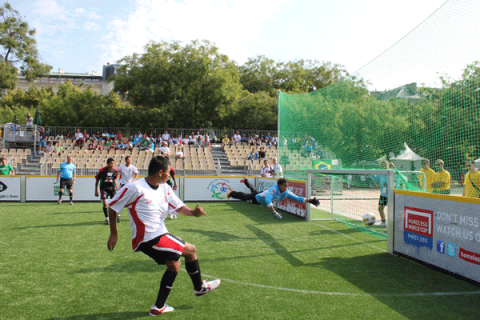 Both Pagonis and Gregory stress the program isn't really about developing super-talented players or finishing high at the tourney. "It's not so much about their sporting ability, but rather the initiative and the progress they're making while they are in our programs," says Pagonis.  "It is not wholly about the World Cup," Gregory agrees. "We can only bring eight to 10 people to the event, but we are reaching hundreds of people."
On the field, Canada has yet to finish in the top 30 at the Homeless World Cup. Perhaps more importantly, it has won the tournament's Fair Play award for three of its 10 years in competition. Interaction with teams from around the world also has a positive spin-off, Pagonis notes.
"Our players may go there at 18 and think they've had a hard life. Then they'll hear stories from 12-year-old kids from Cambodia who, at age four, saw their parents being killed, and they go 'My God, I'm not so badly off. I'm going to make it work.'"
This year, Street Soccer Canada has hired long-time club booker and NXNE co-founder Yvonne Matsell to put on several fundraising events in Toronto. First up is the at the Horseshoe Tavern on April 12, featuring performances by Sarah Harmer, members of The Sheepdogs, Wayne Petti (Cuff the Duke), Tom Wilson (Blackie and the Rodeo Kings), Tony Dekker (Great Lake Swimmers), Jose Contreras (By Divine Right), Wax Mannequin, Olympic Symphonium and more. Bidiniband will be backing the majority of the acts. Tickets are $20 plus fees at Ticketfly or at the door.
"We will have a bigger silent auction and more help this year, so we hope to raise over $18,000," Gregory says. That help will include the presence of players in the Homeless World Cup program in the crowd, soliciting extra donations. Slaight Music is also one of the event sponsors.
スニーカーの検索一覧【新着順】