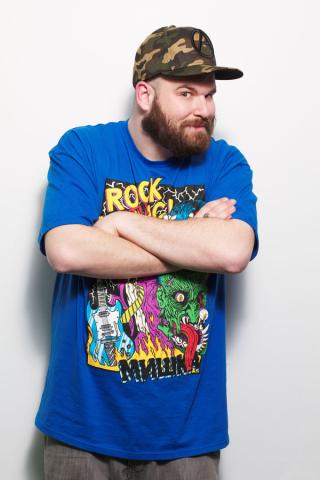 Punk singer and MuchMusic host Damian Abraham wasn't fully up on the statistics regarding missing or murdered Aboriginal women in Canada when his hardcore band Fucked Up won the 2009 Polaris Music Prize and he announced he was doing a charity single.
The cover of "Do They Know It's Christmas?" — featuring Vampire Weekend's Ezra Koenig, Bob Mould, Tegan & Sara, Andrew W.K., GZA, TV On The Radio's Kyp Malone, Yo La Tengo, comedian David Cross and Broken Social Scene's Kevin Drew — benefitted Montreal's Justice For The Missing & Murdered, Ottawa's Sisters In Spirit and Vancouver's D.T.E.S. Power of Women.
"When we won the Polaris Prize, I started talking about this thing that I really, at the time, knew very little about," Abraham tells Samaritanmag, "just what I remembered from school — just that I knew there was this thing that was happening and that there were organizations in the community that we could find a way to give money to and find a way to help out, but I was just talking out of my ass.
"I was up there [onstage] and I was like, 'Yeah we're gonna do this benefit record.' I started getting phone calls from people, 'We want to talk to you about this charity,' and I'm like, 'Oh my God.'  So from then I started researching and finding out [more]."
Earlier that year, in April, the Government of Canada had started a study of violence against Aboriginal women and tabled an interim report about two years later in March 2011. Among its findings: a disproportionately high number of missing and murdered Aboriginal women. Funding provided to The Native Women's Association of Canada's (NWAC) Sisters in Spirit Initiative documented 582 cases, as of March 2010. 
In October 2010, the Government responded by committing $10 million to the Department of Justice Canada to spend over two years to "improve community safety and to ensure that the justice system and law enforcement agencies can better respond to cases of missing and murdered Aboriginal women."
"It's one of those things that we don't really talk about in Canada, but it is truly a unique Canadian epidemic of violence targeted at Aboriginal women," says Abraham.
"The numbers of missing and murdered are ridiculously low that they give officially, but there are thousands of them," he believes.
"The violence comes from outside the Aboriginal community directed at Aboriginal women. It's women going missing; crimes not being investigated; it's a lot of issues surrounding poverty and — let's be honest — there's racism in Canada that's always been present and this has exposed it to a certain extent."
Sneakers Nike