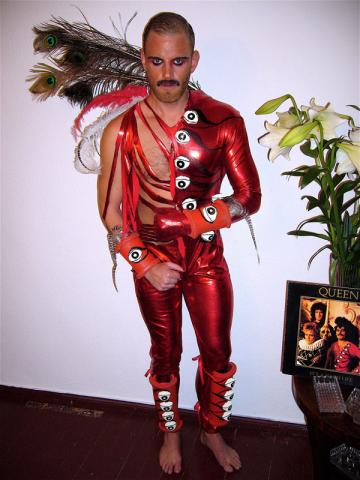 If you see someone sashaying down the street tomorrow (Sept. 5) wearing a pasted-on handlebar moustache — or better, a skin-tight satiny jumpsuit slit down to the navel — you haven't accidentally wandered into a Pride parade. You've encountered a light-hearted do-gooder being a 'Freddie for a Day.'
The zany annual fundraiser, which encourages regular Joes and Janes to dress up like late Queen singer Freddie Mercury to salute him on his birthday, helps raise funds for the AIDS/HIV-battling Mercury Phoenix Trust.
Established by surviving Queen members Brian May and Roger Taylor and band manager Jim Beach following Mercury's death from AIDS-related pneumonia in 1991, the UK-based Mercury Phoenix Trust has donated more than $15 million in the fight against AIDS via grants to some 750 charities worldwide, according to its website.
The Freddie for a Day initiative — launched in 2010 with the idea that people could enlist their friends to sponsor their costumed shenanigans — is one of many campaigns the Trust has spearheaded over the years... and easily the best-natured.
Would-be Freddies have the chance to win prizes — not to mention bragging rights — in such white-knuckle categories as 'Best Costume' and 'Freddie in Most Original Location' (ie: photographed in a very public place). They can also glean costuming tips from Mercury's onetime personal costume designer, Diana Moseley, which are posted on the FFAD website.
Freddies are encouraged to host parties and flash mobs, to "bond with total strangers, have fun and raise money for the Mercury Phoenix Trust" and just generally live it up in the flamboyant spirit of the late, great Queen singer/songwriter.
Celebrities have also signed on. This year actor Tom Cruise is reported to be mulling the notion of sporting a 'stache for the cause while in 2011, Princesses Beatrice and Eugenie of York were reputedly among those flying the Freddie flag at celebrations held at London's posh Savoy Hotel.
Even Apple's famed Angry Birds got in on the action this year, with the creators releasing an all-new animation of Freddie the Angry Bird riding his bicycle to the famous Queen track "Bicycle Race."
It's an easy idea to love. Even 20 years after his death, Mercury remains one of the most iconic, imitated and adored entertainers on the planet. (Harsh but true: it's hard to imagine anyone hosting an 'Elliott Smith for a Day' funder). And AIDS/HIV, which cruelly cut Mercury down at age 45, remains a global menace. FFAD cheerfully salutes the former while combating the latter.
Those averse to leotards and sequins can also support the cause via donation though they will miss out on the fun (and disbelieving stares) racked up by those stepping out in full Freddie regalia. The bashful could always consider hosting a FFAD costume mixer in the relative privacy of home. It's never too early to start planning next year's celebration.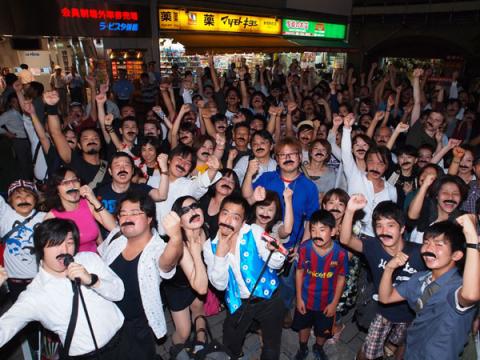 Air Jordan