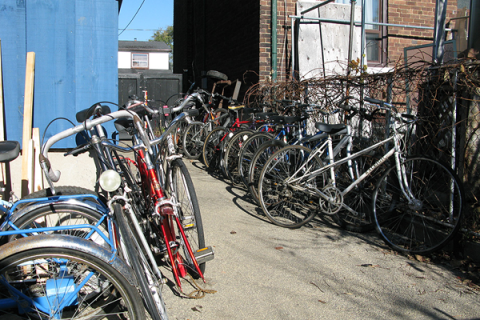 Leatherworker and bike enthusiast Mihály Felbert got the idea for Friends of 2 Wheels when he spotted a bike that had been tossed in a river.  The bicycle recycling program passes refurbished bicycles on to people in need of transportation. Since launching last May, Felbert has received 83 bikes, 16 of those this year. They include 11 vintage, two road, 49 mountain and 21 kids bikes.
He would like to include motorcycles in this endeavour but so far hasn't received any. Since it's just a one-man operation, the majority of the bikes that have been donated Felbert has given to the students at Learning Enrichment Foundation's Bicycle Assembly and Maintenance (BAM) program —  an eight-week course for budding bike mechanics. That's 75 bikes so far. The students clean and refurbish the bikes, then give them away to those in need.
The remainder Felbert hand presents to people that he feels fit his criteria for "in need."
The idea came to the 53-year-old when a bicycle mechanic and customer at Felbert's Ye Olde Saddle Shop —  a separate building in the back of his Jane and Lawrence-area house where he makes custom seats for bicycles and motorcycles, as well as handbags, gloves and other leather items —  suggested they do something for charity. Within days, the idea fizzled out. Then one day, Felbert was riding his bike along the Black Creek River with his wife when she pointed out a bike in the river.
"She said, 'Is there something we can do with that poor thing?' So I'm looking at it and I thought about it and it basically sparked the venture," Felbert tells Samaritanmag, sitting in his leather studio, surrounded by framed, finished leather items, as well as bits and pieces of his current projects.
"I started looking into if there were any other bike shops or anyone else doing what I would like to do. It's basically just salvaging whatever [bikes and parts] I can find," he says.
Initially, because he has a design sense, Felbert wanted to upcycle the bikes — upcycling is converting useless or discarded second-hand products into new or better items. Then he thought back to his original idea at the leather shop and decided to put out feelers on a web site for charitable offerings he could then fix and re-distribute.
"It wasn't long before people started calling me up and started donating bikes," Felbert says.
"Torontonians have huge hearts. They have a lot of kindness. One guy would call me up and say 'I've got a bike to give.' I show up and he's got four or five others. He says, 'My neighbour found out that you're coming,  and another neighbour found out that you're coming, so we decided to pool bikes together and now, they're all yours.'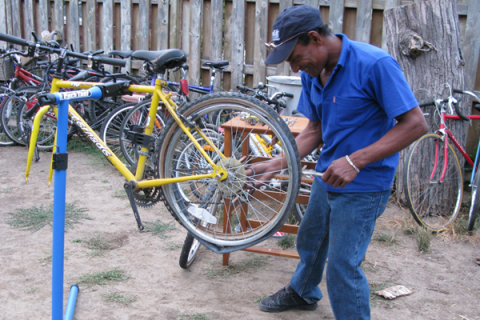 "I get to hear their stories — 'We fell off our bikes; we hurt our backs; we're too old for this; we're retired' or 'I want to upgrade; I have no space; I don't want to put it on Kijiji' and you are the perfect guy to give them to," Felbert relays. "I'm becoming more of a front-line scout. I collect the bikes, I pass them on, and I'll keep the ones I'm interested in."
Since Friends of 2 Wheels is not yet a year old, Felbert doesn't have an application process for those wanting a free bike. He says he takes people's word that they aren't in a position to purchase one on their own. In the future, when the initiative is better established, Felbert hopes to ward off those who simply want something for nothing by connecting with social and community workers who can best judge someone's need.
"I have lived in deprived areas throughout Toronto and I know the sights, smells and sounds of the street," Felbert says of his current selection process. "An adult panning for money, wearing designer high-tops or upscale backpacks, cardboard sign duct taped at the folds and a little dirt rubbed on their face won't make the cut with me."
Of the eight bikes he has not given to BAM, Felbert gave three mountain bikes away through something he's just trying out — the Earn-a-Bike program, based on a point system that seems fairly subjective and is still in the "beta stage," he says.  He wants people to have a chance to work for what they want.
"It's meant to get people back into working in the community," Felbert explains. "I was reaching out to social workers,  people who are looking after people who are on parole or coming back into society, but they need to do things [as a show of good will].
"If there's a bike on the website, and it's worth 50 dollars, a point is worth five dollars. You'd have to make 25 points to get the bike. There's an incentive; they see what they want and they go for it by working." He doesn't get into too many specifics about how a point is earned.
So far, three people have been recipients of bikes via Earn-a-Bike. His best example is Kazuma Noboritate, a Japanese man in his late-20s who came to Toronto to stay with a host family and improve his English. As he could not afford to incur any transportation costs outside public transit, Earn-a-Bike was the perfect solution.
"I said, 'If you can fix three bikes for me, you can have it; it's yours. It's cleared. It's not stolen, so you can have it,'" recounts Felbert, who always checks with the 12th Division of the Toronto Police to ensure the bikes he receives are not stolen. "Not only did he do three bikes, he did six bikes, plus his own."
Another receipient was a neighbour of Felbert's, John (last name withheld), who was on parole and looking to turn his life around after some run-ins with the law.
"He needs a bike," says Felbert. "He kept stealing bikes, [but through the program] he actually earned one. He fixed a few bikes for me and he got his bike." Felbert just gave a bike to the third recipient.
"He wasn't able to work," Felbert says, without going into detail, and then moves on to his current case, an OCAD professor looking for a ride. Why would a professor not be able to afford a bike? Felbert explains she has no retirement savings or investments.
"She's 60-something and she needs a bike. She's willing to use her daughter's bike as a trade-in," says Felbert. "It's one of those things where she doesn't have the funds to buy one. I said 'Well, you're a designer — you can work on advertising [for Friends of 2 Wheels].' I can't think of what she can do to help the community, but it's a heartbreaking story. So, in this case, I'll just give it to her. If she wants to donate the girl's bike, I'll pass that along too."
The remaining five bikes are special to Felbert.
"The vintage bikes, the older bikes, things that I grew up with — they mean more to me so I'll look at them and I'll say, 'That's a great piece of canvas; I'll work with that.' I do my bi-weekly run-around, pick up what I can. It's a lot like bin-diving. I used to do that as a kid at the C.C.M. [Weston Factory that manufactured bicycles], finding bikes in the garbage."
Once Felbert upcycles the vintage bikes, he puts them for sale on the Friends of 2 Wheels website. All proceeds from sales go towards buying parts and equipment that can keep the organization going, he says.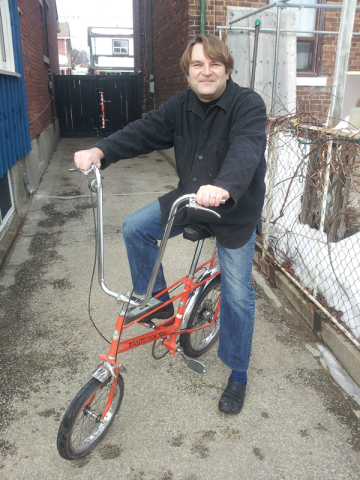 "I'm trying to keep everything under 200 dollars. If I can get a bike out the door under 200 dollars, that's going to get me seats and some stuff, and not sit in inventory. I don't want any inventory. I just want them to move along.
"The other thing about what I do is it diminishes the theft. If I can get more bikes out there, there's less of a chance for these things to be stolen — and if the prices are not so high, there's no real requirement for stealing a bike. A crack addict will take anything, but for a bike thief, they are going to look for high-end stuff."
He'll also let anyone come use his tools for free and help get their bikes working order.  "There's no money exchange there. It's just getting the people back on the road and getting them more involved in bikes," he explains.
Around Christmas, Felbert was approached by a businessman with an idea of establishing Friends of 2 Wheels locations around the world.  He was intrigued by the prospect, but declined. He's only interested in his own backyard.
"If other organizations want to connect with me, no problem, as long as I know it's going to a cause and not somebody's mortgage," says Felbert. "Here, in Toronto, we have enough poverty.  We have so many millions of people and so many are homeless and poverty-stricken. They don't have the means, so I'd like to at least give them something to make them feel good, to get around, to, maybe, get them motivated to work.
"It's not intended to make money. It's for pure pleasure and love of what I do. If this thing really picks up, it's just on a voluntary basis. It's just for the good of the bike and the people who benefit from them. I would give them a bike  — more bikes, less cars. That's kind of what I'm going for — it's a green thing in me."
Supreme