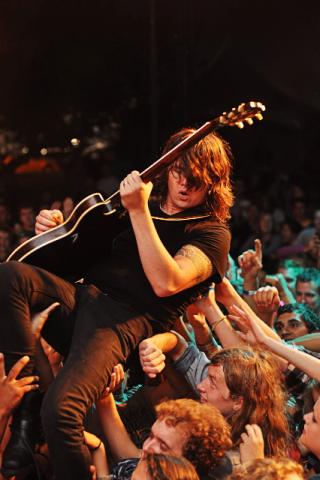 Canada's East Coast music community will gather Sunday April 7 at an all-day benefit concert celebrating the memory of Matt Mays guitarist Jay Smith, with proceeds going to a trust fund for his children. A second concert the following day — with details forthcoming — is also planned.
The award-winning Cape Breton-area musician and songwriter, best known as a member of Mays' band, died suddenly March 26 in his Edmonton, AB, hotel room while on tour. He was 35.
Mays announced Smith's death with a heartfelt note on behalf of the band on his public Facebook page the evening of March 27. "Our guitar player and dear friend Jay Smith passed away this morning," wrote Mays. "As you can all imagine, we are completely devastated. However, in our heart of hearts we know that we need to play on. Jay's family as well as the band know he would have wanted it that way. Jay's wit, charm, and unparalleled love of music will never be forgotten.  He was our brother and he will live in our hearts and song forever."
Mays said that his tour would continue but that proceeds from the remaining shows would be placed into trust for Smith's children. An outpouring of sympathy and support from fans and fellow musicians was immediate, with some of the East Coast's top artists signing on to perform at the The Jay Smith Memorial Benefit Concert and Silent Auction.
The show will take place at Casino Nova Scotia in Halifax and feature performances by Mays as well as Bruce Guthro, Matt Minglewood, Gordie Sampson, In-Flight Safety, Joel Plaskett Emergency and more. Tickets go on sale today (April 3) at noon through http://www.ticketatlantic.com
"Jay was well known in the music community, not just in the East Coast but across the whole country," Mike Campbell, former MuchMusic personality and a friend of Smith's who will be hosting the event, told Samaritanmag. "So many musicians put their hands up and wanted to contribute. It was the simplest, easiest thing to do and it made a whole lot of sense based on who he was."
Smith, who in addition to touring and recording with Matt Mays, released a solo CD in 2011 and won the East Coast Music Award for Songwriter of the Year in 2009. Locals also remember him as the frontman of the group Rock Ranger. Campbell says Smith learned to play guitar from his father, also a musician, and that taking care of his two young children was front-of-mind for event organizers.
"As much as it's a celebration of Jay's life we also wanted to make sure that something good was being done for the family. It's the most important thing. They are not rich people and it's going to be tough enough on the kids without having to worry about how they are going to make ends meet when they get older."
The Smith Family Trust has been set up by band manager Louis Thomas. All proceeds from the Halifax event will go directly to the fund: Casino Nova Scotia is donating use of the venue, Ticket Atlantic will be redirecting processing fees back to the trust fund, and all technicians as well as performers are volunteering.
For event updates, see here. A second concert is also planned for April 8 in Sydney, Nova Scotia, with details to be announced. Donations can also be made via Paypal through the website http://www.mattmays.com.
"I've done a lot of these events over the years and I've never seen anything like it," says Campbell. "So many people have put their hands up for free that virtually every cent is going directly to the family."
Kopačky na fotbal