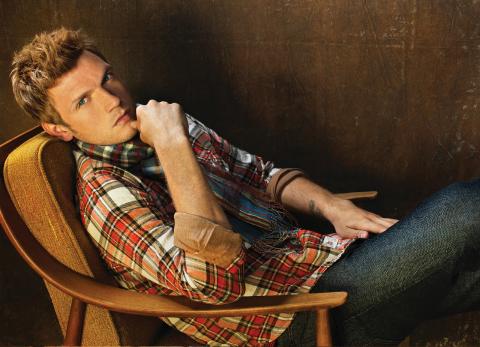 Who wants Nick Carter's dirty shoes? How about his dirty shoes signed by every member of the Backstreet Boys and New Kids On The Block? The recent NKOTBSB tour of arenas proves there are still thousands of fans who would. Now, add to that a charitable angle and that's some good dirt.
The Backstreet Boy has come up with a great way to preserve his prized sneakers and continue to help raise awareness about the destruction that mankind is reaping on the environment. And it just might lead to a permanent non-profit, Nick's Dirty Kicks, somewhere down the road. But for now, it's all about a pair of used shoes.
During a recent stop in Toronto to promote his solo album, I'm Taking Off, Carter told Samaritanmag that he just came up with the idea the other day.
"See these sneakers right here?" he says pointing to his gleaming white Air Jordan's. "These are new versions of ones that I just had. They were my favourite sneakers in the world. They're called Spizikes. The ones before were two years old and I wore them everywhere because I'm in love with them. I brought them all around the world, even onstage in Russia.
"They got worn out and I got them dirty. I tried to clean 'em. They got dirtier and dirtier and before you knew it, they were the ugliest piece of crap ever.
"So long story short, I finally found a new pair," Carter says. "And I was like, 'Man, I love my old pair of dirty shoes. I wanna do an auction for them and that [money] will go straight to charity. And I wanna call it Nick's Dirty Kicks.' So I got all the New Kids to sign them and then all of my boys to sign the shoes. So they're signed by all of us."
Despite the dirty condition of the sneakers, all the signatures can be clearly read, he vouches, and, as soon as he figures out the logistics, he will auction them off likely on eBay or through his web site, www.nickcarter.com
In the past, Carter who loves diving, boating, waterskiing and surfing, was an ambassador for the United Nations Environmental Program and the International Coral Reef Action Network. He even spoke on Capitol Hill in Washington, DC, about environmental issues. Today, he isn't affiliated with an environmental non-profit.
"I haven't figured out the organization that I wanna raise awareness for, but [Nicks Dirty Kicks] is all about finding clean sources of energy and it refers to how dirty the shoes are," he says.
"Here's the thing, I'm sick and tired of seeing all the pollution. And it goes with the ocean too because the ocean is my number one thing. We have all these ways to create clean sources of energy with solar power. And I thought about solar panels and all these things, and these big businesses won't even do anything about it to make [themselves] more [environmentally friendly]. And it sickens me.
"So I just want to raise awareness. The money might not be the biggest contribution to it, but it's the idea and the direction, hopefully, that some of our fans can see. Here's the thing: pollution creates global warming; global warming creates droughts; droughts create famine. Nicks Dirty Kicks is about kicking pollution in the ass."
Check in on his web site periodially for the auction date for these fine specimens.
Air Force 1 Sage Low