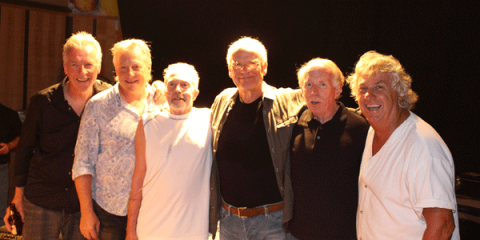 Back in the late '70s, The Ian Thomas Band was one of the most popular in Canada. Their sound was spearheaded by the melodic songs and voice of Ian Thomas and the fluent licks of guitarist David Cooper, and they scored such hit singles as "Pilot," "Coming Home," "Time Is The Keeper" and "Right Before Your Eyes."  The pair went their separate musical ways in late 1979 when the group disbanded, but remained friends.
That was confirmed this month when Thomas and his other former bandmates stepped up big time to help ailing comrade Cooper by throwing a benefit concert — and taking the stage together for the first time in over 33 years. Now 59 years old, Cooper, who lives in Kitchener, Ont., suffers from a serious cardiopulmonary disease (CPD), one that necessitates the use of oxygen 24 hours a day. The disability means he is unable to work and is in a precarious financial position. 
His current health situation is very serious. "His lungs can no longer push air out to create a vacuum that allows air to come in," Thomas explains to Samaritanmag. "They have become old leather saddlebags. He has oxygen up his nose 24-7, or he would asphyxiate." Cooper is on a waiting list for a double lung transplant, but, says Thomas, "he is also waiting to find out if he has cancer. If he does, he won't be able to get on that list."
The costs of his constant oxygen treatments and medications are all covered, but, in Thomas' words, "he and his wife, who also has CPD, are living at such a poverty level."
So to try to ease their financial burden, Thomas spearheaded the organization of a benefit concert that was held at Dallas Nightclub in Kitchener, Ont. on Aug. 20.  Most of the members live in and around the area; Thomas is in Dundas, Ont. The evening featured a performance by a reunited Ian Thomas Band from the key incarnation — original drummer Mike Oberle and bassist Stephen Hogg, plus guest keyboardist Mark Willms. Their original soundman, Leo Culliton, reprised his role too.
Thomas says the event was "a wonderful night for Dave and a fantastic gig for us. We played all our hits and every song met with thunderous applause."
The loudest cheers were reserved for Cooper, who joined the band for their set. "He sat onstage with his guitar and played his ass off," Thomas recalls. "He had a lot of trouble breathing, as humidity really gets to him. He is such a good musician, though. We elongated the endings to some of the songs, just to let him blow. There was nothing wrong with that boy's fingers I'll tell ya. We don't know if he'll get a chance to play again, and he availed himself of that opportunity. I think for Dave the night was a lovely warm embrace. It was great to see a laugh on his face despite his discomfort."
A full house at the club, at $15 a head, reflected the advance work of Thomas. He played live on the air at two local radio stations to promote the event, as well as doing other radio, TV and print interviews. "Thanks to the reach of The Toronto Star and the feature they ran on the benefit, people drove from Barrie, Newmarket, Stratford and London [Ontario] to the gig," says Thomas.
STORY CONTINUES AFTER THE VIDEO:
The success of the benefit meant that Cooper has received an initial gift of $6,000 to go towards his living expenses. That figure is significant because Cooper is currently receiving Ontario Disability Support Program (ODSP) Income Support, and $6,000 is the maximum amount you can receive annually as a gift without affecting this status. As Thomas explains, "If we gave him $20,000, for him to stay on ODSP they would take away $14,000, leaving him only $6,000."
To keep everything within these legal limits, Cooper's supporters have established a special TD Bank account for him (branch 593; account no. 5224985). "Dave has no access to that fund," says Thomas. "We are either going to figure out what else we can do legally to help him, or in 12 months we will give him another six grand."
The Canadian musical community continues to pitch in. Those contributing to his fund include Canadian rocker Tom Cochrane and former EMI Music Canada president Deane Cameron. Cooper went to school with both of them, and he and Tom played together as a duo on the Yorkville scene in the early '70s. The Cochrane-Cooper Band did some Canadian touring, prior to disbanding, with Cooper then teaming up with Thomas.
That connection came about through another rock singer/songwriter prominent then, Garnett Ford. "I met Dave when I was producing an album for Garnett for Warner Brothers," Thomas recalls. "I had to fire my own guitarist during that period, and I hired Dave. Garnett would say that's when I stole Dave!" There are no hard feelings, for Ford was, says Thomas, "my co-conspirator in the organizational stuff for the benefit. He set up the bank fund, physically designed and stuck up the posters for the gig, and did a great job as MC on the show."
Other notable credits on the Cooper's music resume in the '70s and '80s include stints in Canadian rock legends Edward Bear and Klaatu and in The Brian Plummer Band. In the '90s, he began working in the sports promotion field while still occasionally playing gigs in the Kitchener area.
His old mate Thomas went on to achieve international success as a songwriter, penning hits for the likes of Chicago ("Chains"), Santana ("Hold On"), America ("Right Before Your Eyes"), Manfred Mann's Earth Band ("The Runner"), and Bette Midler ("To Comfort You"). He fronted The Boomers in the '90s, notching hits in Canada and Germany, and in the past decade has been part of the very successful Lunch At Allen's project with Murray McLauchlan, Marc Jordan and Cindy Church. His most recent solo album, Little Dreams, has just been released in the U.S.
Thomas regularly donates his services to fundraisers for a wide range of causes. "I've got one coming up to support victims of crime and another to help give musical instruments to underprivileged children. I recently did ones for the Oakville Humane Society and the Oakville Chamber Orchestra. There are so many worthwhile causes out there that fall through the cracks in terms of funding."
His motivation for giving back comes out of gratitude. " I get to make music for my living. My life has been such a blessing."
First Look: Nike Air Max 270 "Pre-Day"