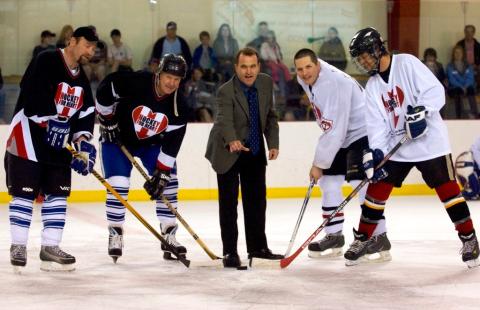 On any given weekend you might find Oshawa, Ontario's Rob Weir catching a pass from former National Hockey League legend Darryl Sittler, attempting to deke around hall-of-famer Marcel Dionne, or ducking and dodging the elbows and slashes of the Hanson Brothers of Slap Shot fame.
Swirling around the ice with former pros is an unlikely place for a guy like Weir, who didn't even start playing hockey until the age of 20, but he's got a good reason. Weir's the program coordinator of the Heart & Stroke Foundations' Hockey For Heart series of charitable hockey tournaments across Ontario. It's his job to play hockey with the pros.
"It's the greatest job in the world," says Weir, 40, with that same sense of awe as a 10-year-old autograph seeker by the side doors of the Air Canada Centre. "I'm literally getting paid to play hockey with [former Toronto Maple Leafs great] Wendel Clark."
Getting to share the ice with the likes of Clark came with a cost, though. The whole reason the Hockey For Heart tournaments exist is because Weir witnessed his own father Roger Weir have a heart attack on the ice at the age of 46 while playing a game with him in 1993.
"I was sitting on the bench, looked down at the other end of the ice where the play was, looked back at my dad and saw that he had fallen over and instantly knew that something wasn't right because I knew it wasn't from something that had happened during the play," Weir recalls of that tragic night.
"They tried to revive him and they couldn't. They found out he had angina and probably didn't know. He had had physicals in the past, but they didn't pickup on it. He didn't smoke, was fairly healthy, did a lot of walking. His parents met during the war, both heavy smokers during the pregnancy and growing up, he was born premature, basically two pounds kind of fit within one hand type thing. I guess that was stuff that was beyond his control."
Weir's eureka moment of how he could honour his father's memory came while working the late shift at a print shop.
"I was loading the hopper full of paper and all of a sudden I was like, 'Oh my god, I should do a tournament,' and started from there," says Weir, who held the first Roger Weir Memorial tournament in Blackstock, Ontario in February 1995. "It was stretched out over four weeks, super-late hours because I couldn't get good ice time.
"Our first two seasons we raised about a thousand bucks. And basically it was whatever money was left over from costs went to Heart & Stroke."
The rest, they say, was history.
Weir continued to work his tribute tournament annually until thanks to a tip from sportscaster Brian McFarlane in 2000, a group of charitably minded ex-pros led by former Chicago Black Hawks player Peter Conacher heard about the tournament and offered to participate.
"Instantly, people were fundraising way more," says Weir. "It went from $20 to $30 each, to $200 to $300 each. And even though they weren't the top tier pros and they were in their 60s, 70s, it was like playing against the Harlem Globetrotters on ice."
By 2006, Weir was hired by the Heart & Stroke Foundation to take his tournament model -- teams play three games and are awarded bonus points for the amount of funds they raise, with top individual fundraisers playing an all-star game of sorts against the pros at the end of each tournament -- and expand it to other Ontario cities.
Events like the Chase McEachern Memorial Tournament in Alliston the Tom Hanson Memorial tournament in Ottawa, and the Angelo Tinebra Memorial in Hamilton soon followed. With up to 14 tournaments per year and almost 300 teams having participated, the Hockey For Heart series has raised over $1.75 million towards the placement of Automated External Defibrillators (AEDs) in communities across Ontario and for heart and stroke research. Weir expects that total to top $2 million after the 2012 tournaments.
And more and more pros are lining up to support Hockey For Heart. Toronto Maple Leafs goaltender Jonas Gustavsson, who had two heart surgeries of his own in 2009, has lent his time to H4H. Likewise, former Detroit Red Wings player Jiri Fischer, who almost died during a game in 2005 has taken to the tourney ice as well. Additionally, hockey mad celebrities like CBC's George Stroumboulopoulos, and musicians like Blue Rodeo's Jim Cuddy, The Tragically Hip's Gord Downie and Goldfinger's Darrin Pfeiffer have been known to make appearances and help out as well.
As wonderful as their participation is, it's not the most important part about putting on these tournaments for Weir.
"To me it's more about meeting people who've been saved by defibrillators," says Weir. "Or who have gone through the same thing as me -- seeing somebody lose someone they care about to heart disease.
"It's changing to I-saw-somebody-get-saved-on-the-ice-with-a-defibrillator from I-know-a-guy-who-played-in-a-game-and-he-died. That's nice."
For information about the upcoming Hockey For Heart tournaments, click here: http://www.HockeyForHeart.com
air jordans mens basketball shoes Reverse Bred DJ5982-602 Release Date