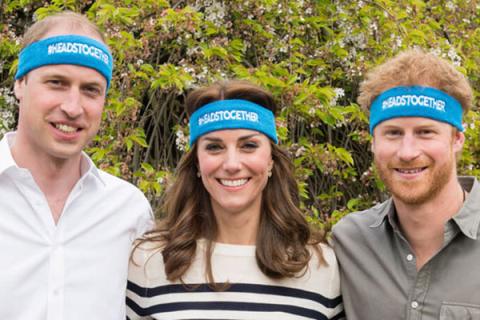 The official winners of the marquee 2017 Virgin Money London Marathon Sunday (April 23) were Daniel Wanjiru with a time off 2:05:48 and record-setter Mary Keitany with a time of 2:17:01, but the real winners may be those experiencing mental health issues.
This year the London Marathon teamed up with Heads Together, a mental health charity headed by the Duke and Duchess of Cambridge and Prince Harry, to encourage supporting a number of mental health organizations.
Participants in the London Marathon were given an option to support a number of different charities that Heads Together endorsed. These included Best Beginnings, an organization that supports the well-being of young mothers; CALM, an organization that combats suicide by young men; Place2Be, which tackles mental health problems of students aged 5-16; The Mix, an organization to support young adults under the age of 25 in their time of need; Contact, which provides mental health services to ex-military servicepeople; Young Minds, which supports mental health initiatives for children and young people, and The Anna Freud Centre, a facility dedicated to improving the lives of children and young people with mental health issues.
In a video to discuss Heads Together, Prince William explained the many pressures young people faced these days.
"The pressures on children nowadays, are more than they ever were for us," said Prince William. "Each generation can say that, but there is so much more to worry about now, whether you're struggling with exams, whether you're struggling with home life, struggling with friends, then you add the social media angle, you can understand that, coupled with the fact you don't get out of the house, you're staring at the screen the whole time, there's got to be a lot of issues that build from that if you're not careful and managed. "
Prince Harry talked about the hidden burden veterans experienced.

"The focus is on the individual with the injuries," said Prince Harry, discussing mental health support for veterans. "If it's physical injuries it's supposedly easier because you can see those injuries whereas if it's hidden wounds no-one can see that but the effect that has on them, their family and their friends, is huge."
Watch the Duke and Duchess of Cambridge and Prince Harry discuss Heads Together
【正規品】最新のナイキ メンズ レディース スニーカー通販