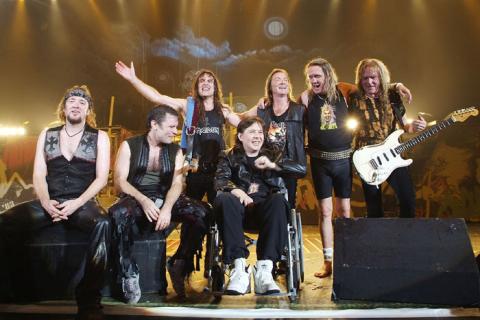 Iron Maiden, the British heavy metal band that has sold more than 85 million albums worldwide over its 37 year career, is usually mum about the charities and causes it gets behind — except one.
"We have been involved with stuff over the years," bassist Steve Harris tells Samaritanmag, while in Toronto for a show at Molson Amphitheatre and to promote his forthcoming solo project, British Lion, not out until Sept. 25. "A lot of people make a big publicity thing out of it and we don't, so I'd rather not say.
"One of the things I can talk about because we started it off is our old drummer, Clive [Burr] has MS [multiple sclerosis], so we started The Clive Burr Trust. Another friend of mine [Ralph] also has got it. He's in a wheelchair. We went to school with him, my oldest friend since I was 5 years old, so we helped him, but we don't normally talk too much about it."
Burr was Iron Maiden's drummer from 1979 to 1983, playing on albums Iron Maiden, Killers and Number of the Beast and touring with the band. After he left, he enjoyed brief stints with numerous other acts including Trust, Alcatrazz, Gogmagog (with ex-Maiden vocalist Paul Di'Anno and future Maiden guitarist Janick Gers), Elixir, and Praying Mantis.
Iron Maiden — which is comprised of Harris, Gers, frontman Bruce Dickinson, drummer Nicko McBrain, and guitarists Dave Murray and Adrian Smith — established the Clive Burr MS Trust Fund in 2002.  Burr was also patron of his own charity, Clive Aid, that he started in 2004 to raise money via rock events.
MS is an autoimmune disease that affects the brain and spinal cord (central nervous system). According to the MS Society of Canada, it is most often is diagnosed young adults, aged 15 to 40, and can affect vision, hearing, memory, balance and mobility. There is no cure.
There is no longer a web site or readily available information on The Clive Burr MS Trust, but the band continues to raise money for it periodically.
"The fans know about it and they contribute to it, and every now and again we'll do a show and just donate all the money," says Harris. "When we need to top it up, we do something."
One early fundraiser raised £235,000 ($364,816 CAD], which helped Burr maintain a certain quality of life. He was reportedly at risk of losing his house, until the Trust made a loan of £60,000 [$93,144]. The Fund also donated £9,000 [$13.971] to enable him to travel to Belgium for a special treatment program. Further money provided him with a specialized bed and computer.
Some of the band's other friends who have MS have also benefitted from the Fund. Ralph was given a modified vehicle able to carry his wheelchair. The wife of a member of an Iron Maiden tribute band also received money to help modify their home to enable her to be more mobile.
"Some of them get [MS] very mildly," says Harris, "but unfortunately the friend I was talking about has it really really bad. He's in a wheelchair for a long time and Clive is getting worse."
Air Jordan