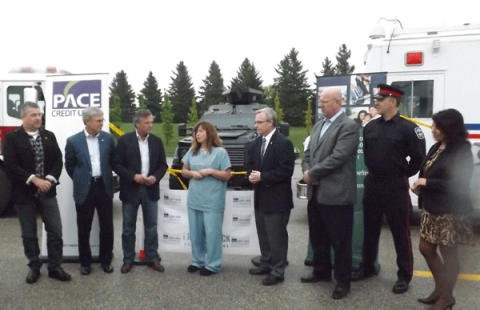 Shortly after her husband returned from the Middle East, post 9/11, O.R. nurse Nicole Taylor noticed a dramatic change in him. The military firefighter had become withdrawn: he disengaged from his normal activities and there was a change in his voice—something that might have been imperceptible to most, but raised red flags for his wife of 20 years.
The impact of post-traumatic stress disorder (PTSD) on first responders has been the subject of only a handful of studies. This gap in research, and her own personal experience, drove Taylor to spearhead iRun and Rock/United by Trauma, a fundraising event that supports a York University study on PTSD in emergency services.
"The problem is that there's so much lack of education. So many people see it as a sign of a fault or a failure and it's not talked about," Taylor tells Samaritanmag about the stigma surrounding PTSD. "First responders can judge themselves too harshly: they can't show that there's a crack in the armour, because their perception is that [if they do] they won't have that credibility with outsiders. But we're trying to break through that."
Taking place on June 1 at the Ray Twinney Sports Complex in Newmarket, Ontario, iRun and Rock will feature a 1/5/10km run, a Full Battle Rattle team relay event, special guest speakers, music by first responder bands and a concert headlined by Canada's own Glass Tiger. Keyboardist Sam Reid sits on the iRun and Rock committee, continuing his long-standing support of the Canadian Forces. In 2009, the band performed for soldiers stationed in Kandahar, Afghanistan.
In the public imagination, PTSD is often accepted as a stress disorder that primarily impacts military personnel, but a 2008 review in the journal of Psychological Medicine, entitled Post-traumatic stress disorder following disasters: a systematic review, by Y. Neria, A. Nandi and S. Galea, acknowledged that PTSD also affects first responders, particularly firefighters and police officers, in prevalent rates.
Of the cases highlighted, it noted that 22.5 percent of disaster workers who responded to the 9/11 terrorist attacks in New York City suffered from PTSD two weeks after exposure.
More recently, The New York Times ran a story on a police officer's diagnosis following the Sandy Hook elementary school shooting. Newtown police union lawyer Eric Brown, quoted in the Jan. 28 story, estimated that the Newtown, Conn. police force is anticipating 12 to 15 more diagnoses.
"What a lot of what people don't know about post-traumatic stress, first responders and the military is that a lot of them have the bunker mentality: they very rarely come out of their house, except for necessary things," explains Taylor about its affects. "I know a veteran of 35 years that comes out of his house maybe three times a week because he can't go into crowds — there's always some kind of trigger."
Taylor also runs a yoga practice, Taylor Made Yoga, specifically designed for soldiers, veterans and first responders affected by PTSD. Affectionately dubbed "no bullshit yoga" by the Toronto Police Officers that attend her classes, it's a stripped down practice that is language specific. In a regular yoga class, for example, participants might be asked to "surrender to the mat" but for soldiers, police officers or victims of violence the word 'surrender' could be a trigger, says Taylor, so it's avoided. Postures are similarly tailored to assist first responders in training their minds to return to a resting state after exposure to extreme situations.
An additional goal of iRun and Rock is to let first responders and their families know that there are resources out there like Taylor Made or the Ontario Shores Centre for Mental Health Sciences and even fellow officers. One of the event's guest speakers is  law enforcement specialist Jimmy Bremner who recently authored Crack in the Armor: A police officer's guide to surviving post-traumatic stress disorder. The event also supports Newmarket MPP Frank Klees' effort to pass a bill recognizing "First Responders Day."
"There's a massive amount right of resources right across Ontario," stresses Taylor. "That's the important part that we wanted to highlight about this event—the education component. We have all these resources coming together and we just want to put the word out for people to come and enjoy the afternoon. Even if it helps one person, that's awesome."
Nike