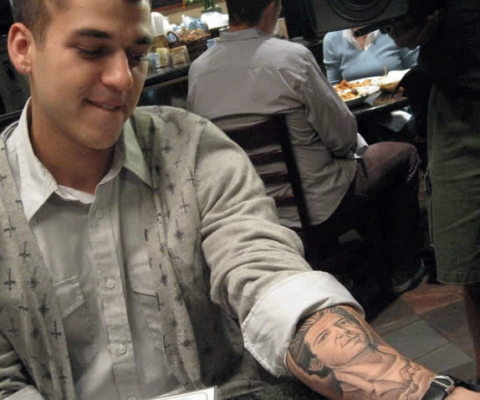 The devastation caused by cancer is deep and everlasting. So it was fitting that one woman who lost her brother to the disease elected to get a tattoo to keep his memory alive. What was surprising to Toronto casting director Jules Fitzsimmons was that her ink galvanized her to unite a grassroots movement.
"The tattoo artist who gave me my ink actually told me I was the third cancer-inspired tattoo that day," Fitzsimmons tells Samaritanmag from her Toronto office where she casts spots for clients including MuchMusic, the W Network, Discovery Chanel, CTV, the Score Network, SportsNet.
"I was absolutely floored by that," adds Fitzsimmons who had a dove inked onto her right shoulder to commemorate her brother Owen Fitzsimmons, who succumbed in October 2010 at age 50 and had kept the creatures as pets during childhood. "Right then I knew there was a much larger community doing the same thing."
Soon after her tattoo in January 2012, Fitzsimmons launched Why We Ink as a Facebook page intended to serve as a social hub and forum for anyone who'd gotten ink either to celebrate beating cancer or as a memorial to someone who had died.
The site quickly gained traction, amassing Likes —  nearly 14,000 to date —  as people such as Kathy Davidson (double-mastectomy survivor), Jessie Lee Jalbert-Peckford (childhood leukemia) and Brigitte Bosman (lung cancer) posted pictures of their ink and shared their stories. Various celebrities touched by cancer also stepped up.
"When I left the tattoo parlour that day, I had in mind the website PostSecret [self-described as an "ongoing community art project where people mail in their secrets anonymously on one side of a homemade postcard" which are then posted online] and it kind of went from there," says Fitzsimmons.
"When you meet people with a tattoo you always want to know their story so why not give them a chance to tell it while immortalizing the people they got inked for? And for survivors, what a wonderful way to mark their journey, to say 'Hey, I beat this thing.' 
The goal now is to aggregate those tattoo stories and images into a Why We Ink coffee table book with proceeds directed to cancer care support groups, to be determined. Fitzsimmons calculates that she needs to raise $50,000 to publish the book and hire pros to take the images; a fundraising campaign is currently underway on fundraising website Indiegogo.com.
"Standing behind the Why We Ink cause is an amazing group of photographers from across Canada and the U.S. who are currently shooting our real life cancer survivors, and friends or family members who have lost a loved one to cancer," Fitzsimmons writes on her IndieGogo page.
"In addition to the 'real life' stories chosen from our online community, the book will feature many celebrities," including Barenaked Ladies leader Ed Robertson, reality star Rob Kardashian, singer/songwriter Bif Naked, actress and Top Chef Canada host Lisa Ray, reality star/entrepreneur Brett Wilson, Toronto Maple Leaf Jessie Blacker and others who've battled the disease or lost ones to it.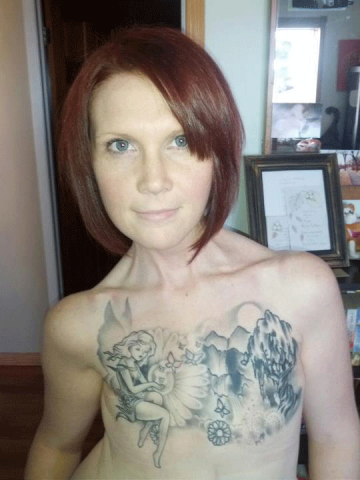 "They'll all be included in the coffee table book," Fitzsimmons confirms adding that various swag – from celebrity autographs to T-shirts to book launch-party invitations — are up for grabs in exchange for donations towards the project. The current Indiegogo campaign ends September 15.
"Owen's cancer began in his colon," Fitzsimmons recalls. "He had surgery and did chemo. He was also epileptic so it was extra difficult for him. But he had gotten the all-clear. Then about a year later it came back full force in his lungs, liver and eventually his bones and spine and the base of his neck and his brain.
"Because I have my own business I had some work flexibility, so I was living at Owen's house part-time and later full-time helping to care for him with his amazing, amazing wife Nathalie. She was a rock star. And we had to do everything from feeding him to bathing him to changing his diapers. After Owen died I basically fell off the face of the Earth for a year with posttraumatic stress disorder. He was my best friend.
"When I started this coffee table book project I was naïve and I thought everybody would immediately want to help save the world just like I do," Fitzsimmons laughs. "It's been a bit of a struggle to get this going but I am confident we'll get it done."
Air Jordan 1 Mid "What The Multi-Color" For Sale