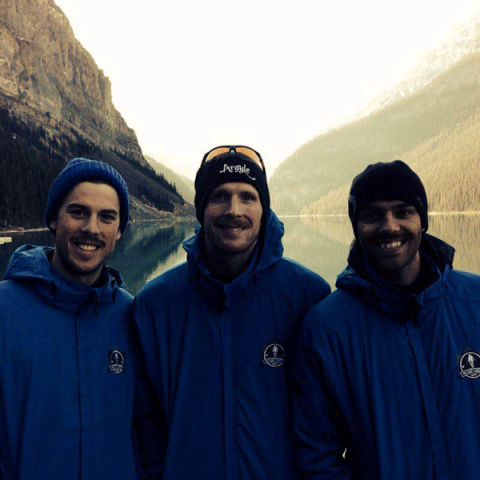 Three moustache-wearing friends have been riding their mountain bikes across Canada for Movember and freezing rain in the Prairies stopped them. Despite crosswinds blustering at 35km an hour, 26-year-old Ben Frisby, Jordan Gildersleeve and Kevin Shaw pedaled through the chilly weather. Movember is a global charity movement held each November for which guys grow moustaches for 30 days to raise awareness and funds for men's health issues, such as prostate and testicular cancer.
Frisby, Gildersleeve and Shaw are currently doing a 45-day, nearly 5,000 kilometre trek from Vancouver to Toronto for the cause. The three Canadians call this journey the Moustache Ride Across Canada and their goal is to raise upward of $100,000 by the time they get to Toronto — which will be on Nov. 29, if all goes according to plan.
However, keeping to the schedule and map is tough when the weather is unpredictable and the rigorous pedaling can take its toll. Prior to speaking with Samaritanmag, Frisby had just rushed back to a hospital in Swift Current, a small town in southwest Saskatchewan, where Shaw was hospitalized due to some stomach problems. "We had to drive him to the hospital at 3:00 in the morning," Frisby says. "He seems to be doing a lot better. He is waiting on one more scan. Hopefully he can join us for the rest of the ride."
Even though Frisby and Gildersleeve had to leave their friend behind at the hospital, they still biked 160km further that day and 192km the day after before going back to the hospital — in an RV driven by longtime friend Erin Quinn — to check on Shaw. Two days after checking into the hospital, Shaw got back on the bike and joined his Moustache Ride Across Canada team. Despite this setback, the mens' spirits remained high. "We just got a $5,000 donation and that fired us all up," Frisby says. They are now at $34,000, a third of the way towards their goal. "The support we've been given is just unbelievable."
The idea to bike across the country came from a desire to raise awareness about men's health and being tested, since all three Canadians have had cancer affect close family members. Shaw's grandfather died from colon cancer and Frisby's dad is a testicular cancer survivor. Doctors diagnosed Gildersleeve's father with colon cancer around a year ago. After his father had surgery to remove the tumors, he learned that his grandfather had also found a tumor on his colon.
"I could not stop thinking about what it was like for [my mother] to find out that her father may have to go through the same pain that her husband has just endured," Gildersleeve wrote in a blog post on the Moustache Ride Across Canada website. "This ride is something I can control. This ride is a chance for me to stand up against a disease that has attacked two of the most important men in my life. This ride is a chance for me to look at all the reasons that exist to not to do something and put them to the side in support of a cause that is greater… If I can prevent one family, from having to go through what my family has been through, it is impossible not to call that success."
Frisby says he first met Shaw and Gildersleeve when he was in grade five, playing basketball against their school. The three boys became pals at Argyle Secondary in North Vancouver and won a provincial championship in basketball together. Nine years after that victory, the three Canadians are still on the same team. "We were talking about 'bucket list' things that we wanted to do and biking across Canada came up," Frisby says. "We wanted to do it for a cause, for a reason, to help someone rather than just selfishly going out and having fun."
The trio decided to do the Moustache Ride Across Canada at the beginning of the summer and spent several months exercising and spinning to prepare. However, nearly five months of preparation was not enough, Frisby says. "We're all very fit, active individuals. We've all done marathons and Tough Mudders and things along those lines," he says. "But you lose some IQ for sure. We're on the bike for five, six hours a day. You can't think about too many other things because you're so focused on your speed, who is in the rotation. Your other thoughts slow down." Throughout my phone call with Frisby, he keeps pausing to catch his breath: cycling 160km over a six-hour period while worrying about a sick friend in the hospital will do that to you.
Joining the young men on this Ride is longtime friend Erin Quinn and videographer Rob Brickford, who is posting the films he makes of their journey. Frisby calls Quinn the 'mother' of the group. "She drives the RV; she feeds us; she makes sure we make all of our appointments — she reads to us at night," Frisby chuckles. "It's pretty awesome."
Although the friends will usually sleep in the RV, they also stop along the way to stay with friends and relatives. In Kamloops, B.C., they stayed with Shaw's old basketball coach from university. The trio also put a list up on their website's blog with the anticipated route for their Moustache Ride Across Canada, asking people to house them for the night so they can get a hot shower, clean laundry and good company.
On an ordinary day of riding, the team starts with a breakfast that Quinn prepares, which includes steel-cut oats, Greek yogurt, almonds and blueberries. Then, the riders head out with Vega gels and nutrition bars at around 9 a.m. — Vega is one of their sponsors for the Ride — and bike for a few hours before having lunch, which usually ends with a cookie snack. "We go through cookies like it's unbelievable," Frisby says. "They're everything you need — the carbs, the sugar." After cycling in the afternoon, they have a big dinner, followed by a shake.
Frisby, Gildersleeve and Shaw sometimes make pit stops at radio stations and schools to promote their Moustache Ride Across Canada. They can tell that word about their journey is catching on. "People have been driving past us all the time honking, raising their thumbs up," Frisby says. "We've got some people pulled over because they hear us on the radio, giving us the money out of their wallets. We've all talked about it and it's quite tough to put into words to be inspiring people."
During the long rides, the three friends make sure to support each other. Off the road, there is a great deal of friendly competition. "Once we get off the bikes, we compete in everything — who can eat more, who can drink more water, who can drink water faster," Frisby says. "But when you get out there riding, you need other people's support so much. You're such a unit, such a team that there isn't a competition."
In the hilly terrain by the Rocky Mountains, the three had to persevere through massive climbs in elevation that slowed their pedaling down to between seven and 10km an hour. After a treacherous ride, they found a terrific place to rest. Looking for a spot where they could capture a stunning view of the Rockies, around 35km past Revelstoke, B.C., the trio found a red cabin with a gazebo where they could snap pictures of the mountains. A woman named Paula came out on the porch and invited them into her home.
"She talked about her dad who had recently passed away from Parkinson's and how he built the house and she was taking it over," Frisby recalls. "She instantly opened her wallet and gave us what she had. It was just an unbelievable experience just to she how kind of emotionally hurt she was but also how overwhelmingly hopeful [in our fundraising journey]."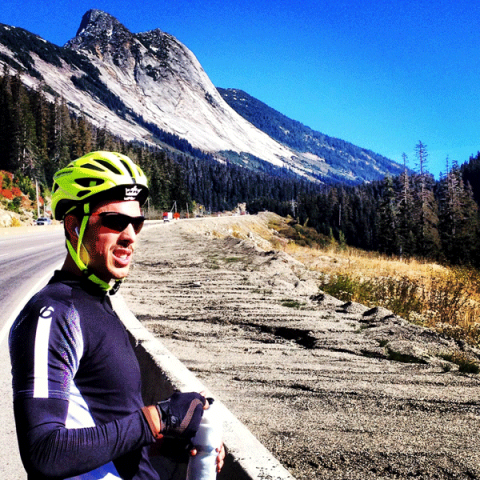 Back in Vancouver, Shaw and Frisby help with a local not-for-profit called the Whisky Wisemen (Gildersleeve lives in Toronto.) The Whisky Wiseman is "a brotherhood of guys that tries to be more chivalrous," Frisby says, and the modern-day gentlemen raise money for local charities as a way to show that they are actually good, generous men. Among the charities is Project True, a Vancouver not-for-profit organization that deals with creating a positive self-image for women and gives resources to help women with eating disorders.
According to Movember Canada, one in seven Canadians will be diagnosed with prostate cancer. Meanwhile, testicular cancer remains the most common cancer among Canadian men between 15 and 29. Frisby says he hopes to raise awareness for men to get regular check-ups. "It's pretty simple. If a lot of testicular and prostate cancer can be caught earlier, it's easier to treat," Frisby says.
Frisby started growing his moustache during the summer and the thick, bright red patch of facial hair is already a hit online. "The favourite moustaches are the ugliest ones because they get people talking the most," he says. "That's why they love me so much." According to Movember Canada rules, however, Frisby had to shave his 'stache on Nov. 1 and begin growing it again.
The riders are hoping to reach Toronto for Nov. 29 for the Movember Gala. However, beginning the following Monday, Frisby, Gildersleeve, Shaw and Quinn will be out of work. The four of them quit their day jobs so that they could partake in this journey and will be starting anew once the Moustache Ride Across Canada is complete. Shaw plans to start a new job as a consultant, Gildersleeve will likely work in impact investing, and Frisby has plans to move to London, England in a year's time and work in finance there. Quinn will also be moving to Toronto, meaning that this experience may be the last time the four friends are together for an extended period.
"I definitely have a clearer path of what I want to do in the future," Frisby says. "Something that impacts people in a positive manner – that will definitely be a driving force in any career I choose. And I'll definitely be less afraid of any challenge that comes forth. I've never heard so many people say, 'I'm proud of you' to me. That means a lot."
Jordan Ανδρικά • Summer SALE έως -50%