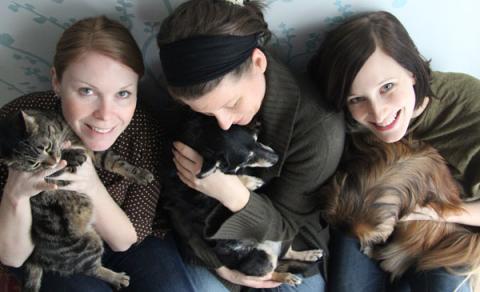 It is relatively commonplace for people to donate money and their time to a wide range of charities and good causes. It takes a different level of commitment to go out and create your own charitable organization. That is exactly what three pet-loving Ontario singer/songwriters did a couple of years ago.
The Ladybird Animal Sanctuary is the joint venture of Melissa McClelland, Lisa Winn, and Janine Stoll. Founded in December 2010, Ladybird currently functions as an animal rescue group and has rescued and found homes for almost 100 animals.
"We decided to start small and grow from there," McClelland tells Samaritanmag. "Our end goal is at some point to buy land and open a Sanctuary, but we need to have a good solid plan in place. We are doing a lot right now, so we are happy to let it grow at a natural pace."
Ladybird's mission is "to help reduce the extraordinary number of pets euthanized in Ontario each year by taking a load off the shelters that are bursting at the seams with unwanted animals," it says on its website.
The fees to adopt animals from Ladybird are as follows: Cats: $100 Dogs: $200 Rabbits: $50 Guinea Pigs: $20 Rats, Hamsters, Mice, Gerbils: $15. According to the website, "this modest donation helps to cover vet care, subsistence and transportation of Ladybird's rescued animals. Every penny goes to helping animals in need in our community."
"We run on a system of volunteer foster homes, and we rescue all our animals from high kill shelters, mostly from Hamilton Animal Control," says  McClelland, the charity's chief executive officer and president.
 "Animals typically don't last more than three days there before being euthanized. We go there and rescue as soon as we have an open foster home. We spay, neuter and microchip all the animals, then put them in our foster homes. These animals are often sick at first, as there are respiratory diseases running rampant in the shelters. We get them healthy and feeling good and then put them up for adoption through our website."
The pace of that work has quickened since Ladybird Animal Sanctuary was granted registered charity status a couple of months ago. "That allows us to do a lot more when it comes to fundraising. We are really excited about that," says McClelland. "People really want to donate to established charities. Now we have that I'll definitely be incorporating Ladybird into our Whitehorse merchandise table, having literature people can take home."
As one half of the duo Whitehorse with her husband Luke Doucet — which has sold out Toronto's Winter Garden and is headlining Massey Hall in March — McClelland has been able to leverage that role for help in raising funds for and awareness of the work of Ladybird. In early September, Whitehorse launched their acclaimed second album, The Fate Of The World Depends On This Kiss, with a showcase at Toronto's tiny Dakota Tavern. Attendees (including music industry and media types) were asked to make a donation for L.A.S. at the door, contributing $1300, and McClelland took time out during the set to explain the group's work.
In December 2011, the first Ladybird Animal Sanctuary Holiday Benefit Concert was held at This Ain't Hollywood in Hamilton, featuring such acts as Whitehorse, the DoneFors, Buckshot Bebee, Emma-Lee and Tiny Bill Cody. The event raised $2500.
The provisional lineup for a second such concert this December includes Tom Wilson's band, Lee Harvey Osmond; Harlan Pepper; Gentleman Reg; and Tara Lightfoot.
Currently most of Ladybird's work is centred in the Hamilton area. "We have rescued a few animals from Toronto and we definitely don't want to confine this just to Hamilton," says McClelland. "Our plan is to have this spread far and wide. That will involve us doing fundraisers in Toronto and getting that community involved."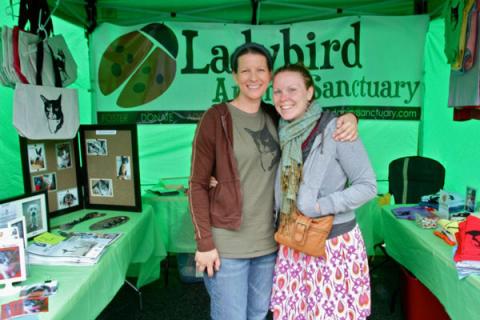 Of the three principals behind L.A.S., McClelland has the highest profile as an artist, through a series of well-received solo albums and now in Whitehorse. She defines her role in the charity as "basically being in charge of fundraising, putting together a case for support, and publicizing Ladybird as much as possible. Being on the road all the time, I do all my work online. We have our meetings on Skype every couple of weeks."
Winn and Stoll also have impressive musical resumes. Listed as Ladybird's chief operations officer and general manager, Winn has released two solo albums and has sung backup for artists ranging from Gordon Lightfoot to Jakalope. McClelland explains that "Lisa is in charge of the hands-on work. She does all the pickups and deliveries and is in contact with all our foster homes and adoptees." 
L.A.S.'s chief financial officer, treasurer and chief creative director, the Toronto-based Stoll is a member of roots group The DoneFors and has also released three solo albums. She is also an accomplished web designer for local artists and businesses, a skill put to good use by the charity. "Janine's area is all the web design and accounting. She made our charitable status happen too," explains McClelland.
The origins of Ladybird Animal Sanctuary can be traced back to the Ladybird Sideshow, a group McClelland, Winn and Stoll were in, along with fellow singer/songwriter Emily Smith. The group – in which the four would take turns doing their own songs but join each other on harmonies — disbanded when Smith moved to Maui, though Ladybird Sideshow occasionally reunites as a trio for L.A.S. benefits.
"Our careers went in different directions, but we remained really close friends," recalls McClelland. "One of the things we had in common was that we all have a passion for animal welfare, and a few years ago we started talking about the possibility of running a sanctuary or a rescue group. It got to the point of 'Let's either stop talking about it or do it.' Thanks to Janine, we built a website and figured out our mandate."
McClelland grew up in a very pet-friendly household, as reflected in the fact that her father Edward McClelland is on Ladybird's Board of Directors. "I had three dogs growing up, and a bunch of fish and hamsters," she says. "Now being on the road means I unfortunately can't have pets, not even plants. It is like an empty part of my life because I grew up with animals and I love them so much. I love that friendship you form with an animal. But at least I'll have my very own Sanctuary one day."
McClelland's husband covered The Cure hit "The Lovecats" on his 2008 solo album Blood's Too Rich, but McClelland confides "Luke is actually allergic to cats, so that's another reason we'll never have cats.
"That being said, we were rather forced into a foster situation last summer. Lisa had picked up a rather sick mom cat with her kittens. She was taking them to a foster home when they called and said they didn't want to do it. She could have taken them back to Animal Control where they'd be euthanized, but Luke and I happened to be recording at home in Hamilton for two weeks at that point. I said 'OK, bring them over.' The mom was in really bad shape and nursing these two-day-old kittens. We had to force-feed her and nurse them all to health. It was pretty amazing to watch them grow. We ended up adopting them all out, and I talked my parents into adopting the mom cat. Now she lives in the lap of luxury and love, so it was well worth it."
McClelland and Doucet have supported other causes in the past, including Greenpeace and Jane Goodall's Roots & Shoots, as well as World Vision. "We travelled to Uganda with World Vision and met our sponsor child and his family," says McClelland. "We did a lot of tours with their arts program as well."
The Ladybird Animal Sanctuary is now a key priority for McClelland.
The website explains that a future sanctuary would  "house more cats, dogs and small animals, but would also accommodate larger farm animals who are in need of a place to go. When our sanctuary is built, it will also serve as a secure and permanent home for animals considered to be 'un-adoptable' due to age or medical issues."
adidas Yeezy Boost 350