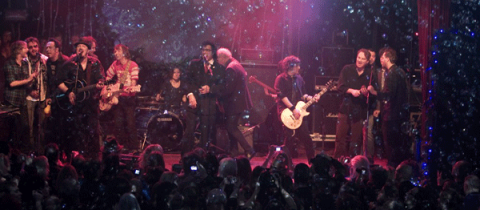 Every holiday season for nine straight years Andy Kim has called up his closest musician friends and those he admires, from Rush's Alex Lifeson to Sam Roberts, to join him at his Andy Kim Christmas Show in Toronto. Proceeds go to a charity of his choice. This year's concert on Dec. 11 at the Virgin Mobile Mod Club is raising money for the Centre for Addiction and Mental Health (CAMH) Foundation's Gifts of Light, which provides Christmas gifts for the hospital's patients.
The Montreal-born and Juno award-winning singer-songwriter had nine Billboard Top 40 hits in the 1960s and 70s, including No. 1 smashes "Rock Me Gently" and "Sugar, Sugar." To date, Kim has sold over 30 million records, according to the musician's web site. His still untitled album is set for release in the spring on Arts & Crafts but he won't be playing any new songs from it at the 2013 Andy Kim Christmas Show.
His all-star lineup this year features The Tragically Hip's Gord Downie, Stars' Amy Millan, Dan Hill, Kardinal Offishall, Sexsmith, treble charger, The Trews, Glass Tiger and — returning for their sixth Andy Kim Christmas Show — Brendan Canning and Kevin Drew from Broken Social Scene. All 540 tickets have already sold out at $30 a piece.
"The fact that it's been nine years is really mind boggling and really humbling, because I really don't exactly know how it works," Kim tells Samaritanmag. "You show up and if your heart's in the right place and people can see that, then they come and have a good time. And hopefully, they donate to a beautiful event. It has always been about giving."
The idea for the Andy Kim Christmas Show came nearly 10 years ago. "The first person I called was Ron Sexsmith," says Kim. "I had just met Ron so basically I was calling people I had just met. I called Ron and really it was just an idea that we would get together and do something that would result in giving proceeds to charity. And he said, 'Tell me what day and time you want me and I'll be there.'
"The next person I called was Haydain Neale, god rest his soul. I had just met him in April of the first year. And he said the same thing. So I started to feel confident about calling people, not knowing what I was doing except following this beacon of an idea, and I just was blown away by the people who decided to come and do this. I wanted it to be something eclectic, something that had me involved but something that had Ron's fanbase and Hayden's."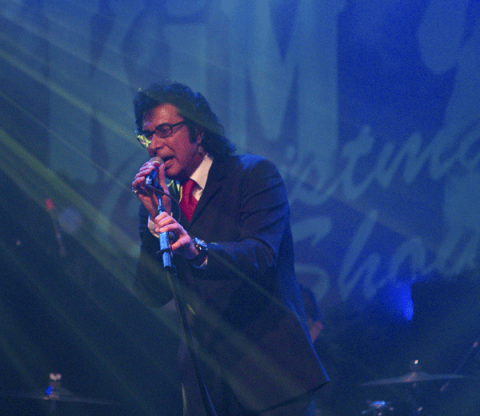 So that first year,  2005, the concert which benefitted the CHUM/City Christmas Wish included Sexsmith, Neale, Danny Michel, The Hidden Cameras, Blair Packham and Jully Black.
All of the participating musicians the past nine years have been Canadian. Other past performers have included Lights, Arkells, Gowan, Sloan, k-os and Barenaked Ladies.
Kim — who is working closely with Slaight Music on his forthcoming album, produced by Kevin Drew — selected Gifts of Light as the recipient of the money raised this year, after speaking with committee chair Donna Slaight and recently visiting CAMH. "I walked away with the fact that it's ok to talk about broken bones and a broken heart, but not a broken brain," he says. "Mental illness or any other problems of addiction it's not something that people talk about. It's kind of a hidden fact."
The funds given to Gifts of Light go directly to buying gifts for the patients. People can select a gift to buy, and CAMH can provide them with a card to send to a friend or loved one telling them that a patient will receive a gift in their name. Gifts can come in three categories: "Gifts of Heart," which can include clothing items like mittens, socks and pajamas; "Gifts of Hope" like toothbrushes, shampoo and books; and "Gifts of Healing," including care items and phone calling cards. Likewise, donors can give toward CAMH's research programs to help develop treatments for mental illnesses like dementia and bipolar disorder.
Kim says that the feeling of helping out the less fortunate is something that has been with him for life. "I've always felt that if you can help somebody, then help them. I guess I picked it up from how my mom and dad responded to neighbours, friends, relatives and strangers," he says. "When I first started touring, I made a point to go to an orphanage in town. I'd go and I'd take my guitar and just got to know people."
Among the charities the Andy Kim Christmas Show has raised money for since its inception are Jeff Healey Park, Children's Aid Foundation, women and children's shelter Juliette's Place and the Regent Park School of Music. During the year, the veteran rocker donates much of his time to children's hospitals and then monitors where the funds raised end up going. "On a personal level, there's the Chicago Memorial Hospital [now Lurie Childrens] where there's a doctor that's helped someone in my family out. I don't want to get into the personal aspect of it all," he says, adding, "I follow the money. I really do my due diligence and I think it is important. I want to keep abreast of what is going on.
"The charity I end up choosing [for the Christmas Show] is a charity that I think about through the year and I hope I can help in some way. It's never just write a cheque and I'm off to Hawaii for the holidays."
モッズコートのメンズコーデ術3選 , メンズファッションメディア