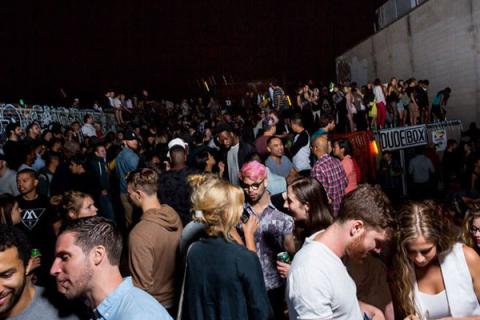 With all the high-gloss, high-profile, high-rolling stars, athletes and big spenders rolling into Toronto for NBA All-Star Game events, the best party of the weekend just might be the decidedly underground and not-quite-official Dudebox Presents Moonshine event.
Taking place at an old warehouse space (51 Jefferson Ave.) in Toronto's Liberty Village tonight (Feb. 12), the party promises such illustrious options as a "garage door in," a "side door out," "songs that girls like" and a DJ set featuring afrobeat and hip-hop by Win Butler, lead singer of Arcade Fire, under his DJ Windows 98 moniker.
All the profits from the event, which has a decidedly non-NBA event cover price of $5 before 11 p.m., $10 after and "$5 drinkz (sic)," will be directed to Haitian support organization Kanpe, the foundation co-founded by fellow Arcade Fire member and Butler's wife Régine Chassagne as well as Quebec politician Dominique Anglade.
Kanpe "brings together Haitians, members of the diaspora, friends of Haiti, and partners on the ground to develop customized solutions to enable these families to escape the cycle of poverty and stand on their own," according to its site. The foundation does this by using funds to build in six areas: health, nutrition, housing, education, agriculture and leadership.
"Kanpe is just an amazing grassroots initiative that takes place in Haiti and they work on foundational pillars to building up a sustainable social structure by introducing much needed pillars in communities like health and education," Daniel Tal, one of the Dudebox co-founders, told Samaritanmag. "It's very basic infrastructure to us, but to them it's highly impactful."
Besides throwing under-priced parties with world class musicians in peculiar venues, one of the other signature attributes of the Dudebox party crew is the fact they dedicate 100 per cent of all the profits from their events to charity. So Kanpe will get all the money from tonight's event.
"Yeah, we deliberately took the choice to donate all our profits to charity, so we always imagine that we will continue doing that," says Tal, who estimates Dudebox has raised more than $120,000 over the years from their events. "We never had any goal to turn it into a profitable party company. Our goal was always to tell people, or to demonstrate to people, you can do something really cool and something really good at the same time."
Of course, having the endorsement of someone like Butler helps Dudebox to continue curating cool events. The Dudebox team hooked up with Butler through a connection to similarly-minded nomadic Montreal party crew Moonshine. Moonshine will be co-authors of the Toronto event.
"Butler's a really good friend of the Moonshine guys and he's a really big fan of what they do in Montreal," say Tal. "And obviously Arcade Fire spend a ton of time in Montreal so we just built up this relationship with Moonshine and they brought that. They were like, 'Yo, Win's coming to town and he's the NBA All-Star Game DJ and he's on the celebrity team and he's got a charity... would you want to donate to that?' Yeah, of course. His charity is wicked. And then it kinda naturally evolved into working together."
Another natural evolution Tal is hoping to see is a more charitable mindset from bigger companies. Tal has seen what Dudebox has done on a small scale and believes many companies could benefit from being less profit-minded and more charity-minded.
"We're tiny," says Tal. "Imagine if large scale organizations adopted a five per cent (to charity) approach. We adopt a 100 per cent approach, but our revenue is minimal. Theirs is massive. Look, there's a party happening this NBA All-Star weekend at the Phoenix (Concert Theatre) where you can buy booth tickets for $20,000. One ticket. We're not even going to raise half of that. It's ridiculous. Our whole point is just adopt a one per cent model, or a two per cent model, or a five per cent model. Go for it. It's good for your brand and it's good for the world."
Nike