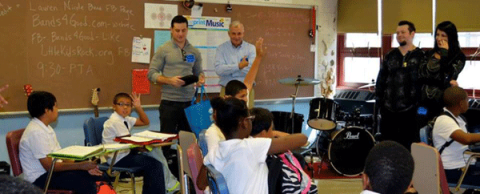 Bands and solo artists of all genres in Canada and the UK are now eligible to enter American online music talent competition Bands4Good Challenge for a chance to win studio sessions, vocal coaching, home studio gear, photo shoot, career advice and more. Presented by Raleigh, North Carolina's Doing Good Network, the application has been extended until Oct. 30. Voting begins Nov. 4. But what's unique about this contest is its philanthropic angle. 
"Bands4Good is specifically designed to propel aspiring artists while supporting music education," Doing Good Network president/CEO Fred Fletcher Jr. and Bands4Good co-founder, said in a press statement. "The expansion into international markets and addition of more nonprofit partners will further drive the already impressive exposure opportunities provided to the contestants."
While the daily free vote option counts as 50 votes for the selected contestant's score, fans can boost their artist pick by purchasing "donation votes" — $10 for 100 votes; $25 for 500 votes; $50 for 1,500 votes; $100 for 4,000 votes and $200 for 10,000 votes. A portion of that money goes into a pool to be distributed to five music education charities that help keep music in schools across the U.S.
The recipients are: Little Kids Rock, Arts For Life, Street-Level Youth Media, Kid Pan Alley and the Silverlake Conservatory of Music (see below for descriptions or click the links).
"Seventy percent of the donation revenue goes to the nonprofits," Fletcher Jr. tells Samaritanmag. "The Doing Good Network provides the technology platform, Bands4Good.com, as well as the marketing strategy and financial investment so that participating musicians and nonprofits can be effective in raising funds and achieve their goals. Similar to a benefit concert promoter, the Doing Good Network and Bands4Good do not handle any of the donated money whatsoever."
The 2013 Bands4Good Challenge raised $22,000 for various charities, he says. "It is important to note that last year was Bands4Good's launch year and the competition was only in North Carolina."
Here's how it works: The "School Division" is open to individuals or bands in which all members are 13 years of age or older between grades six through 12. The "Adult Open Division" is for ages 18 and older. None of the entrants can be signed to a major label.
Starting Nov. 4, the voting begins. People can vote once per day at no charge and can purchase additional opportunities to vote. Judges will also score each contestant's performance. What weight the fan votes carry is not revealed.
Heading the judging panel is audio engineer and Bands4Good co-founder John "JD" Davenport (Madonna, the Rolling Stones, Bruce Springsteen), who is vice president of music and artist development for the company. He presently runs Deep River Sound Studios and "will share his studio, audio engineering expertise and mentorship with some of the competition's top winners," the press release states.
The judges will all provide critiques and advice directly to each participant via the website's backend portal.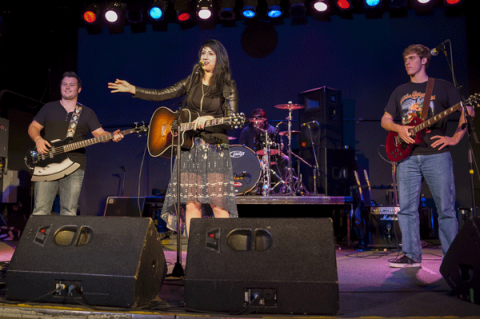 The other four judges are bassist Ira Dean, formerly of award-winning country duo Trick Pony and songwriter for such acts as Rascal Flatts and Trace Adkins; indie artist Kat Robichaud, a "theatrical rock" singer and former top 10 contestant on The Voice; Duke University professor Johnathan Bagg who runs the chamber music program and also tours internationally as a member of the Ciompi String Quartet; and 2013's Bands4Good winner Lauren Nicole, who recorded a live EP and video earlier this year and was nominated for best female rock artist at the 2014 Carolina Music Awards in August.
Winners will be recognized in a number of categories for each division, including Fan Favorite, Charity Champion, Judges' Pick and Best in Genre. The final winners will be announced during a live digital streaming performance show on Jan. 14.
The non-profit partners are:
Air Jordan