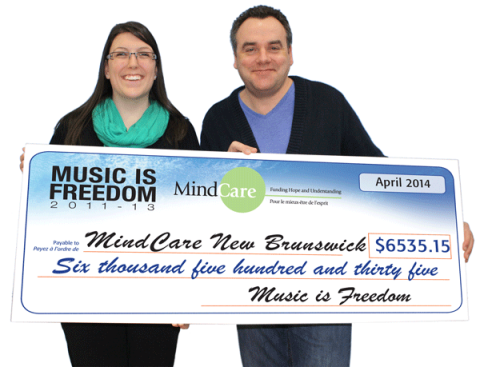 CBC Radio host and mental health advocate Jeff Liberty, who last year released a charity album of rarities by Glass Tiger's Alan Frew to Crowded House members, is staging his fourth annual Music Is Freedom — Songs for MindCare in St. John, New Brunswick
The fundraiser, to be held at Bourbon Quarter/Magnolia Café on Friday May 16, includes a day-time speaking event and nighttime concert.
"I'd like to raise over the $10 000 mark with this years event," Liberty tells Samaritanmag. Last year's concert raised $6535.15. "Although funding is extremely necessary and needed, awareness is just as, if not more, important in our quest to end the stigma of mental illness. We need to keep the conversation going after all we are all in this together."
According to the Foundation's website, "Through research and education funding, MindCare New Brunswick promotes mental wellness. And through its sponsorship of expert community services, MindCare assists all those living with all types of mental illness."
The lunch hour event (11:30 am. — 2:30 p.m.), in cooperation with Fog Lit Festival Inc., that Liberty is calling "WORDS," includes guest speakers Julia Wright, Susan White, Janet Fraser, Joan Hall Hovey, and Liberty himself, all talking about some aspect of mental illness in an effort to help stop the stigma.
The evening concert and dinner, called "SONGS," features performances by Shanklin Road, Pandora, Gordi Munroe, Sadie Donahue, Gavin Downes, Clyde A. Wray & Debbie Adshade. It will be filmed by Bell/Aliant Community One.
"This is the first year I added 'WORDS' to the event," says Liberty. "At night we have great musical artists [SONGS] contributing and for those who can't make the evening part of the event they can stop by during the lunch and early afternoon time to hear well known New Brunswick poets, authors and speakers talking about mental illness/wellness. It's all about communication and community so this is just a natural extension for Music Is Freedom  — Words/Songs for MindCare."
During the daytime event the Bourbon Quarter and Magnolia Café will donate $1 from every lunch served to MindCare New Brunswick. In the evening event, they will donate $2 from every dinner served. The cover charge is pay what you can (tax receipts will be given on site) and 100 percent of the proceeds from a silent auction will also go to MindCare.
AIR MAX PLUS