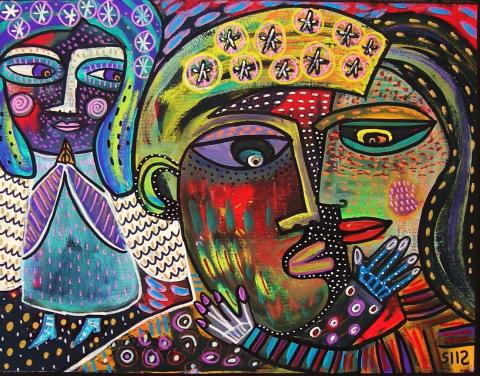 British pop singer-songwriter Charli XCX, known for such hits as "I Love It" and "Boom Clap,"and cowriting "Señorita," has long given back to the LGBTQ community that has supported her, from staging a one-off fundraiser for now-late singer Billy Clayton to performing at amfAR benefits for AIDS research, to mounting the queer Go West Fest with proceeds going to GLAAD.
"My fanbase is very much predominantly made up of LGBTQ people and so, wherever I can, to help support that community is really important to me," the 27-year-old tells Samaritanmag before a private performance in Toronto for a Bud Light House Party.
"I have aligned with certain charities in the past, but what I really enjoy doing is bringing performers and people who are wanting to grow within the creative industry into my world, onto the stage, like throwing parties with them, having them come out on stage and perform and really using my platform to showcase all of the really incredible talent within the LGBTQ+ community that has been not only supportive of me, but really inspiring to me and my artistry. So I feel it's really important that I share my stage with that community."
Among the LGBTQ artists Charli has worked with are Brooke Candy, Troye Sivan, Kim Petras, Clairo, Christine and the Queens, Big Freedia, and Pabllo Vittar.
Charli, born Charlotte Aitchison, has recently spoken out about the lack of gender-balance on music festivals and in the industry in general, and offered some practical solutions to help change the status quo — even though it's far from a new discussion.
"It's really about the industry as a whole revamping and being more welcoming and supportive of women who work within it. I think that's the same for any industry. There is this perception, still, for female artists that we are just these objects who get on stage and sing other people's songs and dance around, no matter what genre, no matter how old you are. That is the perception of us, which couldn't be less true in this day and age, but also for a really, really, really, really long time.
"And, yeah, I just think if that's how some of the most forward-facing women in the industry are getting treated, what about those aspiring producers, aspiring mix engineers, aspiring record label bosses? It's going to be even harder for people behind the scenes.
"It's about a shift in the overall tone of the industry, and the industry as a whole wanting women to succeed, wanting women to be headline acts, wanting women to be the main focus, rather than the subplot. And, I think, yes, having conversations like this really does help, but it has to be a global thing, constantly."
Patike – Nike Air Jordan, Premium, Retro Klasici, Sneakers