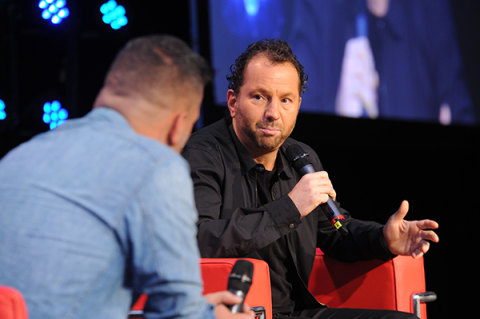 In many ways, the concert promotion industry can be likened to a show by prog-rock dandies Rush: exciting and fun but seriously lacking a female presence. Global concert promoters Live Nation hope to change that with the advent of the Women Nation Fund, what they're calling "an early-stage investment fund focused on female-led live music businesses."
Live Nation president and CEO Michael Rapino talked about his company's corporate social responsibiluty at Canadian Music Week last year. Live Nation has 20,000 employees in 41 different countries.
In short, if you are a woman somewhere in the world hoping to spearhead festivals, events or a promotion company, though the new Women Nation Fund Live Nation wants to assist via its considerable resources, such as promotion, booking, technology, ticketing and PR/marketing.
Potential candidates will be vetted by an all-female evaluating committee made up of eight heavy-hitters from across Live Nation's ranks plus personnel from Ticketmaster, Front Gate Tickets, and Texas-based C3 Presents, to name a few.
As for eligibility, the fund will accept proposals for businesses in any country or region around the world provided they are female-founded and provide a product or service in the live event space. The question then is, why this desire on the part of the world's leading live entertainment company to thicken their ranks with women?
"Women are underrepresented across the entertainment ecosystem, but we see this particularly in the music industry," Dr. Stacy Smith, founder and director of the Annenberg Inclusion Initiative at the University of Southern California, is quoted in a statement issued by Live Nation. 
(The Annenberg Inclusion Initiative, by the way, is "the leading think tank in the world studying diversity and inclusion in entertainment through original research and sponsored projects.")
Smith continues: "One crucial way to kick-start the effort towards gender parity is to fund female entrepreneurs.  I applaud Live Nation for their leadership and for committing its resources in a way that can affect real change."
It will be interesting to see how (and if) this nascent initiative catches fire, and especially, how "a product or service in the live event space" might look in the hands of someone female, imaginative, and with access to real resources.
Might innovative entertainment for children soar? Maybe concerts aimed at women over 40, say… a mix of music and storytelling used to great effect at music industry events like songwriter's circles but absent from the mainstream entertainment arena?
"As the leader in live entertainment, we want to meaningfully address this issue, change the dynamic and widen the playing field," Rapino is quoted as saying. "The Women Nation Fund is a first step towards empowering new entrepreneurs and creating more opportunity for women in this sector of the live music business."
Music fans everywhere will be watching with anticipation.
Air Jordan 11 Holiday 2020 Release Details