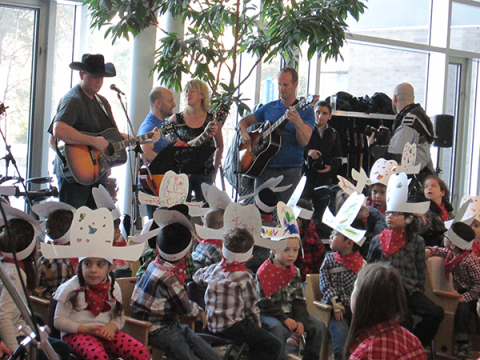 While sporting homemade paper cowboy hats, the children at the Holland Bloorview Kids Rehabilitation Hospital in Toronto anxiously waited for Canadian country singer Gord Bamford to visit the morning of Friday March 6. Along with performing, Bamford brought a donation of $10,000.
Tracey Bailey, president and CEO of the Holland Bloorview Kids Rehabilitation Hospital Foundation, told
"That's a big donation and helps out a lot of the music therapy programs here," she said.
Holland Bloorview is Canada's largest children's rehabilitation hospital, providing treatment, research and education services in the area of childhood disability.
Bamford, whose latest album is 2013's Country Junkie, has won 19 Canadian Country Music Association awards. In addition to his music career, he hosts a summer golf fundraiser for The Gord Bamford Charitable Foundation, which enables him to help out various hospitals and organizations.
According to the web site, "the goal of the Foundation is to be able to leverage Gord's name and brand in order to raise funds that can then be dispersed back to youth. It is important for Gord that any funds raised through the support of fans, friends and corporate partners be initially donated in the area they were collected and then spread throughout the region."
Bamford recently donated a total sum of $50,000 to Kidsport Canada, Make-A-Wish Foundation (Northern Alberta), Ronald McDonald House Central Alberta, Alberta Music Education Foundation, Boys and Girls Club of Wetaskiwin, and the Clive Resource Centre.
While Bamford is on the road playing seven shows from Calgary to Kingston, Ont., he has been popping into Canadian children's hospitals to present $10,000 cheques. By the time he's finished, he will have given $70,000.  An eighth donation of $10,000 went to IWK Health Centre Foundation in Halifax, which will have an "official cheque presentation" in September, during Country Music Week.
It began Feb. 19 with the Alberta Children's Hospital Foundation in Calgary, followed by The Children's Hospital Foundation of Manitoba in Winnipeg and McMaster Children's Hospital Foundation in Hamilton, Ont. On March 6, he went to both Holland Bloorview Kids Rehabilitation Hospital and The Hospital for Sick Children (a.k.a. SickKids). Today (March 9), he will visit Children's Health Foundation in London, Ont. and tomorrow, University Hospital Kingston Foundation in Kingston, Ont.
"We pick based on the areas we are touring in," Bamford told Samaritanmag. "We don't just like to send a cheque; we like to pop in and say 'Hi.' In the last few years, every city that the country music awards are in we have also gone there [to present a cheque]. When we are involved in the community, we really get involved.
"We don't want to do one for one. We want to be able to help everyone. So it's not a big amount to one place, but more so diversifying and making many donations throughout the years to every place we can. We want it to be fair for everybody. I'm sure we're missing some yet, but hopefully we get to all of them."
Since starting The Gord Bamford Charitable Foundation in 2008, he has generated approximately $2 million dollars by hosting the annual charity golf tournament in his hometown of Lacombe, Alberta.
"As a not for profit organization, The Gord Bamford Foundation is passionate about supporting youth," it says in the press release about these current drop-ins. "As a Foundation we provide funds for initiatives that include or involve music, education, health care, sports, and multi-use facilities that benefit youth across Canada."
During his visit to Holland Bloorview, the children sang a few songs of their own for Bamford. Many of their faces lit up while miming actions to the songs.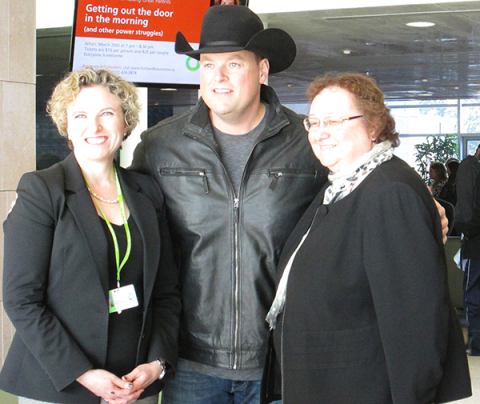 "Having someone like Bamford come to visit and allowing the children to play music for him builds their confidence and self-esteem," said Bailey.
She added music therapy is just as important as any other therapy.  
"It is absolutely critical. It is a critical element of all parts of how you heal and the way you heal, but we now have evidence that music stimulates your brain in ways that physiotherapy wouldn't. Physiotherapy is working on your body, but music is working on your brain and helping your brain connect to your body better. So music is a very important part of the overall healing process," she explained.
"We have always had musicians on staff. They are not only involved with children and their care, but they are involved in research and teaching others how to use music therapy well."
In the media advisory, it says, "Holland Bloorview pioneered the use of music therapy in children's rehabilitation over 50 years ago. Our biomedical engineers have created adapted music technologies, such as the Virtual Music Instrument, that have facilitated music-making for kids with disabilities. We have seen how music therapy provides many benefits to children, including pain relief and stress reduction as well as improvements in physical strength and motor control.
"Given recent research showing that music therapy can be an important aid in a child's neurological rehabilitation and at the same time help a child develop socialization and communication skills, Holland Bloorview is currently focused on enhancing our music therapy program for children with acquired brain injuries and other neurodevelopmental disorders."
Holland Bloorview's music therapist Andrea Lamont told Samaritanmag "Music therapy is used in a wide range of settings but basically we use all the elements of music like rhythm, tempo, song structure and beats to help someone make a positive change in their progress. Depending on the situation, we could be paired up with a physiotherapist to help motivate the child to walk.
"Music can help to extend their attention span if they are working on their endurance sometimes we will play some of their favourite pieces. Sometimes use music to reduce anxiety levels before an appointment. We may be helping out with procedural assistance as well.
"We feel incredibly supported by musicians like Gord," she added. "We are very thankful for his contribution and hope maybe we can see him again sometime soon and show him some of our music therapy groups."
The outpour of demands for help to The Gord Bamford Charitable Foundation have led his committee to begin putting together a second fundraising effort for the springtime, he says. "Our one golf event generates a lot of money but it is not enough."
The singer has also been able to inspire those around him, including his bandmates who accompany him to the hospitals.  "For me, even though I enjoy talking to you, it's not about media; it's about getting in and making a difference," Bamford said. "For me, my whole living is made on people liking my music and coming to shows and it's just a natural thing for me to do to come back. So I certainly hope it does inspire people. The bandmates came here today on their own merit. The bandmates are not expected to be here, but they wanted to be here. I think this sort of stuff starts to rub off and I think it's a great thing."
air jordans mens basketball shoes Reverse Bred DJ5982-602 Release Date