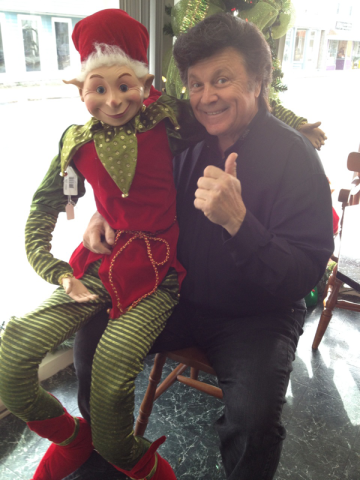 Canadian singing legend Bobby Curtola's biggest hit came out decades ago and until now he hadn't released anything new in years, but he's getting a positive response to his charity single, "St. Nicholas Christmas," which is good news for the CP24 CHUM Christmas Wish.
The man behind the global smash "Fortune Teller" in the 60s and Coca-Cola jingles "Things Go Better With Coke" and "The Real Thing" decided to donate net proceeds from sales of the CD single (which comes packaged in a Christmas card) to the CP24 CHUM Christmas Wish because of the bond he felt with CHUM Limited and its radio stations before the company was purchased by Bell Globemedia in 2006.
"CHUM's been good to me my whole life," the 71-year-old Curtola tells Samaritanmag. "It was another way to say thank you to [former CHUM executives] Mr. Waters and Allan Slaight and all of the great disc jockeys through the years that became very good friends."
The CP24 CHUM Christmas Wish was established in 1966 as CHUM's Kid's Crusade Foundation for the purpose of assisting children's charities and children in need. The name was changed to the CHUM Charitable Foundation in 1973 to reflect the expansion of the foundation's work, which included providing financial assistance to adults in need. It became known as the CP24 CHUM Christmas Wish in 2008.
The CP24 CHUM Christmas Wish program has become one of the largest distributors of toys to children in need in the Greater Toronto Area and provides financial assistance to hundreds of agencies. With the help of Royal Bank of Canada and donations from viewers and listeners, the CP24 CHUM Christmas Wish (in conjunction with Toronto Social Services) assisted approximately 300,000 people in need through toy and financial support in 2013.
"It's a giving time of year and for me it was always about saying 'Thank you' for the wonderful life I've been blessed to live," says Curtola. "I've had my share of thorns on the stem of that rose, too, but there have been more good things than bad. I've always been grateful and Christmas has always been special to my heart."
Curtola, a one-time teen idol, had a huge hit in 1962 with "Fortune Teller," which sold 2.5 million copies around the world. He had a string of other Canadian hits in the '60s, 25 gold singles and 12 gold albums, recorded "Things Go Better With Coke" and co-wrote "The Real Thing" for Coca-Cola commercial jingles, hosted two Canadian television shows, toured the world and, in 1972, became the first Canadian entertainer to sign a long-term, multi-million-dollar contract to perform in Las Vegas. He was made a member of the Order of Canada in 1998 and received a star on Toronto's Italian Walk of Fame in 2011. He's also in the Coca-Cola Hall of Fame.
Curtola has used his fame and fortune to help the less fortunate over the years. He's involved with many charities and has hosted numerous telethons across Canada. His global contributions include charitable works in Indonesia and Bulgaria, the Jerry Lewis Telethon in the United States and the Bobby Curtola Foundation for Children in Ecuador.
"I have this philosophy about life that when blessings come to you that are bigger than you, it's a responsibility to somehow share those things and make a difference with the opportunity you have," says Curtola, who adds that he quietly helps a few seniors and families in need every year around Christmas time.
One of Curtola's favourite causes these days is the Canadian Centre for Abuse Awareness, a national charitable organization founded in 1993 with a mandate to significantly reduce the incidence and impact of abuse through education and public awareness.
"They help abused individuals and really make a difference, so I try to participate in their functions as much as possible," he says.
Curtola has enjoyed doing a lot of promotion for "St. Nicholas Christmas" with radio, television, print and online outlets, and radio stations across Canada have added the song to their holiday season rotations. That both pleases and surprises the Port Arthur, Ont. (now known as Thunder Bay) native since he's largely been out of the spotlight for several years.
But that doesn't mean that Curtola has been idle. He's been in the studio with a young singer named Mimi O'Bonsawin from Sudbury, Ont. and hopes to have a single released early in 2015.
Curtola said he performs about 15 concerts annually and plans to increase that next year "because it seems like that window is opening up again." He's managed by his son Chris and represented by Entertainment Music Group, and they're looking at theatre bookings and the possibility of putting together a package tour with some of his musical friends.
"We're going to go out in a nice modest way with a party atmosphere," says Curtola.
"St. Nicholas Christmas" is available at Curtola's concerts and appearances, but the most convenient way to purchase it is online for $12.50 (including taxes and shipping) from his website.
"It's been years since I've had this kind of attention," says Curtola. "I'm having fun and it's a wonderful Christmas for me."
30 Winter Outfit Ideas to Kill It in 2020 - Fashion Inspiration and Discovery