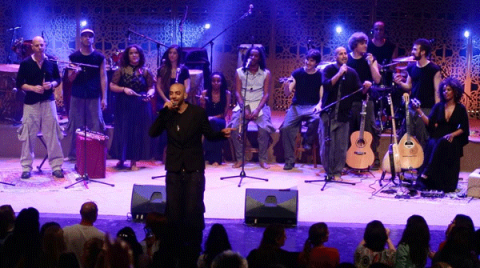 Idan Raichel is a multi-platinum recording artist in his native Israel, who has collaborated and toured with India.Arie, performed at the Nobel Peace Prize awards ceremony, co-written a song with Israeli President and Nobel Peace Prize winner Shimon Peres, and performed for President Obama and his family on Martin Luther King Jr. Day. The Idan Raichel Project creates cross-cultural music that fuses Middle Eastern, West African, Latin American, Indian, Caribbean sounds — and more.
The 36-year-old multi-instrumentalist and singer made his first recording, The Idan Raichel Project, in 2002, featuring contributions from over 70 of his musician friends and colleagues from various cultural backgrounds. Helicon Records signed him and the album became a triple-platinum hit. The follow-up, Mi'ma'amakim, in 2005 was just as big. U.S. label Cumbancha picked him up in 2006. To this day, his M.O. remains the same — bringing musicians and singers together from all walks of life to share their ideas and expose their culture and talents. To date over 95 different singers aged 16 to 91 years old from dozens of different countries have participated in the Idan Raichel Project's recordings or performances. His sixth and latest studio album is 2013's Quarter To Six.
As a gift for Samaritanmag's readers,  by sending an email to giftirp@gmail.com, you will get an auto-reply link for the free song downloads. Alternately, you can sign up for his newsletter to get three songs.
Samaritanmag talked with Raichel about how he is using music to achieve his mission.
Your aim with The Idan Raichel Project is to use music to break down barriers between people of different backgrounds and beliefs. What is your message and your motivation?
"The project was founded on the 11 years ago and since then we've recorded many artists in Israel and people who are visiting Israel, or collaborations from all over. The main idea was just to make music — there was no other agenda other than to make music with my friends. But then once this music started to be played by mainstream radio in Israel, we saw the potential or the side effect, the good side effects of the Idan Raichel Project to bring the voices of the minorities to the Israeli mainstream."
Can you give some examples?
"It was the first time that the people could hear the voices of immigrants from Ethiopia, either from Gondar or from the refugee camps. And then later on we brought Israeli Palestinian singer to the Israeli mainstream. This year it was the first time to bring even a German singer to the Israeli mainstream in a country that, by the way, it's forbidden by law still to play the music of Wagner. So the philharmonic orchestra can still not play."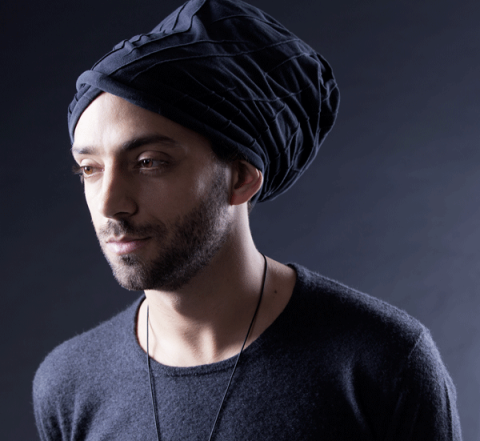 Like many musicians, you initially started recording because you wanted to play music with your friends. When did you noticing the greater impact your music was having? Can you describe how it was breaking down the barriers of different backgrounds and beliefs?
"A good example was the boarding school next to Tel Aviv which has got their two main groups of immigrants — one from former USSR and one kids from Ethiopia. And the groups were more or less separated, not any communication between them. Not cultural, not as friends, nothing. I remember coming back to the boarding school right after the first single of the Idan Raichel project was released. And it was influenced a lot by the Amharic culture. There was also singing in Amharic and another language in Ethiopia, the Ge'ez. I came back to the boarding school and I saw that the immigrants from the former USSR were asking questions to the immigrants from Ethiopia about the meaning of the song or singing it along together with them. So I thought that this is something that can build bridges.
"I found it's a feeling that I have also until today when people, we are coming from a conflict region with people talking about the peace agreement, the peace process and it's agreements, I'm not sure that many Israelis know about Palestinian culture, about Palestinian songs, or about Syrian movies, or about Iranian theatre. I'm not sure that people in Syria know much about Israeli music or Israeli theatre and I'm not sure that Palestinians know a lot about Israeli dance groups. So I think that by collaborations with artists is something that can be a good beginning for building bridges."
Having a conversation about Israel can turn ugly. People have strong opinions. I have relatives there and read a post by one of them that I felt was racist and said so. She said I don't understand because I don't live there. When you visit North America or Europe, do you find those same types of positive connections form through your music that you mention about the boarding school kids in Israel?
"First of all, I want to tell you that I'm not fully in agreement with what she told you because I feel that you, as an outsider, sometimes can look at our situation and come up with great ideas. Sometimes you're so much stuck in your bubble that you cannot see another way of approach. I think that people that are interested in the situation and involved with culture, and care about it, can look on this as an outsider and can give great ideas and great solutions sometimes. I think that maybe you cannot know what it's like to live in war and have a missile on you, but the two of you can be involved and I'm very happy to see people that are outside of the Middle East are still so involved.
"When I'm coming to places like Canada I don't come often, but Canada is a good example of a multicultural nation of immigrants from all over the world. People in New York, it's a great melting pot. But also in New York, when you turn on the radio, you'll not hear the voices of the minorities. You'll hear the same pop music, popular music, that you hear all over the world. So it's not that you will hear a singer singing Italian or Cantonese or whatever. So I think that the Idan Rachael project, on this level, that we are really proud of how the radio accepted us and the big hug that we got from the audience and from the Israeli mainstream."
Toronto's Motek Cultural Initiative has the same philosophy as you. They started in 2011 to use music "as an agent of change" in North America "to bridge cultural divides and create a unique platform for Israel-related dialogue."  Interesting the two of you linked up to present your shows, like the one in Toronto.
"Because for us it's natural. I don't see my drummer as my Iraqi drummer. I don't see my singer as my Ethiopian singer. It comes very natural and usually and in the same block you will have immigrants from all over — not an anthropologic research; you just make music with your friends, but then you realize that music has real power, as you said, of building bridges. I'm happy that it come from this direction because then the songs are really songs that came from our hearts and it's not like, 'Peace oooh baby,' and all this. It's not a fake song."
Does it sadden you, when you look at musical history, there have been songs about peace for 50-plus years and we're still singing about the same thing? There's still racism — in politics, in sports, in everyday life. Most recently the news spotlight was on Clippers owner Donald Sterling.
"The owner of the basketball team what he said, of course, it's a disgrace. I don't think it reflects what people in the Jewish world think, not at all. Also the things that he said about the situation in Israel is completely ignorant and not appropriate and not true.
"I think there are songs about peace and love and some of them made changes — songs about the apartheid in South Africa; there were songs that became the soundtrack of the revolution. There were songs back in the USA that were in the 50s, 60s. There are songs that were becoming the soundtrack of the nation, the soundtrack of time. I don't think that this is the only solution, but if these songs are becoming the soundtrack of these times it's maybe one tool or one element of the revolution.
"I would love it if the audience will take [my] music and remember it as music that came from Israel. And I would love that the same audience will go an evening after or a few months after to a concert of a Palestinian singer or a Jordanian artist or Lebanese artist. And more, I will be happy to get an invitation to collaborate with all of these artists on stage.  But then again, on an artistic level, it will be a good concert of good music with good musicians. And then if there is a side effect of becoming a subject of something else that's great. But it has to start with good art, and not to score the soundtrack for the people, or a peace conference."
Boots