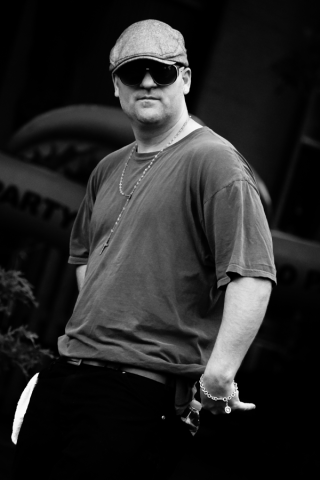 "I'm going to entertain for two more years. After that, I'm going to start doing some real goodness, real charity, real helping," rapper Snow tells Samaritanmag.
Having grown up in Toronto's Allenbury Gardens housing projects, the 45-year-old always has charity at the back of his mind from helping disadvantaged kids in his old 'hood to nurturing the artistic potential of inmates, something he wants to do next.
But now he is doing something else that hits close to home.
All of the proceeds from his long-awaited new single "Shame" — featuring reggae legend Mykal Rose (Black Uhuru) and produced by Kent Jones and Cool & Dre — goes to the U.S.-based Karen E. Mumford Cancer Foundation (KEM) in honour of his late wife.
"Tamei passed away five years ago.  It just came out of nowhere. We knew for like two weeks," says Snow, whose real name is Darrin O'Brien.
Tamei Edberg died of uterine cancer just after receiving the terrible news. According to the Canadian Cancer Society, it is the most common cancer of the female reproductive organs but unfortunately in Tamei's case was diagnosed too late and wasn't able to be treated.
Founded in 2007, KEM not only educates people about preventative practices "that can sharply eliminate chances of acquiring cancer," it states on its web site, but "will donate funds to cancer research while financially assisting sufferers of cancer and those undergoing treatment."
Snow didn't write "Shame" about cancer or his wife but as an explanation to his U.S. fans about why he disappeared off the radar following the release of his 1993 hit, "Informer," which spent seven weeks at No. 1 on Billboard's Hot 100 chart.
"So after the song was done, we were thinking, 'Let's do something for cancer,' so we got hold of the KEM Foundation. They help people with cancer. They don't just take the money and do research; they help. So let's do that that in her honour," says Snow.
In Canada, Snow has had hit singles since "Informer," including 1999's "Everybody Wants To Be Like You," which reached No. 2, and 2002's "Legal," which peaked at No. 13, but he hasn't dropped an album in 12 years.
He has always worked at his own pace, releasing albums when he meets a group of people (producers, co-writers, managers etc…) that are committed and fun. After all, he never set out to be an entertainer, he says. It just happened when he landed in jail on two attempted murder charges, then for assault causing bodily harm and came up with "Informer" (listen to the lyrics for the story).
A jury found him not guilty but he had other charges on his criminal record that prevented him from entering (thus touring) the U.S. The matter that has finally been resolved ("no guns, no drugs, no violence towards women, just stupidity," Snow says), allowing him to work in America now, which he is doing with Kent Jones, Scott Storch, Fat Joe, and others.
His next single is "Ohh Baby," featuring Fat Joe and a sample of Peter Frampton's "Baby I Love Your Way." It is due out in January.
"I'll probably give all that money away to some people in Ireland or Jamaica or something," Snow laughs.
When he mentions he'd like to continue entertaining for two more years then dive into charity work, Samaritanmag asks him what he'd like to do.
"I'd like to…I don't know. See, what makes me mad is jail, how they treat the inmates in jail. I don't care what you do, whatever whatever whatever but they're not dogs."
In August, Samaritanmag covered something that might be right up Snow's alley. Musician/producer Chris Brown (Bourbon Tabernacle Choir, Barenaked Ladies, Chris Brown and Kate Fenner) runs the Pros and Cons program, which strives to assist prisoners through mentorship and constructive hands-on work. Postcards from the County is an album recorded behind bars with inmates and Canadian artists, such as Sarah Harmer and Luther Wright.
"I wanna do it. Tell them to get a hold of me. I'll do it. I know them all in jail," enthuses Snow. "I wanna do two songs with the inmates. Everybody knows my family down there; when I go down there, everybody, big dogs down there. There's so much talent there.  And it's a shame that if you're walking down the street and you get caught with a bag of heroin or a bag a crack, you're a crack user or a heroin user; you're not a criminal.
"Money will go to something to do with the jail – more instruments, more this, more that," he adds. "The talent is crazy. It's not just music. It's lost talent and they could be doing artwork for record companies or something, while they're in there."
adidas Yeezy 350