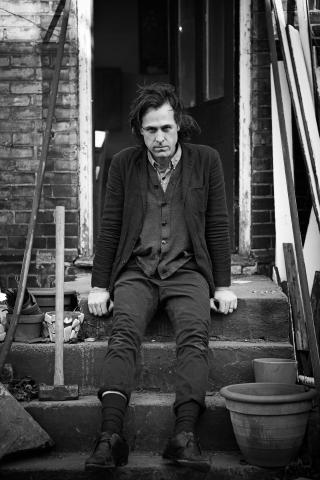 Solo artist and Broken Social Scene member Jason Collett is going against his tradition of not revealing the performers for his annual Basement Revue in an effort to get as many people out as possible to the Dec. 18 show at Toronto's Opera House for a "celebration of resilience, resistance and survival" to raise money for No More Silence.
"The core theme we've been reflecting on as we've come together as a group of performers for this show has been of missing and murdered aboriginal women," Collett tells Samaritanmag. "And that theme spills over equally into First Nations issues and violence against women. That umbrella of themes has resonated with us all in a big way.
"The show is very much a reflection, a meditation perhaps, and we thought it was only right that if we were doing that kind of show that any money made beyond costs would be donated to an organization that worked with that cause of missing and murdered aboriginal women."
According to research conducted under the Native Women Association of Canada's (NWAC) Sisters in Spirit project — and posted on No More Silence's Facebook page under "about" — over 580 Indigenous women have been murdered or gone missing, most of them over the last 30 years, 100 since 2001.
No More Silence is a Toronto-based, volunteer-driven organization that's been gathering names of missing and murdered indigenous women in a database for 10 years. Its aim is to develop a national and international network to support work being done by activists, academics, researchers, agencies and communities to stop the murders and disappearances of these women.
This is the eighth year that Collett has put on these "old school revues," which normally take place once a week in December at the intimate Dakota Tavern with undisclosed lineups. He has also staged them at other times of the year, such as June's Luminato Festival and in October just north in Creemore, Ont. Past "mystery guests" have included k-os, Feist, Hayden, Buck 65 and Metric's James Shaw. The dates sell out so quickly that, for the past couple of years, one performance has moved to a larger venue to accommodate more people. That was supposed to take place at Adelaide Hall this year, but, due to a fire there, it was moved to the even bigger Opera House.
Since the cause resonated so much with Collett and co-curator Damian Rogers, novelist Joseph Boyden and electronic music group A Tribe Called Red were invited in September to help put the night together.
"We had no intention of releasing the lineup, as usual, but this was new for us, as we've grown artistically as curators, to take on a theme that was important to us but inappropriate for us to curate alone," says Collett. "We put out the invitation and they responded very well to it and it snowballed really quickly into a very dynamic roster of people."
Collett, Boyden and A Tribe Called Red will be joined on stage by singer/songwriter Jennifer Castle, poet/author Lee Maracle, writer/social activist Naomi Klein, writer Leanne Simpson, singer/songwriter Tamara Williamson, visual and performance artist Shary Boyle, video artist Emily Vey Duke, cellist Cris Derksen and some unannounced special guests.
"The fall has been tumultuous with the door being kicked open wide to address issues of violence against women," says Collett. "We want the public to be allies with us in reflecting on this theme and in raising money for a really great grassroots organization that we feel is on the front line of doing good work around this theme."
No More Silence will have a table at the Opera House so people can meet those behind it and learn more about the work it does.
Collett has taken part in benefit concerts for food banks and other causes in the past, and he also performs at and helps assemble musical talent for annual fundraisers for New Democratic Party Davenport Member of Parliament and singer, songwriter and musician Andrew Cash, a former bandmate of Collett.
Collett is also actively involved with The Al Purdy Songbook, a project to raise money for the A Frame Association to restore the late poet's house and establish it as a writer's residence. Leonard Cohen, Bruce Cockburn, Sarah Harmer, Gord Downie, Greg Keelor, Jann Arden, Doug Paisley, Snowblink, Felicity Williams, Dave Bidini, Michelle MacAdorey, The Sadies, Feist, Lucinda Williams, Margaret Atwood and Michael Ondaatje are other artists expected to be part of a Universal Music Canada-distributed album of original compositions and Purdy's words set to music. A PledgeMusic campaign has been launched to raise money for the record.
"When you hand over poetry to musicians, they need to digest it a little bit and can't just turn around and spit a song out," says Collett when asked when the album will be issued. "I don't want the project to sell itself short by rushing. I think we'll hear more about it at some point in the new year."
These projects have prevented Collett from writing all of the songs he'd like to include on his follow-up to 2012's Reckon, but he plans to get back to that in January and expects to release a new album in late 2015 or early 2016.
Air Max