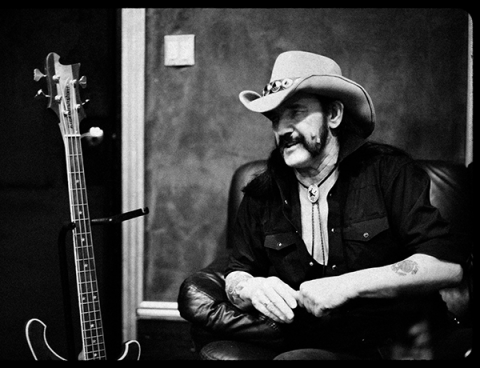 The most obvious ways Motorhead fans can continue to honour rock legend Ian 'Lemmy' Kilmister, who died Dec. 28, is to continue to play his music; mind you, any music — he loved Little Richard to ABBA. And, yes, think of him or toast him every time you have a Jack Daniels & Coke (there's a petition to rename it 'The Lemmy').  But there is also a philanthropic way.
It had said on the YouTube page that screened his memorial, "If you'd like to make a charitable donation under Lemmy's name, please go to Ronnie James Dio Stand Up and Shout Cancer Fund."
Dio, another rock icon who fronted and/or founded Heaven and Hell, Dio, Black Sabbath and Rainbow, died May 16, 2010 of stomach cancer. He was 67.
Lemmy, who suffered from diabetes and hypertension, and had an implantable cardioverter defibrilllator, died four days after his 70th birthday from extremely aggressive cancer found in his brain and neck.
"As we all know, cancer is a deadly disease that robs families of loved ones, and our fund is dedicated to support cancer prevention research, raise awareness and educate the public with the focus that early detection and prevention is of vital importance," it says on the Ronnie James Dio Stand Up and Shout Cancer Fund web site.
After Dio died, "his countless fans around the world channeled their grief into thousands of dollars in donations in his memory," it continues. "The result was the creation of the Ronnie James Dio Stand Up and Shout Cancer Fund, and in its short history, we have raised more than $1,000,000 and donated funds to the cancer research work of the T.J. Martell Foundation and the M.D. Anderson Cancer Center in Houston, where Ronnie was treated during the last six months of his life. We will continue to support organizations who are committed to cancer research and education."
The mission of The Ronnie James Dio Stand Up and Shout Cancer Fund is "to support research and education that furthers early detection, prevention and treatment of prostate, colon and stomach cancers. Our philosophy stems from the notion that 'Knowledge Equals Power.'"
Lemmy died shortly after receiving his diagnosis of terminal cancer, but sending money in his name, to a fund in memory of another rock legend, will go a long way in helping that others don't get the kiss of death.
Jordan Ανδρικά • Summer SALE έως -50%