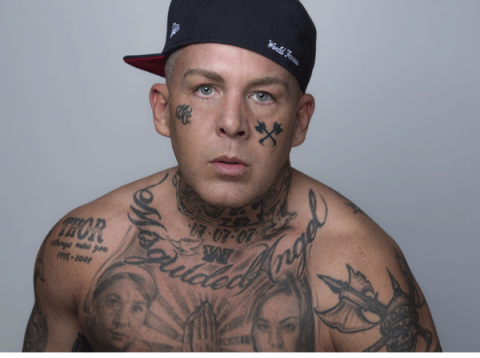 Rapper and entrepreneur Madchild, one-third of the multi-platinum-selling Canadian hip hop group Swollen Members and founder of the indie label Battleaxe, talks openly about blowing half-million dollars on drugs and losing about $3 million because he was too busy being on drugs to focus on business.
The Vancouver native started doing Perocets in 2006 and then got hooked on OxyContin, unaware of the dangers, he says, because they were prescription drugs. He's been clean — and removed from his biker and dealer connections — since 2010 and still candidly raps about those days on many of his songs, including on Swollen Members' eleventh and newest studio album, Brand New Day.
Battleaxe Records — the label he launched in 1997 — has been re-launched and he has a new outlook which involves using this second lease on life to counsel young people and also galvanize Swollen Members' core fan base — termed Battleaxe Warriors & Dimes — to help animals, something the loving dog owner has only just started entertaining.
"I feel like I'm helping people all the time with something that is close to me which is addiction, on a personal level. I'll sit and talk with someone after the show for 20 minutes if I feel like it's really going to help them," Madchild tells Samaritanmag. "I'm constantly doing that kind of stuff.
"I made it known to a couple of channels that I would like to speak at high schools. I spoke at five or six of them and then it sort of dwindled. Maybe I'm not that good of a speaker. Maybe they want to see more time go by so they know that I'm the real deal as far as me being on the right track? Maybe they don't want people with tattoos on their face? I'm not sure.
"I want to do that; I want to talk with kids because I felt that when I talked to the kids [at those school visits], there was a real connection; I felt like the kids were really listening and that I was making a difference."
As for using Battle Axe Warriors, there are about 7000 members that are onboard (each paid a one-time membership fee of $99 and received The Official Initiation Battleaxe Package).
"We are building more than just a movement," it says on the Facebook page. "We are building a family. BATTLEAXE WARRIORS is a brotherhood that is multi-cultural and world wide. It is a closed community of brothers that value loyalty and respect. We practice to become the best at what we do.
"If you feel in your heart that you are or should be a BATTLEAXE WARRIOR, visit http://www.battleaxewarriors.net/ and we will get back to you with further instructions. Not everyone can become a WARRIOR but any one may apply. Being a member of our Brotherhood is an honor and not to be taken lightly. You do not have to be 'the coolest kid in school' to become a WARRIOR but you do have to have HEART and the right attitude.
"BATTLEAXE WARRIORS is not a gang. BATTLEAXE WARRIORS is a family…"
"It's growing, but besides being a positive movement and liking underground hip hop, what exactly is our purpose? We need an exact defined purpose besides just bettering ourselves and creating a new community," reflects Madchild. "Our family has talked about charities and lot of guys in the Warriors go and do little things here and there. They put in their important time to help raise money for charities
"I think we should focus on one charity and really make a difference as opposed to focusing on 20 things," he says. "What I'd really like that to be — and I'm gonna run that by everybody when I start re-engaging — I'd like to focus on animal abuse.  I'd like to focus on shutting down puppy mills, helping find good homes for rescue, helping whatever foundations go and help animals from bad situations and put them into good situations That's what I want to focus on.
"I think if we have 5, 6, 7000 people on the same page and we start just focusing on that as our charity, our positive thing that we do, that can make a real difference."
Sneakers