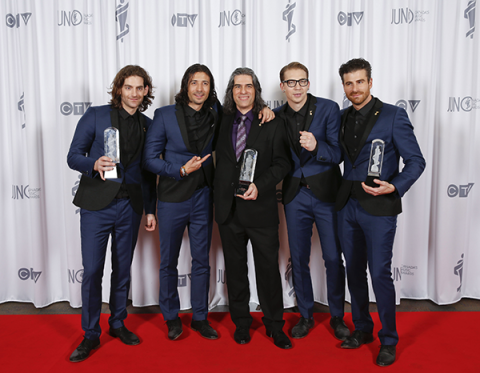 Why are some students switching schools or, in some cases, making a daily two-hour round trip to attend Terry Fox Secondary School in Port Coquitlam, B.C.? Two words: Steve Sainas.
As the music teacher at Terry Fox S.S., Sainas has not only earned a dedicated following among the city's budding young musicians, but also the 10th annual MusiCounts Teacher of the Year Award for 2015. The honour is presented by the Canadian Academy of Recording Arts & Sciences (CARAS) at the Juno Awards. This year it was sponsored by the top-charting Canadian reggae-pop group Magic! which donated $100,000 to the entire MusiCounts program, whose mandate is to provide musical instruments to needy schools and communities.
Onstage at the televised Juno Awards, March 15 in Hamilton, Ontario, the members of Magic! — singer Nasri Atweh, guitarist Mark Pellizzer, drummer Alex Tanas and bassist Ben Spivak — which jetted in from their tour opening for Maroon 5 to attend Canada's most prestigious music awards show,  introduced the video segment on MusiCounts and this year's Teacher of the Year, Sainas.
"Standing on stage tonight would not have been possible if we hadn't had a chance to discover our love for music while in school," Nasri said.  Artists from The Rolling Stones to Michael Buble and Shania Twain have felt the same way about the importance of music teachers in our schools and sponsored this award in the past.
Sainas' long-running program, Rock School and Recording Arts, may sound familiar to movie-goers, but this is definitely a case of art imitating life: Sainas began his beloved program in 2000, a good three years before Jack Black's hit comedy, School of Rock.  
"I remember going to the theatre and thinking how someone must've been researching me while developing the movie," Sainas says, laughing. "There were scenes that made me fall out of my chair. Where he is teaching 'Highway to Hell' on a white Flying V guitar and also where he is teaching stage presence while watching Led Zeppelin: those are both things I had done in my class."
Musicianship aside, Sainas is quite unlike Black's freeloading slacker character, who poses as a substitute teacher in the film. Sainas has been a teacher for nearly 30 years, more than half of them at Terry Fox S.S., and also played in local blues group Mud Dog for 15 years.
His program grew from one class in each subject into a full-time teaching position for Sainas in 2004, offering the performance course Rock School, hands-on Recording Arts, and beginner guitar. He may work tirelessly, but Sainas admits his program has benefited from pop culture media, too. "School of Rock did significantly increase my student enrolment in Rock School," he says. "As did the video games Rock Band and Guitar Hero."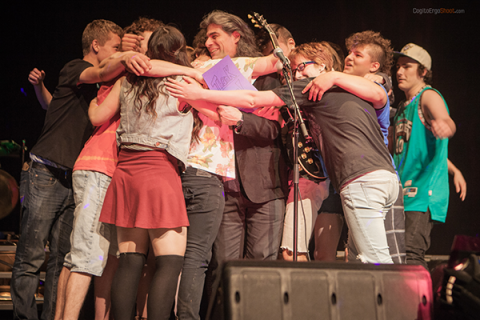 About 200 students of varying skill levels are involved in the elective course annually, says Sainas, including special needs kids from the secondary school's Learning Centre and at-risk youth. His impact is more than evident. Sainas, recently named Favourite Music Teacher two years running by local Tri-City News, has happily read the many letters of recommendation from his students for his MusiCounts Teacher of the Year nomination.
"Some of them actually went as far as to say 'It saved my life,'" says Sainas. "They suffered from depression and anxiety and certain mental health issues and the music courses were the thing that kept them coming to school, kept them balanced, kept them moving forward."
As part of the national MusiCounts Teacher of the Year Award, Sainas and his wife Danielle received an all-expense paid trip to Juno Week in Hamilton and award sponsors Magic! presented Sainas with $10,000 to purchase new instruments for his school and $10,000 cash for personal use.
"So we're going to meet the teacher!" Atweh had said a few weeks before. "Hopefully we can visit [the school] when we're on tour. I want to meet the kids."
Sainas was excited too and not just about meeting Magic! and attending the Junos. "To be acknowledged amongst so many other amazing music teachers is just mind-blowing for me. And the thing that I really look forward to is putting a spotlight on our music program and hopefully sharing some of the success that we've had in our program with others."
Backstage at the Juno Awards Sunday night, when Magic! was in front of a roomful of press to talk about their Juno wins — breakthrough group, single of the year and producer (which "fifth member" Adam Messinger won) —  right when the last question was asked, Atweh said, "Hold on, hold on, can we bring Steve up with us to say hello real quick? Teacher of the year, just for two seconds? Guys, say hello to Steve. We wish you the best Steve."
"Thank you Magic!" said Sainas. "Thank you for sponsoring. It's made a huge difference to our program and programs across the country. Thank you."
* a version of this story appeared in the Juno Awards 2015 souvenir program.
Nike Air Mag Back To The Future Limited Edition Shoes Online Ptf84A, Price: $129.99 - Air Jordan Shoes