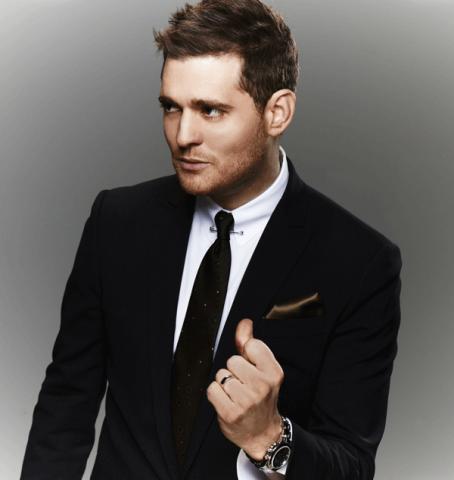 Every day is a beautiful day now for a 6-year old autistic boy from Calgary who received a personalized song on YouTube from Canadian crooner Michael Bublé. "Griffin not a lot rhymes with Griffin / But I still love you so much/ You're so spiffin'," sings the crooner at the keyboard (see video below)
Posted on July 4, Bublé — dressed in his signature tuxedo — opens the one-minute clip by calling it "a YouTube exclusive. The truth is this is only for one dude — it's for Griffin."
"It's a terrible song," he confesses. "I'm not very good on the piano but I love you man. So this is a song I called 'Griffin.'"
Autism Spectrum Disorder (ASD) is a neurological disorder resulting in developmental disability. This affects communication, social understanding, behaviour, activities and interests, according to the description on The Autism Society of Canada.
Autism is the most common neurological disorder affecting children.  The Centre for Disease Controls latest estimate from March 2014 says 1 in every 68 children are born with an Austism Spectrum Disorder. This results in approximately 515 000 Canadians living with an ASD.
The message that accompanies the YouTube post says that Griffin has severe autism and the little boy asks for Buble's music "throughout the day," adding that "His therapists use Mr. Bublé's videos as rewards for good work.
"Griffin goes to YouTube several times a day, types in Bublé, and picks his favourite videos. He sleeps with Bublé playing all night, and his therapists and parents have discovered that his music is incredibly calming when Griffin is overwhelmed or needs a sensory break. Mr Buble's music, and performances, truly speak to this remarkable little boy and has added so much to his life."
The poster, Alison Smith, calls Bublé a class act for creating this special song. "Thank you Mr. Bublé for adding so much magic into Griffin's life."
"You know I love you little Griffin spiffin' little spiffy dude," Bublé sings. "Oh Griffin, thank you for watching me on YouTube."
A YouTube comment from Lee Gillcash, claiming to be Griffin's uncle, reads:
"Griffin is my nephew. All he does is dance around and listen to Michael Bublé. For Christmas, we got him a drum set and he freaken (sic) loved it! This is so cool. I just wanna thank you to Michael Bublé for doing this for Griffin. It meant so much to him and the family. When he watched this, he dances around and then blows a kiss to Micheal (sic) at the end hahaha."
Adidas Yeezy shoes