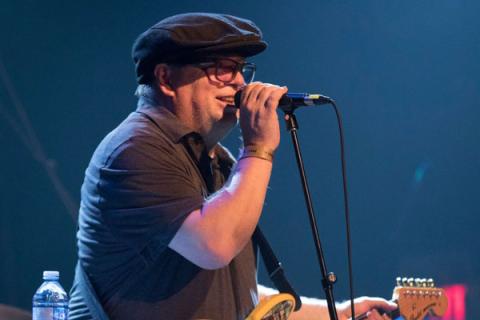 The title of Montreal singer-songwriter John Cody's fourth album, Hard Won: The Final Recordings, may rank as one of the great understatements of the musical world. The 16 songs are the result of Cody's race against time.
When Cody, 54, was diagnosed with cancer of the larynx in 2016, it prompted a mad dash from the singer to record the album. The surgery to get rid of the cancer would also prevent Cody from ever singing again, making Hard Won truly the final recording to feature his voice.
In Cody's charge to record Hard Won, the veteran musician enlisted the help of numerous friends. Having written for the likes of Keith Urban, Bonnie Raitt, Holly Cole and worked with names such as Joni Mitchell, Grace Jones and Boy George, to make the album Cody shuttled through 14 studios in three different countries with an alternating cast of producers including Dan Marnien (Joni Mitchell), Larry Klein (Joni Mitchell, Herbie Hancock), Bill Bell (Jason Mraz), Blake Manning and Peter Fusco. Damnhait Doyle, Jennifer Warnes, The Bros. Landreth's Joey Landreth, Kamasi Washington and Tom Cochrane are some of the musicians who play on Hard Won.
Those musical friends weren't the only ones who pitched in. Cody, who has been experience health problems on and off for years, was also the beneficiary of a crowdfunding campaign to cover recording cost and received help from Unison Benevolent Fund, an assistance program that provides relief to members of the Canadian music industry in times of crisis.
Samaritanmag spoke to Cody last June just before his throat surgery. He talked about what he had been through, the collaborators he'd gathered for his new album and the organizations that have helped him along the way (note: the interview has been edited for length and clarity).
You've had a tough go in recent years. Are any of these experiences going to be in the new songs?
It's fucking biblical, buddy. I wrote this one song and I sort of kicked myself... it's I better stop writing this stuff. I wrote this one song, "It's Like I Lived The Book Of Job" and I thought I had it tough then and then it got really tough. And I thought I better stop writing that shit because it's all coming true a hundredfold. You can't fold, so your character is measured by what you do in a crisis. It's not what you do when you're happy and successful.  
So when people say something similar to me, what I told my doctor when he gave me the diagnosis it was on the table for a long time. He said, "You're going to lose your larynx." And I said, "Don't bullshit me. How much time do I got? Because I need to go to work right now." I got things I still want to do because I gotta finish, I gotta try... I don't know if I can finish it, but I gotta try. If I don't try, I don't want to be a person that lives with regret in any shape or form and the only way that happens is if you don't do something that you may be able to do. The only way is to try. You have to fail to get ahead, to learn what you want to say.
He said, "You have no more than three months [between diagnosis and surgery]." He had already booked my surgery. I said, "I won't have enough time to get [Hard Won] together by the date you're giving me." Then I went to work. I did the YouCaring [crowdfunding] page the same day, because gotta go, hit the floor running. I don't know what else to do. Gotta try. I'm glad I've had a positive impact on people, I'm very grateful for that, but for me there was no choice. There was no other way this was going down.
Considering how biblically crappy things were for you, deciding to "go for it" is a pretty brave reaction.
I'll tell you the secret. The secret is not to look at it as shitty. Look at the what we've learned from the book of Job. Here's a guy who loves God more than anyone in the whole wide world, but Satan goes to God, "I bet you I can turn him against you," and God says, "Go ahead." And lets him burn his home down, kills his kids and his wife and all these horrible things. The lesson is that Job goes through it all and does not lose his love of God for one minute. So if I look at this situation and people go, "This really sucks," I go, "No, it doesn't suck." If I don't have that attitude, I might as well give up. I may end up being an advocate for people who have speech-impaired lives. I don't know, but there's got to be something where I can be of service, something for me to learn to become a better person and a better advocate to people less fortunate than I am. You've got to know they're out there. Who the hell am I if I walk around thinking I have it the worst? And I'll tell you something, I'm probably more passionate about that than about anything.
To help people understand, could you explain the throat operation and how it's going to affect your voice?
I have a really good way of doing it with visuals. Just imagine that your vocal cords are two brushes and when you make a sound they rub against each other and that's how we make sound. Your larynx is right in front of your windpipe; wind goes through it when you breath air out and the vocal cords vibrate. One of mine, like I said, two brushes, is going to be removed completely. And about a third of the other one. So there's no physical ability to make sound without a brush to rub against. There's nothing to vibrate. You're mute.
When you set up your YouCaring page to help fund the album, how did it feel to know there were people who who had your back?
Well, it feels really good. That stuff is such an embarrassment to my family that they won't even speak to me, some of them. And the truth of it is the ones that bring a tear to your eye are the $5 donations. Because you know that that person, that's all they've got, and they're giving it to you. And I don't want to make it sound like I'm not grateful, I am. Some people can afford large donations and it's great that they can afford them, but when someone sends $5 or $10, that's the extra $5 or $10 that they'd normally set aside even for a chocolate bar or ice cream cone or something. You're something very special to them. At least that's how I perceive it.
That's probably a great perspective to have about contributing money to a person or a cause.
It's touching. It's really important to me for the most part to not thank specific people because no one can be no more important than anyone else, right? In terms of when people come together to help out financially, they're all equal to me. So the $1,000 donation counts as much as the $5 one. That's what I'm trying to say.
You've got an impressive list of contributors to the album, including people like [jazz saxophonist] Kamasi Washington. How did you get them?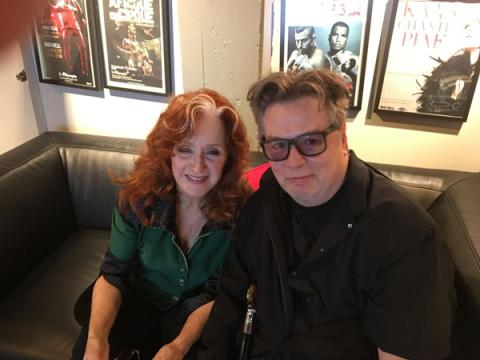 Those are my buddies. Kamasi was in my band for two years. His bass player was in my band for seven years. They're all people I've worked very intimately with. Lionel Cole, son of Freddy Cole, who is Nat King Cole's nephew, a pretty talented piano player. I don't know what the hell's in the blood of that family. Jennifer Warnes, Don Dixon, Marti Jones, Kate Markowitz from James Taylor's Band, Perla Batalla from Leonard Cohen, she's in the video for "Closing Time," they're all friends of mine that I've known and worked with for years.
From the sounds of it, putting this album together was a real community, barn building-type of thing.
It's my family tree. My family tree is my musicians and it's not just a gig where you come through the door, play and leave. We all know each other. I feel like a proud poppa a lot, even though a lot of my guys are older than me. I mean, at a certain point they're not, and it's wonderful at a certain point to watch them push. I've never been jealous of anyone's success. That's so ridiculous a thing. I want them to do better than me. And they do and it makes me very, very happy.
What can people expect when they listen to this album? It would be real easy to make a "downer" album, all things considered.
I think this is going to be the most "up" record. There's definitely some darkness on it, but there's been no tears shed making this music from what I've seen. I knew wasn't going to be apocalyptic. It's very uplifting. It's not made from sadness. I think it's made from a place of beauty. There's not one thing where it's, "This is it for me, my friends. I'm so sad to see you go." It's just waxing poetic and I'm not even a fan of poetry so much. Like Joni, I prefer the poetry of drunks to that of the enlightened. And I hope there's humour on it. Humour is a huge part of our life. We laughed more than we did anything else. Obviously there were some touching tributes that were made to me that were private, stuff like that, but there was no crying or anything like that at all.
You've received assistance from the Unison Benevolent Fund. What have they done to help you out?
They send me grocery cards so I can buy food. I only have about about $150 left over after I pay my rent from my disability and that's about to go up and it's really white knuckling it, which is actually the worst thing to happen when you are sick — to be poverty stricken — and that's a killer all on its own. And also they provide counseling, which I've taken advantage of as well. Because going through this dark ride, I can joke about it, but you better believe I need to talk about it with a professional from time to time.
You mention talking to a professional. How important is that?
Let me tell you more on it. Because that's a really key component of what Unison does. It offers counseling. When you're in this kind of hole you need it, you need a hand reaching out for you. And, of course, it's all private, but I would encourage people who are going through "the wars" as we say, to extract the help because it can be over the phone, it can be over the computer, it can be in-person. Take advantage. We need it. Talk about it.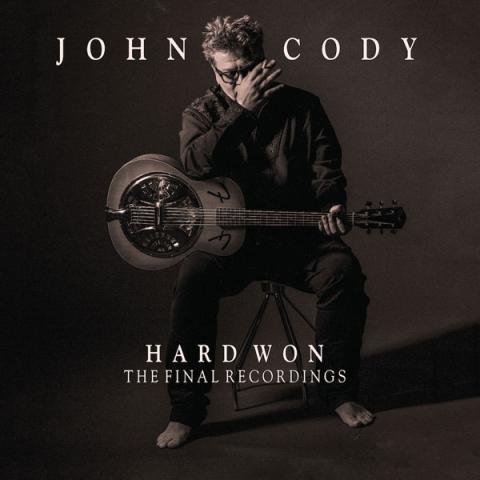 That seems like a very good lesson to take from your story.
Listen, I don't have any reason to be private about this stuff. My music is pretty revealing. I'm not afraid to tell the truth. I'm not afraid to be honest I'm not afraid to admit anything. And I'll tell you why, it's because it helps the people who are afraid to do the thing. And then people don't have to feel so alone. That's the most important thing.
Everything you've gone through, and are about to go through, sounds very scary. How do you remain brave in the face of that?
You just gotta kick ass. I have been afraid. There's been a couple times where I actually had to tell someone I'm having a moment — and that was the extent of it — I'm having a moment. And there are some friends that are very comforting to me. They know what to say and it doesn't take much to make me feel better.
Cody's album is available here.
Recently, Samaritanmag asked Cody for an update on how he is feeling health-wise these days. See his full statement below:
It's a complicated question. I have the answer distilled down to two lists that I put things on. One is the list of the things that I can work on and two is the list of the things that I have to accept. I have multiple health issues that not only vacillate from list one to list two but that also rearrange the list of my physical priorities in the way that they may or may not emerge on a somewhat daily to weekly basis.
I'm about to be fitted for a wheelchair as a result of the degenerative auto immune disease that I have which is slowing my mobility drastically.

I'm not happy about this but there are so few choices with respect to the attitude and optimism it takes to maintain a decent quality of life in spite of these difficulties.
I can't sing anymore. I have to find other ways to feel good about who I am as a person that identifies as a performer through my singing.
I have a speech therapist and we work hard at how to make sound. VERY hard. We are trying to get rid of the growl that I use to communicate and get a softer sound. I can make SOME notes. They are not pleasant notes but I can use them. For what I can't say because I don't know.
That is an example of one of the things I am working on but some of the things I have to accept like no longer ambulating or walking are hard to wrap my arms around.
The subject of mortality looms large. How long can one person continue in this condition. How long before I can no longer eat because the soft tissue in my jaw is gone. How long can someone survive on tubes? How long would one want to?
If there wasn't so much constant pain I'm quite sure that I would be flourishing more. SO, The short answer is that my soul is good but my body is not.
The thing that sustains me the most is to create. I am most happy and at peace when I am doing so. That's what I save my energy for and when I have a project like making videos for the songs on my new album I feel energized by that. Things are just getting harder to do. 
There is an expression in french that my mother repeats to me regularly. Ca change le mal de place which basically means that when you're doing something else like seeing friends or going to an event or concert I will often forget how poorly I feel. I saw Bonnie Raitt recently and that lifted my spirits tremendously. She spent a good long time with me and in the pics you can't even tell there's anything the matter with me! 
It's hard to feel bad when you're surrounded by love and I am very fortunate in that regard. The surgeries I've had recently (Larynx, umbilical hernia, infected teeth) took a real lot from me in the way of stamina and strength so getting back on my feet has been a struggle to say the least. Some of it comes back and some of it does not. It's daunting at times and easy to feel alone. Self soothing is essential, I've found. 
Air Jordan III (3) Black/Cement 2011